Duunnn dunnn… duuuunnnn duun…
Just when you thought it was safe to go back in the water, manufacturers go and invent a bunch of uber-cool stuff that makes summertime more fun, if not more dangerous. What we're talking about is electric waterboards, alien Bluetooth speakers, an adult waterslide, and an inflatable island (not really worthy of Johnny Depp, but certainly worth a couple hundred bucks).
This is the best summer gear of 2023…
Lampuga Air Inflatable Jetboard
Oh, Lampuga, you had us at 'inflatable'. Allow us to break this down for you in as few words as possible. You get yourself a powerful 14-horsepower electric motor and sandwich it between air and your two feet. Then you place on top of the largest body of water in your area and make sure that your medical insurance is up to date. The Lampuga Jetboard has a top speed of around 30 mph and a runtime of approximately 45 minutes (and if you're as uncoordinated as us, that would be about 44 minutes too long).
Check them out here.
QYSEA V6 ROV 4K (330 ft.) Underwater Drone
Do you remember the old days when a drone was simply a landlocked camera of flight? Welcome to the world of underwater exploration with this QYSEA underwater drone. This features just about everything that you've ever seen in your favorite sci-fi movie flicks, including 4K video, 3 Knots of propelling strength (with internal cooling), 4000 lumens LED light, 4.5-hour diving time, and 360-degree movement. Sharks are not included (but can be encouraged).
Get yours here.
Flite Series 2 Electric Waterboard
Only rivaled by the experience of riding on a dolphin's back, the Flite Series 2 offers the experience of a lifetime. And as long as you've got access to a plug-in socket, that once-in-a-lifetime experience can keep on giving (and giving and giving).
Get more info here.
Razor Ripstik Dryland Surfboard
Somewhere around 30 percent of the American population lives on the coastline, which means that 70 percent of us have no access to the pleasure of surfing the great white. But Razor challenges that fact with the option of surfing the ever-growing great grey asphalt jungles of Urbasmia. The Razor Ripstik does the same amazing transformation as inline roller blades did for the old roller skate by using a one-piece torsion technology and only two caster wheels.
Get yours here.
Yamaha 2-Speed Seascooter
Why should a drone have all the fun when a pair of handlebars, and a stronger motor can put you literally in the driver's seat on the ocean floor? This sea scooter by Yamaha has been designed for saltwater, it will power you around any body of water up to 4.5 mph for 30 minutes or longer with its rechargeable 2-speed motor. We use to complain that these recreational gadgets seemed slow, and then we were informed that most non-James Bond types used to get around the ocean using only their hands and kicking feet (so yeah, we don't complain anymore).
Get yours here.
Waterwolf MPX 3 Waveless Surfboard
Okay, so let's say that you don't live within access to a coastline, you're weary of road/asphalt rash, but you've got plenty of bodies of water around you. Well, that sounds like you are a candidate for the Waterwolf MPX 3 waveless surfboard. It has an electric motor to substitute for the lack of motion in your non-existent ocean. But not to worry, you'll soon be creating your own waves as you're hurling across that flat motionless water at speeds up to 20 mph with only your hands and balance to guide you.
Made in Germany; more information is available here.
Intex Inflatable Tropical Island Lounging Pool/Lake Float
Having access to your own pool, lake, or oceanfront property was maybe cool back in 2018 (Pre-Covid). However, this is the year to have your own island, but unless you've got a couple of million, these inflatable versions will get you enough of the perks for around $300 and up. What we like about these are the generous seating areas, mesh netting (to keep your tootsies wet), built-in cooler/cup holders, and the occasional Bluetooth speaker.
Get the 5-person tropical island by Intex, a 6-person Tahiti Island by Members Mark, or a floating diner (with an awning) by LLYCC. There is also a cozy 4-person Bluetooth Speaker version by Sea-Doo, or you could invest in a bit more real estate with the 13-Foot Gator or 15-foot Island Hopper.
Truck Surf Hotel
What could be better than your own island? How about your own hotel that travels where you need it? Yeah, we've heard RVs described in this way, but we're talking about a turnkey experience without the nagging GPS, the arguing about who can drive better, the year-round maintenance/storage, and the lack of a second-story view. The Truck Surf Hotel is a two-story converted Mercedes Actros with expandable walls. It comes with a fully furnished living room, kitchen, and bathroom. It also has a lounge terrace with bean bags (and that's just the first floor). The second floor holds access to 5 rooms (4 shared double rooms and one private), and these are all air-conditioned.
And we've intentionally left out a few things for you to discover yourself, here.
The Anthenea Smart Floating Space
A Truck Hotel is awesome, but there is still the potential aggravation of dealing with annoying hotel mates. We get it, so let's get back to the idea of your own floating island, but this time we're going to make it a bit more of a floating luxury alcove with a solarium (12-person capacity), kitchen, bedroom suite, and 360° live undersea show 24/7. These cozy little getaways are available for both rent and private ownership, and yes it is actually capable of 'sailing' in what they call a "slow discovery mode".
Find out more here.
Gravastar Mars Bluetooth Speaker with LED Lightshow
The Gravastar Mars is the Holy "Hollywood" Grail of an art studio quality Bluetooth speaker. This is six pounds of zinc alloy, battery, LED mohawk, and raptor-like talons. It slices, dices, and thoroughly entices with its alienesque silhouette, beat-driven light show, and long-winded 15-hour battery. The unboxing is fun, the design is inspiring, the sound is satisfying, the function is very intuitive, and our rating is a solid two thumbs up (see our full review here). And if you prefer to keep great sound all to yourself, the Gravastar P5 and P9 earbuds offer a nice mix of sound, innovation, and style.
Meet a new alien friend here.
Loof Lighter X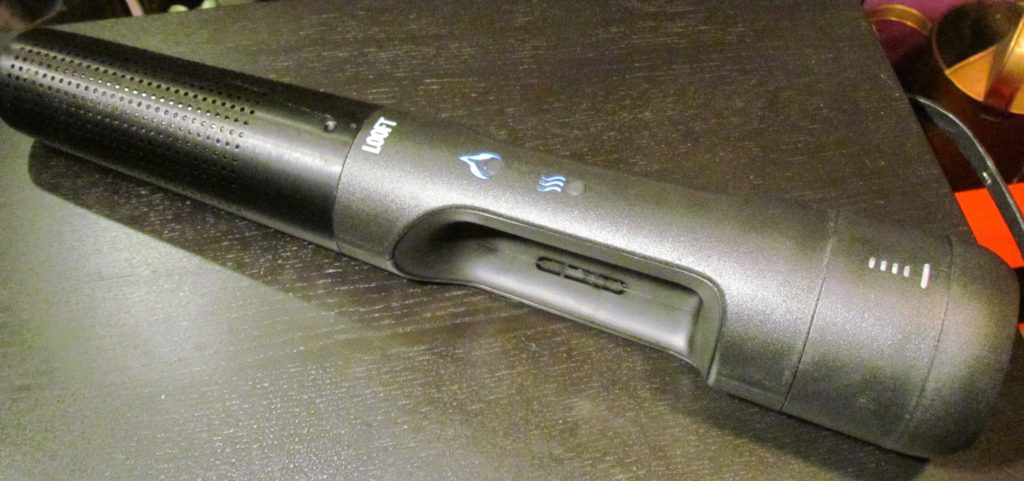 The Looft Lighter X is perhaps the easiest, safest, and most effective way to light any charcoal grill, fire pit, fireplace, or smoker. With the touch of one button, it goes through a programmed set of stages from ignition to stoking (boosting) the flames. Your fire/coal bed will be well on its way in about 60 seconds and ready for your steak in about 5 minutes. Check out our full review.
Get your own here.
The Grillbot
By a show of overly charred Summer burgers, who likes to clean a well-used grill? We're not sure if this statement is exactly politically correct, but we're going to say it anyway, "Cleaning a grill should be robot's work. Let's just say if you have $100 on hand and you don't need it to pay for anything important, like bills or a life-saving operation, this cleaner robot should be a worthy investment during your free time. It cleans both hot and cold grills, and its brushes are dishwasher safe, which pretty much leaves you out of the entire process of cleaning your dirty grill. All you do is set the bot on the grill, close the lid, and wait for the alarm to sound.
Get yours here.
Hammocraft Floating Hammock
A man nap on a hammock is among the 15 activities we try to accomplish every summer. Why limit yourself to two perfectly spaced trees when it comes to your hammock enjoyment? Heck, why limit yourself to dry land, period, when you've got the Hammocraft as an option? These Multi-Hammock frame systems fit on a variety of boats and kayaks, offering a plentitude of options for bringing your relaxation time out to the open water. Whether it's the rapids, a lazy river, or an ocean swell there is most likely a way to include a hammock with your fun.
Get creative here.
Atoll 11-Foot Inflatable Lightweight Paddleboard
Standup full-size paddle boards have been around for a while, and they are awesome so long as you have the means to transport them. Yeah, you could always settle for one of those smaller, flabby, inflatable models, but may we highly recommend one of the newest 11-foot models from Atoll that comes with its own backpack, pump, oar, leash, and weighs only 21 lbs in travel mode. These have been designed with an extra layer of PVC to create a true rigid board between its 6-inch layer of air. These also come with a tri-fin design for true tracking and they can easily hold a 700-lb gorilla.
Get yours here.
Tommy Bahama Backpack Beach Chair
You supply the atmosphere and this chair will offer up five recline positions (including flat), an insulated pouch for your kelp beer, and another pocket, and weighs only 9 lbs. This aluminum chair is the humble beach gadget you never knew that you needed. It slings on your back, goes wherever your two feet will take you, and will never go out of style.
Get one here.
CLIQ Chair / Instant Chair
We consider Tommy's beach chair to be the ultimate in comfort, but the CLIQ chair is the ultimate in compactness and convenience. With the space and instant gratification of a pop-up umbrella, the CLIQ chair sets up in about 5-seconds and can hold an excess of 300 pounds. Yeah, don't bother skipping on the extra sour cream, as you can always fall back on one of these chairs, quite literally.
Get one here.
1000-Watt Powerstation by Generark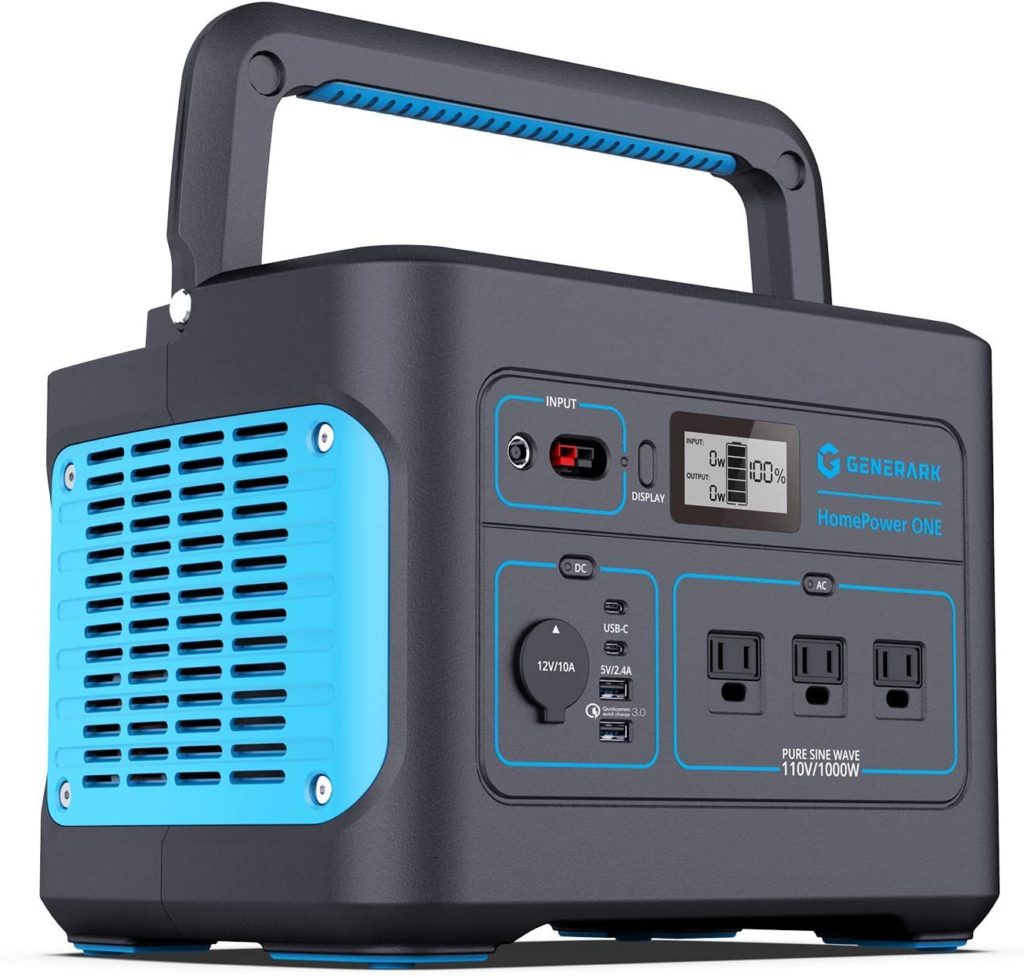 While most companies are claiming their portable charger/power bank will fit in a mosquito's suitcase, the Generark HomePower One claims it can power a week's worth of essentials for an entire week on a single charge. And that week can easily be extended thanks to a solar power generator that can refuel its cell in 8 hours of full sunlight. The HomePower ONE comes with 8 power outlets (3 110-volt 1000-watt, 2 USB-C, 1 USB-A 5V/2.4A, 1 USB-A Qualcomm 3.0, and 1 car outlet 12V/10A). And if you're wondering if this device can handle a refrigerator or microwave, it can handle any surge up to 2,000-watts.
Get yours here.
World of Watersports Super Slide
Do you remember those old slides you used to set up in your backyard with your Dad? Then you'd turn on the sprinklers and do your best to pretend that your backyard was a Stage 3 waterpark. Well, we at Urbasm have dug out those old slides, and they just don't live up to the fun we remembered. So we invested in two of these Watersports Super Slides, which connect in unison creating a massive 50-foot slide with two inflatable sleds. This comes with a bumper system to keep you on the straight and narrow, and the bumpers also spray water the entire distance, giving this child's toys some serious adult potential.
Get yours here.
Platypus Water Bladder/Bottle
A hard-sided water bottle is so 2022. This Summer we recommend upgrading to a Big Zip 2-liter water bladder by Platypus. it conforms to just about any space within your jacket, backpack, automobile, or bike. It fills fast, empties just as fast, and is leak-proof, odorless, and absolutely brilliant.
Get one here.
Timbuk2 Parker Minimalist Commuter Backpack
We fell in love/like with the Timbuk2 Prospect backpack on a wintery morning in 2014. This Summer we're retiring that old prospect in favor of a new one, the Parker Commuter. It comes with a full 36-Liter capacity in a minimalist design, which means that it does not travel as bulky as that capacity might lead you to believe. It comes with dual side pockets (with drainage holes), a couple of quick-access pockets in front, a lined pocket for sensitive electronics, and compression straps for simple expansion. It is slim, weatherproof, durable (Cordura Nylon), and looks sleek and modern too.
Get yours here.
BBQ Tool Box
When it comes to grills, some people think the bigger the better, while others prefer the most innovative and green. We are kind of keen on novelty, space-saving, and the element of surprise. Check out this BBQ Tool Box by Suck UK. It folds out to one 16″ x 9″ stainless cooking area, a smaller warming rack, and a storage tray for all your condiments and tools. We can't vouch for longevity, but the idea and execution are solid!
Check them out here.
Xelfly Submersible Inflatable Backpack
There is something very confidence-building about a travel backpack that holds air (inflatable), is fully submersible, and advertises itself as the perfect companion (floating right alongside you) during your next Summer excursion. We've used those watertight pouches to keep our sensitive items safe during kayak trips, but an entire backpack would be better. These come with up to 25 liters of storage space, which sure beats any zip-lock bag.
Get one here.
Rinse Kit Portable Battery-less Pressure Sprayer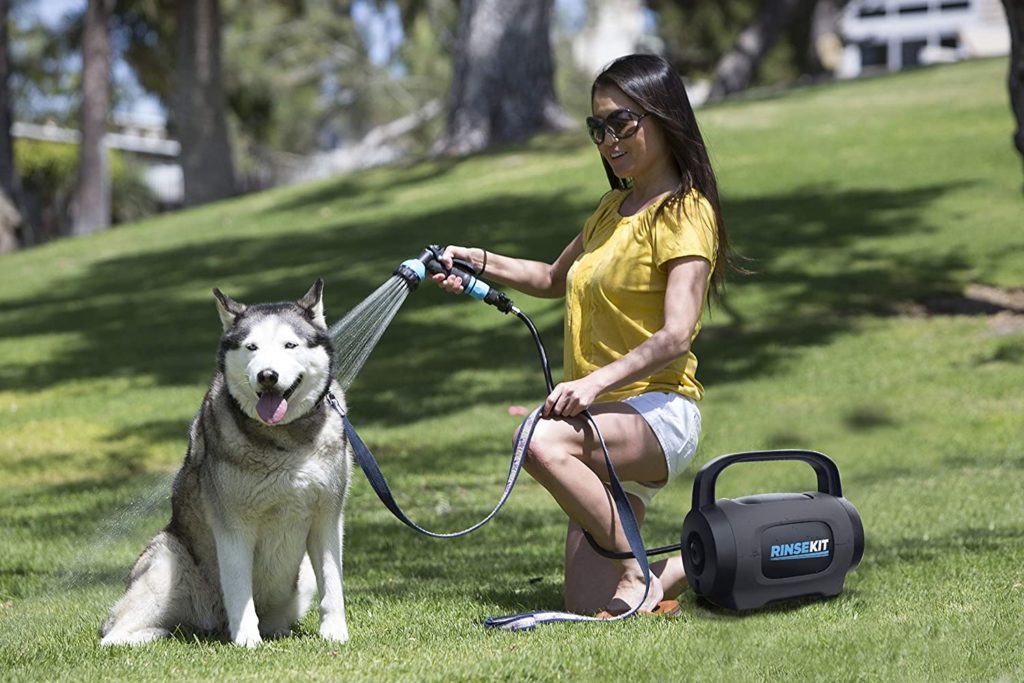 While you're busy getting dirty this Summer it is nice to know that you can always clean up with this rinse kit, by umm, well, Rinse Kit (just add water). Just think of all the things you can keep clean this Summer, including your pet, yourself, bike, kayak, and shoes. And this does not require an outlet, a pump, or even batteries because it is energized by the pressure in your faucet. Its spray can last up to 4 minutes with its 1.75-gallon capacity and it will store that pressure for about a month before needing re-energized.
Get one here.
OLIGHT 2.5″ Baton3 1200 Lumens Led Flashlight
Our Cube multi-light has been coaxed into retirement by the new and upgraded OLIGHT Baton3. With up to 1200 lumens at your fingertips, we do mean 'fingertips' considering this light is just a scant 2.5 inches long. It is forged out of 100 percent aluminum and comes with a mini charger that will allow you to charge it for up to three cycles without needing an outlet.
Check it out here.
Dango Dapper Bifold RFID EDC Wallet
Here at Urbasm, we've enjoyed minimalist wallets made of leather and stainless steel, and even one with a 2 oz. built-in flask, but this year we can't stop admiring our Dango Bifold. Forged with a combination of quality leather and aerospace aluminum, these rigid wallets hold a lot (up to 14 cards) and feature the craftsmanship and clever design of a fine watch.
Get one here.
TENS Stimulator
When you play hard, there is always a chance of getting an injury. And while healing is mostly a time-based scenario for most people, a TENS unit can often decrease the pain just enough to allow you to keep playing through the pain.
Get your own here.
Honorary mentions (yes, we still love you) go out to Las Vegas, bikinis, the Mazda Miata MX-5, G-Shock GPW1000 Hybrid GPS, Laybeany Air Lounge, extreme urban bicycles, and Happy Lens sunglasses.