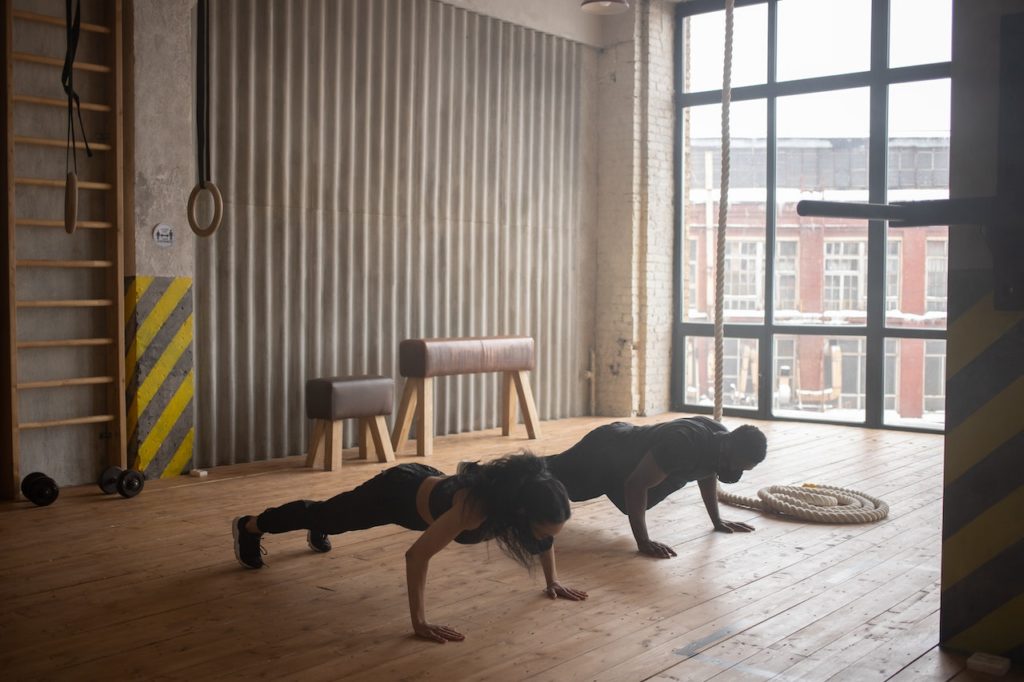 When I got COVID and landed in the emergency room, they checked my oxygen levels pretty quickly. As a doctor, I know how to interpret those readings and was happy to see my numbers were not too bad. So, I was surprised when my doctor wanted to do a CAT scan. I didn't realize how fast I was breathing – twenty-two times a minute. I guess all of my endurance training had gotten me used to sucking it up and enduring any discomfort when I work. I hadn't realized how much of a struggle it was to breathe.

-Dr. Christopher Chen, M.D. and CEO of ChenMed
The severe effects of COVID-19 can take anyone by surprise, whether you're a doctor, a trained athlete, or both. "Everyone freaked out after they got the results of the CAT scan," Continues Dr. Chen. "You could see that I had pneumonia in all five lobes of my lungs–Being in race shape probably saved my life, but it also masked the severity of my condition."
Four years ago we knew little about COVID-19. Today, we may have more variants to deal with and even more questions, but we do know that you have at least one thing on your side… your own health. Whether you are a seasoned athlete or a couch potato, knowing the playing field is key to getting the most quality mileage out of your ride (that's your body we're talking about here).
We ask Dr. Christopher Chen, M.D., co-author of the book, The Calling: A Memoir of Family, Faith, and the Future of Healthcare, what every man should know about thriving (and surviving) in a world with COVID-19.
Being physically active is key to achieving optimal health and preventing health problems."
Urbasm: Hi Dr. Chen. What are the key factors in how COVID-19 affects a man's body, mind, and sex?
Dr. Christopher Chen: COVID is a complex disease with the potential to affect and damage multiple body systems including a person's lungs, heart, and kidneys. This could lead to fatigue, muscle weakness, and emotional and physical stress. Studies have suggested that men are at higher risk for severe infection and death. There are also reports that COVID can potentially lower testosterone levels, increase the risk of erectile dysfunction, and worsen semen parameters for men. In addition, there are studies suggesting the virus can impact men's mental health and lead to an increased risk of depression, anxiety, and the use of selective serotonin reuptake inhibitors (SSRIs), the most commonly prescribed antidepressants.
Urbasm: What does COVID do to an athlete's body, in particular?
Dr. Christopher Chen: We've seen a large population of patients hospitalized for COVID present with cardiac abnormalities including myocarditis, an inflammation of the heart muscle associated with sudden mortality in athletes. It is usually caused by a viral infection, which is why the SARS-CoV-2 virus presents a specific danger. The American College of Cardiology recommends cardiac testing for athletes recovering from COVID before they are cleared to return to play if those athletes had initial cardiopulmonary symptoms or if they display cardiopulmonary symptoms with the resumption of exercise.
Urbasm: Are there differences in how the variants (that we know of) attack the body?
Dr. Christopher Chen: Health experts continue to monitor how the newer variants such as Delta and Omicron may be impacting overall health compared to the original strain of the coronavirus. Some variants spread more easily and in general, the severity can vary. There may be more impact on other body systems compared to the original variant which often presented with respiratory symptoms. Health experts are also closely following the health implications of a long COVID and if people who contract COVID multiple times will be affected differently.
Urbasm: What was your own experience with fighting COVID?
Dr. Christopher Chen: Although I'm an athlete and a doctor, my own recovery was extremely slow. Each day, I thought, 'Could I live like this? Only able to walk five steps?' I told myself that if I can be with my wife and my kids, I could live like that with reduced mobility and function. The next day, I took twenty steps. And I knew I could live like that.
I was not allowed to come back to work for six weeks. My family cut me off, taking away my phone. I had no access to anything work-related for that entire time. Once I was allowed to return to work, I quickly realized that I still needed to take it slowly. Prior to getting COVID, I would host a 30-minute Zoom meeting every month for our leaders and partners. During my first or second week back, I decided would host the upcoming meeting. After only about five minutes of talking and presenting, my strength was gone. I had to hand the meeting over to one of the other executives.
Urbasm: What are the key advantages of a strong and healthy body when it comes to fighting COVID and other illnesses?
Dr. Christopher Chen: Having a strong and healthy body puts you in a better position to recover from an infection or manage chronic disease in general. The most vulnerable groups of people who are suffering from severe illness, hospitalization, and death related to COVID infections are older adults and people with pre-existing medical conditions such as cancer, lung disease, diabetes, obesity, and heart disease. Data show people who live a sedentary lifestyle are at higher risk for more severe illness not only from COVID but also from other conditions. Being physically active is key to achieving optimal health and preventing health problems.
Urbasm: What are the key differences in how COVID affects an active athlete versus someone who is more sedentary?
Dr. Christopher Chen: In a retrospective study of 246 patients diagnosed with severe acute respiratory syndrome secondary to COVID, of which 42 percent were male, patients who were less aerobically fit were more likely to be hospitalized. Baseline fitness in peak metabolic equivalents, based on exercise stress testing results obtained within the prior four years, were significantly lower among patients who were hospitalized compared with those who were not. The study authors did state that future studies would be required to determine whether improving maximal exercise capacity is associated with a lower risk of complications due to viral infections, such as COVID.
In another retrospective, a nationwide study of more than 65,000 people participating in a physical activity rewards program, those with physical activity levels of more than 150 minutes per week suffered substantially lower morbidity and mortality from complications of COVID than those who were physically active for less than 60 minutes/per week. High physical activity was also associated with lower rates of hospitalization, intensive care unit (ICU) admission, mechanical ventilation, and death.
In an observational study of 789 professional athletes who tested positive for COVID, including 777 men, cardiac magnetic resonance imaging (CMR) demonstrated evidence of inflammatory heart disease (myocarditis or pericarditis) in only 0.6 percent of five athletes. All five had manifested symptoms and signs that exceeded mild illness. It was noted that recovering athletes are susceptible to a number of other COVID-related complications, including general fatigue, cognitive dysfunction, and coagulopathy (e.g., deep vein thrombosis and pulmonary embolism). However, there was no clinical information specific to athletes addressing these concerns.
Urbasm: What are the symptoms that a man should pay particular attention to when easing back into their training routine after having COVID?
Dr. Christopher Chen: It is important to note that we are still in the early stages of understanding the long-term effects of COVID. However, early research suggests that some of those who have recovered from the virus can continue to show a range of adverse health effects even after the virus is no longer detected in their system. This is more commonly seen in the elderly or those who had pre-existing health conditions. There may also be a correlation between how strongly COVID affected an individual and their likelihood of experiencing negative effects even after they have recovered. Everyone experiences COVID differently so the intensity of symptoms and long-term effects can range from person-to-person.
Urbasm: What are your tips for minimizing the potential for problems for anyone who is working to get back on their regular routine while still in recovery mode?
Dr. Christopher Chen: For me, personally, I had a life-threatening case of COVID that landed me in the ICU. So, when I began to exercise again, I took it slowly. It took a week for me to be able to walk to the end of my block, but I walked every day, going a little farther each time. As I felt better and regained my stamina, I added in bike rides and then finally started jogging again. According to the American College of Cardiology (ACC), all athletes participating in organized competitive sports who had COVID should implement a graded return-to-play (RTP) regimen, with the support of their medical/training staff.
The ACC points out that most recreational athletes are not monitored and likely don't have access to concierge medical professionals. For these individuals, the ACC recommends diligent surveillance for symptoms during graded RTP. The ACC's position is that the previous 10-day recommendation for exercise abstinence is no longer necessary. While still recognizing the Centers for Disease Control and Prevention (CDC) self-isolation guidelines, which was still five days as of August 2022, asymptomatic athletes with COVID may resume training after three days of exercise abstinence. For those with mild-moderate, non-cardiopulmonary symptoms, training can resume after symptoms have resolved, except for the loss of smell or loss of taste, which may take longer to ease.
As an athlete, you may be eager to bounce back from COVID but listening to your body and taking your time will give you the best shot at a full recovery.
Urbasm: Beyond the vaccine, are there preventative measures that we can be working on now to improve our immunity for the next round of variants?
Dr. Christopher Chen: The same measures that promote general good health and healthy immune systems will serve as preventative measures against new COVID variants. That includes a healthy diet with plenty of fruits, vegetables, and whole grains, maintaining a healthy weight, regular physical activity, routine 'well' visits with your doctor, getting enough sleep, and managing stress. Quitting smoking and drinking alcohol only in moderation, if at all, will also help boost your immunity. And keep up with all vaccines, not only COVID but also flu shots and if appropriate pneumonia and shingles as well as any others that your physician recommends for you.
Urbasm: What is your advice for those regularly attending a public gym in order to minimize their chances of coming down with one of the current variants?
Dr. Christopher Chen: If you do work out at a public gym, be sure to wash your hands frequently, wear a mask, and wipe down high-touch surfaces. If community spread is high in your area and/or you are at high risk for infection or immunocompromised, you may want to look for other places to get your workout in besides a public gym.
Urbasm: What are the three most important things in your opinion that every man should know in order to live his best and healthiest life?
Dr. Christopher Chen: The first is to live truly. That means to know who you are and to be true to that person. For me, that means to live a life of service. The second is to love deeply. I love my wife deeply, and I also have a strong faith in God and a deep love for my family and my work. That sense of contentment and joy that deep love brings helps me enjoy life. And finally, make a difference. Each person can define what that means for them. For some people, it may be making a difference in their community by volunteering or making a difference in the life of an elderly parent by caring for them. For me, the difference I make is by running ChenMed and helping ensure that underserved communities can access quality, affordable healthcare.
Urbasm: That sounds like a prescription every man should follow. Thank you, Dr. Chen.
Eric has written for over a decade. Then one day he created Urbasm.com, a site for every guy.