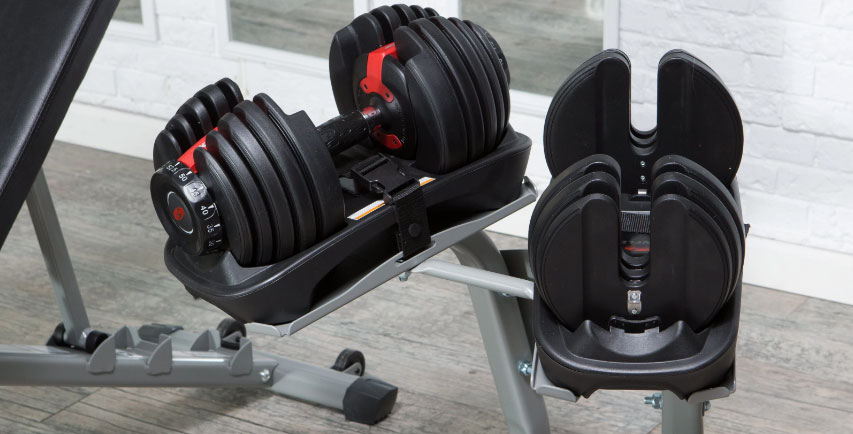 Building a home gym can be costly, both in the wallet and the available space in your home. This is why we highly recommend adjustable dumbbells for an effective overall body workout that uses no more space than a typical nightstand. But there is just one problem…
Some body parts respond to high reps and moderate weight, while others yearn for more serious poundage for growth.
If you are looking to invest in a set of dumbbells that can be used to build your entire body now and in the future – you've got to think big. You can use dumbbells for dead-lifts, squats, chest press, Pendlay Rows, and calf raises, but those 25 lb adjustable kits are not going to cut it. You need serious weight, and you may also appreciate some serious built-in security (safety) and a little convenience (changing all that weight can be tedious).
You say you want to get big, and we say you can, using dumbbells right in your own living room. But you're going to need THESE particular dumbbells that offer enough weight to really challenge your body.
Core Fitness Adjustable Dumbbells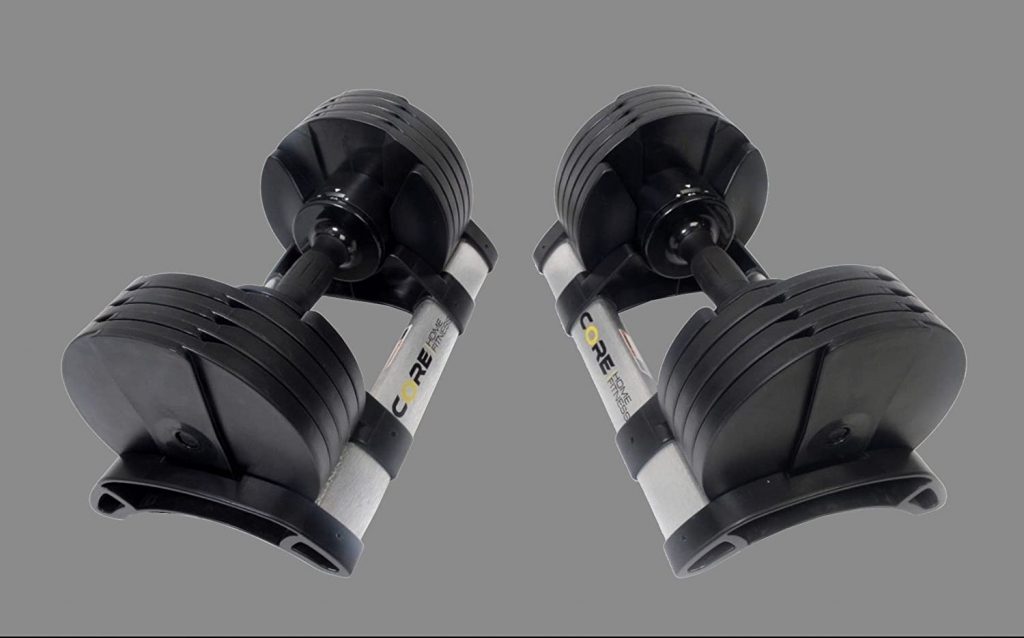 (5 lbs to 50 lbs)
Fifty pounds is the absolute minimum for a set of adjustable dumbbells capable of giving you a good overall workout. We consider these entry-level, as they feature the quality of the more well-known brands, but can be found at a price-point that hasn't yet been tainted with high priced advertising. This is a solid set of dumbbells that comes with simple stands and can be adjusted with a twist of your wrist.
Get yours here.
Ativafit Adjustable Dumbbells
(11 lbs to 71.5 lbs)
Another 'lesser-known' option in the adjustable dumbbell market that has an impressive number of happy customers is Ativafit. With a max weight per dumbbell of 71.5 pounds, these will treat you to a (near) 150-pound bench press, which is pretty impressive considering the minimal space these require.
Get yours here.
Bowflex SelectTech
(10 lbs to 90 lbs)
A 180 lb chest press may not sound like much, but when using dumbbells with 'good' form, these can be a great mass builder, even for a grizzled gym veteran. One hundred and eighty pounds also makes for a decent bent over row, dead-lift, and squat. Okay, so they may not be as effective at building mass as a barbell. But when space is limited, and you require a (near) 200-pound press, this could be your most practical option.
Get yours here.
Powerblock EXP
(5 lbs to 90 lbs)
The Powerblock personal trainer dumbbell set is one of the only 'turnkey' weight changers (turn a knob/lever and pull the weight you need) that can actually grow along with your strength. The standard Powerblock offers a minimum of 5 pounds on up to 50 pounds for each dumbbell. That maximum weight can later be upgraded to 70 pounds (on up to 90 pounds) with an expansion kit. This is an innovative system that may also be a bit easier to use due to its ultra-compact silhouette.
Get yours here.
We know that more is not always better (or worth it). But when it comes to building size and strength, you will eventually need more weight to build beyond your peak potential (don't kid yourself). This is why we recommend getting an adjustable dumbbell system that will grow with you, rather than eventually hold you back.
Eric has written for over a decade. Then one day he created Urbasm.com, a site for every guy.