If we had to choose between the Gravastar P5 or the P9 for our daily listening business and pleasure… well, we'd take both. Here's why:
This year we established the domination that Gravastar holds over the market with the design and creativity behind the Venus and Mars Pro Bluetooth speakers. Their ideas and execution are nothing less than impressive. But they had their work cut out for them when they challenged themselves to find a way to stand out amongst a crowd of high-quality, functional, and compact Bluetooth earbuds.
Spoiler Alert: Both Gravastar's P5 and P9 stand out in any crowd, but it is how they do it that makes it so impressive.
GravaStar P9 Pro Sirius
This Summer/Fall we fell in love with the Gravastar P9 Pro Sirius.
Up until now, we never really gave much thought to the design of an earbud, other than its comfort and functionality, but Gravastar has proven that art and design should also be appreciated. For us, the Pro Sirius is the benchmark for in-ear fashion statements (if there is actually such a thing). With its bulbous exterior, LED markers, zinc alloy case, and lurking spider brandmark, the P9 is the ultimate statement piece outside for your ears (and it sounds great too – more on that later).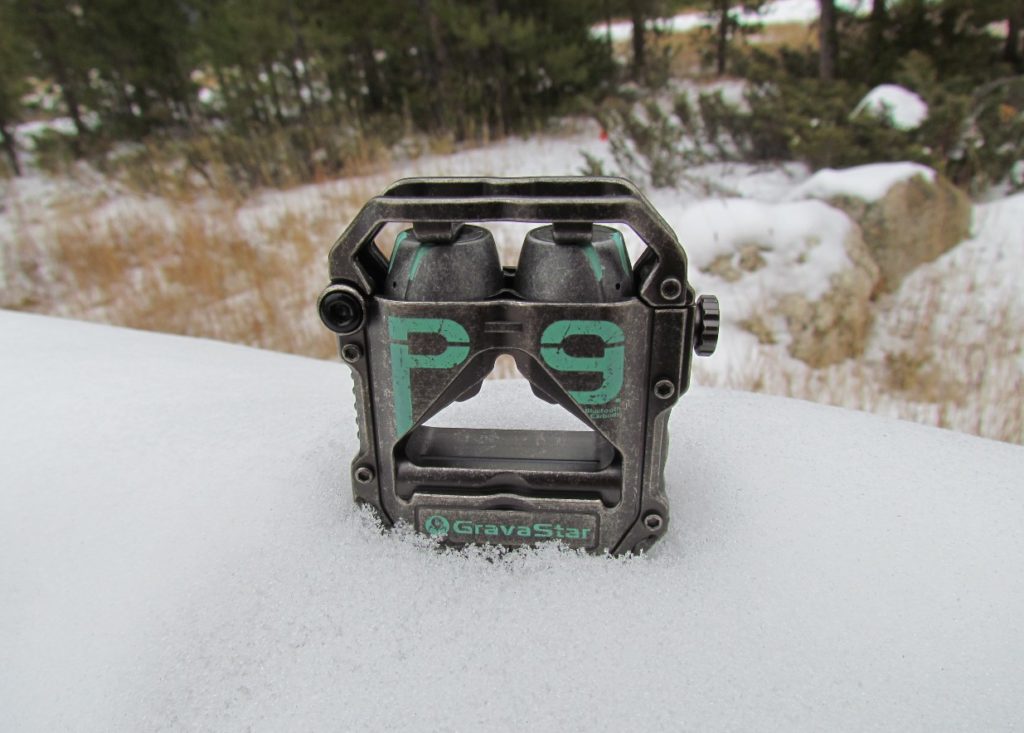 The P9 Pro Serius is a large robust piece of tech that is heavy to hold in your hands, but light to have in your ears. Everything about the P9 demonstrates great attention to detail and quality materials, such as its hidden charge points, magnetic holds, watch-like latch release, strong latch spring, scratch-resistant coating, weather-resistant build, and LED lights (both on the charging base and earbuds).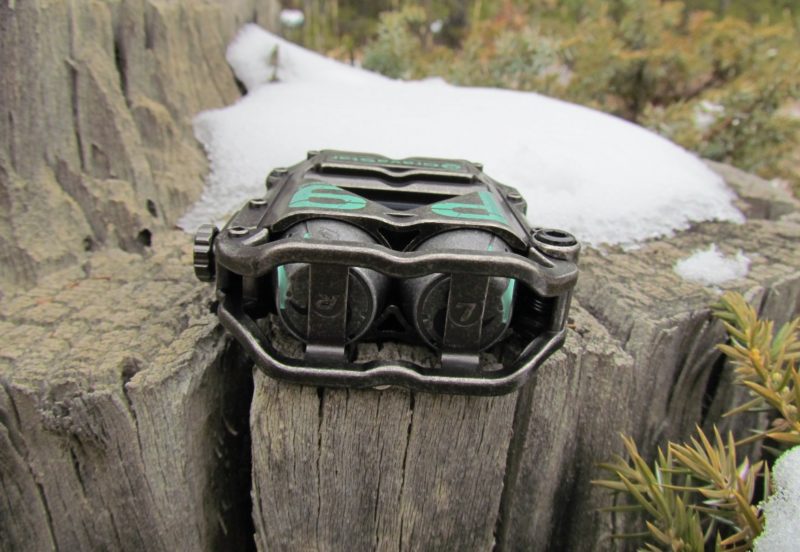 The P9 is tap sensitive, in that you can control the sound (gaming, music, and movies), play options (pause, skip, volume, etc.), and noise canceling (ENC- Environmental Noise Canceling) just by taping on the earbud with a variety of recognized codes. That enables you to run the entire show (so long as you remember the codes), and yes, it is pretty spot-on at recognizing and responding to those requests.
GravaStar P5
Recently, Gravastar came out with its P5. This is a bit more of a budget-friendly earbud with a price a bit more than half that of the Sirius Pro, and we figured this would just be a downgrade hidden behind some fancy cases, but we were wrong. You see the P5 is an entirely different piece of tech, a whole new benchmark we might say. While the P9 is bold, brilliant, and beautiful, the P5 is a bit of a chameleon. Yes, it still has the spider brandmark and LED pizzaz, but it sits a bit more reserved above your earlobe with only sleek, thin bars to hint at its existence to the world.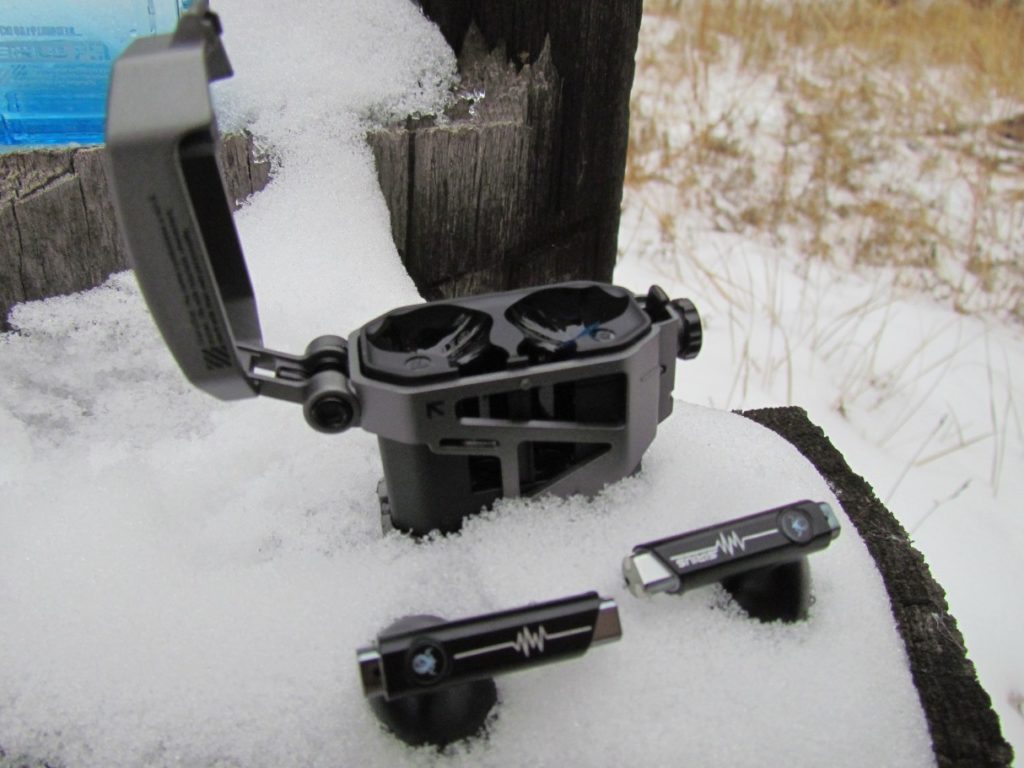 But the P5 has its own methods of attention up its sleeve. A group of armored sidekicks like nothing we have seen before.
Gravastar's P5 features a charging base that doubles as an accessory to you and your other tech via a transforming armored case that is as versatile as the ever-changing screwdriver of Doctor Who. The versatility of the P5's armored cases is accomplished by a design that allows the charging base to be fitted into one of three protective armor sleeves (more designs are on the way we've been told). The sleeves range from alloy to plastic, with an entire theme/fashion statement that surrounds them.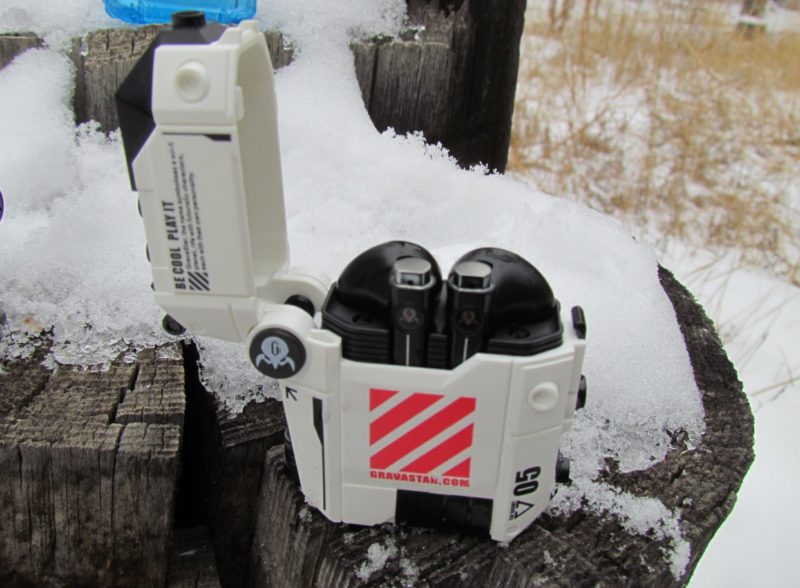 The P5's alloy armored sleeve is similar to the P9's case (a bit more compact/less robust). But there is also a clear blue case and lego inspired white case. Any case can be purchased separately (although they do offer them as a set), and each has its own attitude and personality. Switching them out is as simple as twisting out one thumbscrew. And yes, it is easy enough (and entertaining enough), that we did find ourselves switching them out for variety.
On the sound and sight front, the P5 enjoys many of the same sound features as the P9 including LEDs (both on the charging case and earbuds themselves), environmental sound canceling, and code-initiated control over your sound and device controls. It basically sounds as great as it looks, which is high praise as you'll notice in the photos above.
The Design: P5 Vs P9
So, we've got two designs, one robust and industrial, and the other a bit more neutral, futuristic, and adaptable. The P9 features some very cool individual designs (neon green, war-damaged yellow), but once you choose one, you're locked into it.
As the price point would suggest, the P9 features a bit more of a quality feel and attention to detail, but the P5 is just as satisfying to hold in your hands. But in the hands are where the similarities stop. The P9 does feature a more balanced and light feel inside the ears. The P9, in our opinion, is better suited for long-term use, as in playing a long game, watching a movie, or just listening to some tunes in your favorite chair.
The P5 does not feature silicone inserts, as does the P9, so it becomes more noticeable inside the ear. But with the simplicity of the P5's design, comes a sense of no fear as you are navigating it in and out of your ears throughout the day. The one-piece build is well-suited for short-term daily use (and abuse). It is also slightly more compact in its silhouette, making it easy to slip into a pocket. We found ourselves splitting time between the P9 in the evenings at home and the P5 on the streets and in the office during the day. This just seemed to be how they were suited (particularly if you own both).
Both earbuds offer code-type button recognition to run your devices from the comfort of your ears. We did notice that the P9 was a bit more responsive to these codes (we like the tap feature as opposed to the touch button), but the P5 still has better intuition than most other brands, so you actually need to be spoiled by the P9 before you would notice that.
The Sound: P5 Vs P9
The P5 and P9 both feature some nice sound upgrades from other manufacturers, including their ESC (Environmental Sound Canceling). Both of these earbuds have excellent sound properties, and we like their various sound modes (gaming, music, movie) and thought they transitioned well, offering enough sound difference that we did take the time to learn their tap/touch codes. Our P5 had some nice bass notes, but we did prefer the clarity of the P9 when you listen to them side-by-side.
The Verdict
The P9 is undoubtedly an upgrade from the P5, but we applaud their choices of where to cut costs and offer an individual design that is all it's own. So our verdict of the P5 versus the P9 is that it is a win-win no matter which design you choose because you are getting great value either way.
And being that it is the holiday season, the best part of specialty-tech devices is that getting your hands on one is always much easier on your wallet. Right now the prices at GravaStar are at 25% Off sitewide on everything from their coveted Mars Pro, to the Pro Sirius and P5. Keep an eye on the Gravastar website in the coming months, as they will be preparing new armor releases for the P5 and we expect many other great things to come for 2023.
Urbasm occasionally receives vendor/brand sponsorship's for mentioning their products and services. And while these products may be free, our opinions are honest… and free (at least until somebody starts paying us for them)
Eric has written for over a decade. Then one day he created Urbasm.com, a site for every guy.