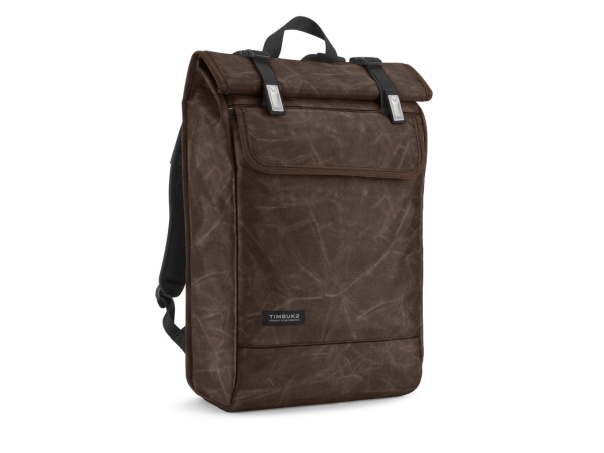 When I need a new man bag, the events that get me from A to B usually entail lots of online window shopping. Then once I find a style I like, I make sure it has the right dimensions, features, and storage requirements. By the time I find something close to what I want, I often wonder if I could have made the bag with less time and effort. The problem is I received a C- in home economics, once sewed my thumb to a sock I was mending, and have no idea how to use a sewing machine. I might as well leave such a custom bag to the experts—somebody like Timbuk2.
Timbuk2 has been making quality bags since 1989, and while I like most of their options, including the Proof Messenger Bag, there is something mighty sweet about building and showcasing your own creation. Timbuk2 has ten different bag designs to choose from, with one of their newest ones being the Custom Prospect Laptop Backpack. It features a roomy interior (roomy enough for a 15" MacBook, iPad, handful of everyday carry, and a change of clothes). It offers over 60 weatherproof fabric options and colors to choose from, so you can go with something as business, casual, or flashy as you want.
Almost every panel of this bag can be endowed with a separate fabric and color, offering a staggering amount of individuality. A few of their current options include Vogue prints, Canvas, Herringbone, Tweed, Digital Camouflage, and a good portion of the Bespoke rainbow. The main detail that these fabric choices share is being practically indestructible and weatherproof. Our in-house stylista, Pamela Causfield, had a go at her best version of a Prospect man bag, opting for a dark color on the boot and top, Burgundy on the front, Cordura Yellow on the sides, and Digital Camouflage on the flap.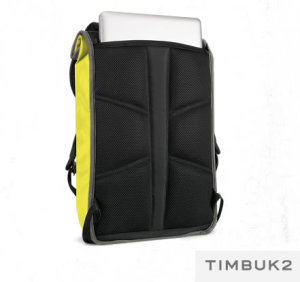 The Prospect features a secure flap closure for ease of getting to your stuff, and it also does a heck of a great job of keeping the elements out. It comes with a comfortable padded airmesh rear panel and strap to make your trek to school, work or the gym as comfortable and stylish as possible. In the tradition of their fabled Keg Backpack, which was revealed for April Fools of last year, the Prospect also comes with a bottle opener infused on the strap to help keep you hydrated and happy during your voyage.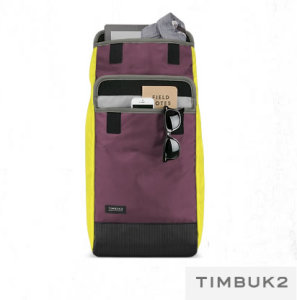 And after one month of testing our own Prospect Laptop Backpack—we've found that unlike some people's children, it is really easy to love. It offers substantial storage space in a relatively small package. In other words, it tucks away nicely in a closet or corner; and when you're ready to head out, it transforms to an impressive knapsack, capable of fitting a lot more stuff than you might think. The secret is in its tall rectangular shape, firm but conforming fabric, and cleaver use of internal storage compartments.
The prospect features front pockets for your everyday carry, and an internal organizer to keep your smaller tools and devices (pens, phones, etc.) under wraps. If I had a dime for every time I really found a backpack laptop bag to be completely useful, I'd be very poor in the pocket. However, I'd at least be rich with satisfaction, as this bag has found a nice niche between practicality and individuality. Money may make the world go round, but it won't do you much good unless you have a secure place to carry all the valuable stuff that goes along with it.
The Prospect Laptop Backpack—it is a new take on an age old Timbuk2 tradition of quality and practicality.
Customize your own bag here.
Eric has written for over a decade. Then one day he created Urbasm.com, a site for every guy.