A watch is one of a man's greatest fashion statements he can make to other men. It may only come second to owning one of this century's 10 greatest cars, vintage classics, or most coveted convertibles. But wait one minute here, what about making a statement that speaks fashion to the world – including women, your ex (eh, forget about her), and probably even ancient aliens.
The men's bracelet has a long fashion history. Beginning with plant fiber, teeth, and bone, man eventually grew his tastes to prefer leather, gold, silver, titanium, beaded bracelets, and jewels.
Pirates used to adorn their necks and wrists with pricey accessories in the case their body was washed ashore, they could be given a proper burial (assuming the person who found them was honest). Today, the same thinking might get you a first date with a popular Instagram model, a pat on the back by your boss, or entrance to a VIP lounge.
You just never know how far style and a proper fashion statement can take you:
Chan Luu
A touch of color is key to designing a stylish piece by Chan Luu. These bracelets feature an eclectic mix of stone, sterling, and opelon. They have the fit and finish of a cocktail lounge conversation piece and the laid back essence of only requiring your wrist (shirt optional) and a lazy day at the beach.

Get it Here.
Montblanc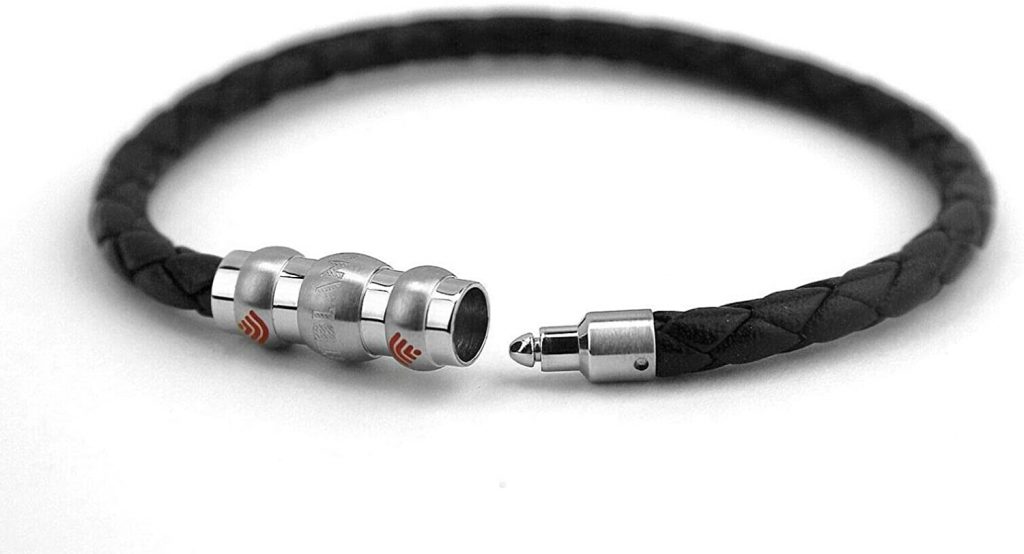 Stainless steel and leather go together like whip cream and bare skin. Come to think about it, all four of these combine to equal the most fun, but let's get back to this bracelet by Montblanc. This designer is a master at creating sophistication into simplicity. First, they wove together some high-quality black hide and then secured it to a stainless clasp that brings a bit of intrigue to the table. This is the result of successfully meshing high tech machining with mother nature's finest.
Get One Here.
Louis Vuitton
The difference between a great designer and an innovator is demonstrated here with this iconic Damier Graphite bracelet by Louis Vuitton. Utilizing the eclectic combination of palladium, ruthenium, and black plexiglass, this bracelet successfully weaves these materials into a wearable canvas that is as identifiable as it is authentic. The Damier Graphite on this bracelet can also be coordinated with Louis' Multiple Wallet, Keychain, Reversible Belt, and Damier Scarf.
Get Yours Here.
Blackjack Jewelry
Black onyx, black stainless steel, and black cubic zirconia highlight many of the bracelets from the house of Blackjack Jewelry. The accents and crafting of these create a very bold 'understatement' to the man in black or a muffled cosmic boom to the man wearing mostly white.

Get it Here.
David Yurman
We had no idea that one man could be behind the design of so many bracelets for men. David Yurman is a master mixologist of materials and in the above sterling chain-link bracelet that becomes clear to the tune of 3.11 carats of black diamonds. Simplicity has never been orchestrated (or highlighted) better.
Get One Here.
Thomas Sabo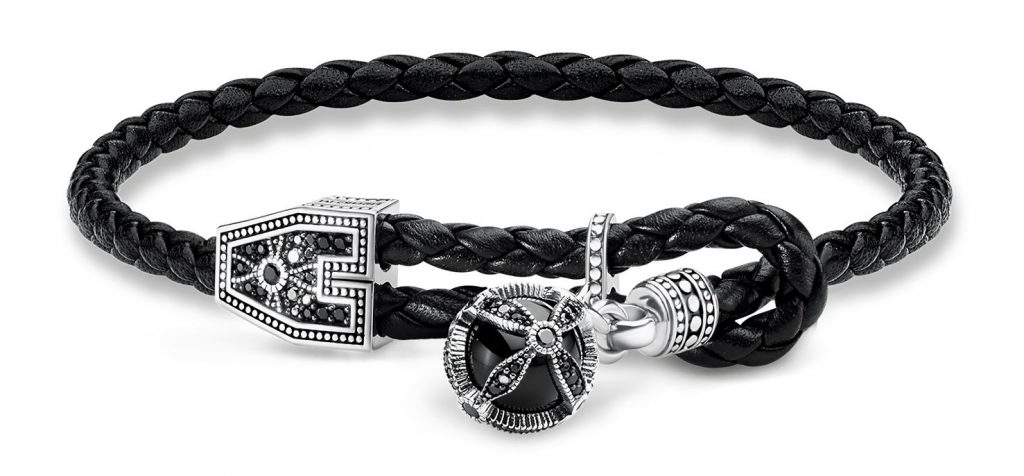 Sabo is a name behind a lot of intriguing watch designs, so it comes at no surprise that he also has an eye for bracelets. A bit of leather mixed with studded charm accessories has the ability to add attitude to just about anything you plan to bring to the table. Might we suggest a grey button-down and a pair of well-worn denim jeans? But honestly, you can't go wrong.
Get it Here.
Miansai
Here we go again with another designer who has perfected the simple, yet complex, leather strap for men. Ah, but Miansai is also known for its sterling silver, stainless steel, Rhodium, Trice, basic rope, and multi-layering – so all is forgiven. Layered Italian leather and metallic highlights finish off the above piece with just the right amount of sophistication to carry itself from the beach to the boardroom, then back to your balcony for some drinks.
Get it Here.
Tribal Hollywood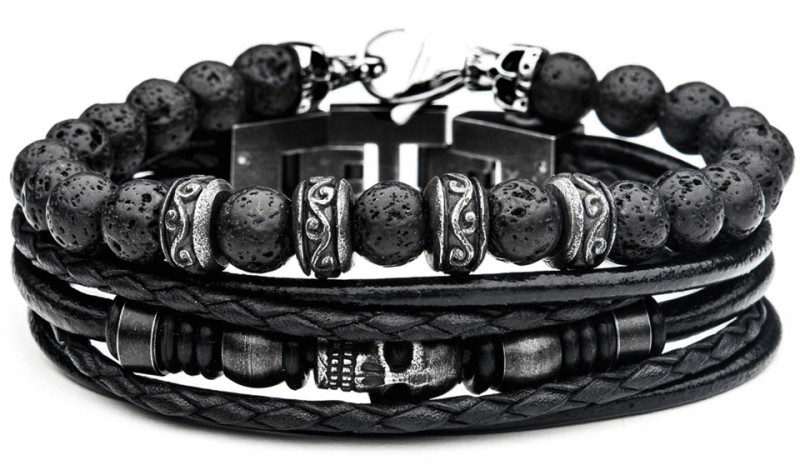 Leather and lace make a sexy combination in the bedroom, but in the urban war zone, a man needs leather, lava, stainless steel, and lots of skulls. The Necropolis bracelet (shown above) is a not so subtle way to add a bit of 'edginess' to any ensemble you're putting together. Yeah, we already know that you're 'bad'… Tribal Hollywood just gives you the chance to show it.
Get it Here.
John Hardy
The classic chain bracelet symbolizes complexity, character, and power. It also symbolizes unity, community, and camaraderie, but we mostly think it looks fantastic on the wrist of a man who has the confidence to carry off a statement piece this bold. This one is made of 11mm of solid Sterling Silver and features a unique clasp that is both subtle and dramatic.
Get it Here.
Bottega Veneta
A wine cellar is just a cellar without wine, and leather is just rawhide until it has been upgraded to Nappa, double-stranded by an artist's steady hand, and given brunito accents to ensure a fit and finish worthy of an iconic fashion statement. This Nero Intrecciato Nappa bracelet is a perfect example of why 'keeping it simple' has become a catchphrase among the cool and collected.
Get it Here.
Zorrata
If you can get in on this "Gold Lion Stack" bracelet during a time when they are not on backorder – consider yourself lucky. But there are some very good reasons why this beaded bracelet is so popular, including onyx stone, black CZ, 14k gold clasp, and a one of a kind presentation. We love Zoratta.
Get One Here.
Tateossian
There is not a finer designer in the world than mother nature herself, and Tateossian is counting on that with this Astroid Ruthenium Silver Lapis Tigers Eye Bracelet. Using lava stone to build off its astroid theme, Tateossian mixes in one ruthenium-plated sterling silver bead to create a bracelet that definitely stands out in a room.
Get One Here.
Konstantino
There are few finer companions on a man's wrist than Sterling Silver and soft leather. And what draws us even more to this particular bracelet by Konstantino is its distinct etching and hidden clasp. Some designs need to go big in order to gain the attention they crave, in this case, the distinction and craftsmanship pack a lot of punch in what would otherwise be considered a delicate and subtle bracelet design.
Get Yours Here.
Caputo & Co.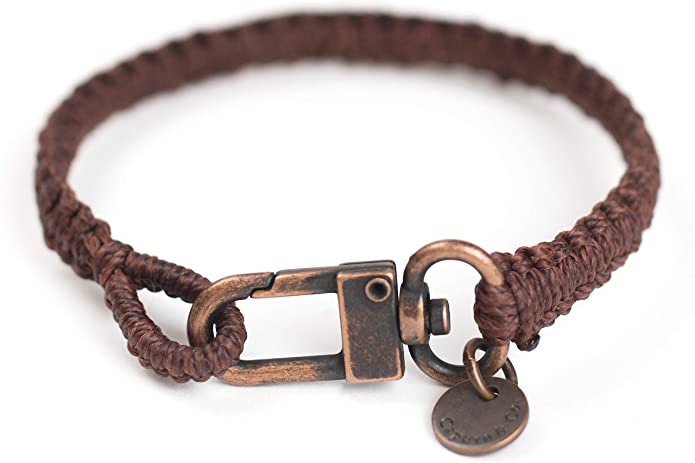 Men's bracelet designers like to combine leather and shiny metal for a rugged yet classy presentation. Caputo & Co. have taken that same idea, ignored our fascination for shiny things, and instead blended hand-knotted waxed nylon with copper-plated brass hardware. This is the look for the better man who prefers to seek out his adventure from the forbidden path.
Get One Here.
Tommy Hilfiger
If you're looking for something simple, classic, and masculine, this thick leather bracelet by Tommy Hilfiger offers exceptional value. The leather on this bracelet has been worked over to a velvety softness, which is contrasted nicely by its clean stainless clasp and enamel etched branding. This will require a little extra care around water and chemicals to keep it looking its best but is well worth the minimal effort in our opinion.
Get Yours Here.
John Hardy
Does a man's bracelet need to be bold and chunky to be masculine? We asked John Hardy, who was unavailable for questions, but instead pointed us in the direction of this Classic Chain Pull Through with sterling silver and red coral. Each bead on this bracelet is only 3mm in diameter, yet it has been one of the most powerful, dramatic, and iconic designs for the last 45 years. So, we'll consider that answer a no.
Get One Here.
Scott Kay
In its simplest form, fashion is the art of balancing the cosmic interplay of colors, materials, and hard and smooth surfaces. This Black Onyx and Red Shell Pearl Bracelet is a great example of how this is done using a meshing of polished Onyx competing for attention against some highly polished red pearl. The competition gets so fierce, some stamped 925 Sterling Silver is brought in to keep the peace between these two bold materials. Welcome to the artistry of Scott Kay.
Get One Here.
Mister Amber
We prefer our amber bracelets like we prefer our Cognac – which in the case of Cognac is natural, authentic, and distilled in a copper pot before being aged for a minimum of two years in a French oak barrel. In order to achieve the same brilliant glow with an amber bracelet, it requires a bit more time to age to marbled perfection. About 34 million years. Yes, this piece should earn some respect with that much diligence and patience.
Get One Here. Amber also comes in a darker color.
Paul Hewitt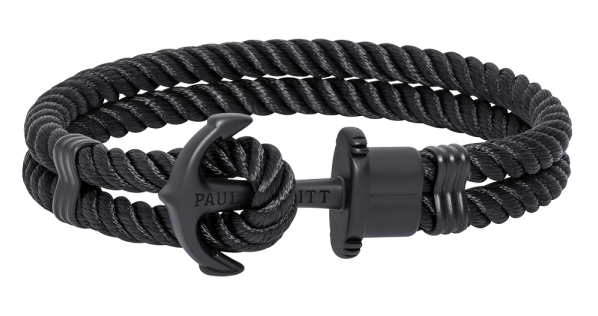 Paul Hewitt adds his signature anchor closure to every sailcloth maritime bracelet. These are made of a mixture of braided leather and solid stainless steel. which means they are both durable and comfortably lightweight. We prefer Hewitt's ion-plated blackout bracelet (shown above), but we would not turn away either of his polished or gold plated versions.
Get One Here. Also comes in Silver and Gold.
King Baby
As a company founded on half rock 'n' roll and half outlaw biker, King Baby stands out in a crowd by utilizing chunky sterling silver skulls and Onyx beads. Mitchell Binder headed the designs from the 1970s and you can still feel the influence of Jimmy Hendrix and Janice Joplin in every piece. These have been worn by everything from Hollywood actors to mega Rockstar's, and while you can certainly find a lot of knock-offs, nothing beats an original.
Get One Here.
Tateossian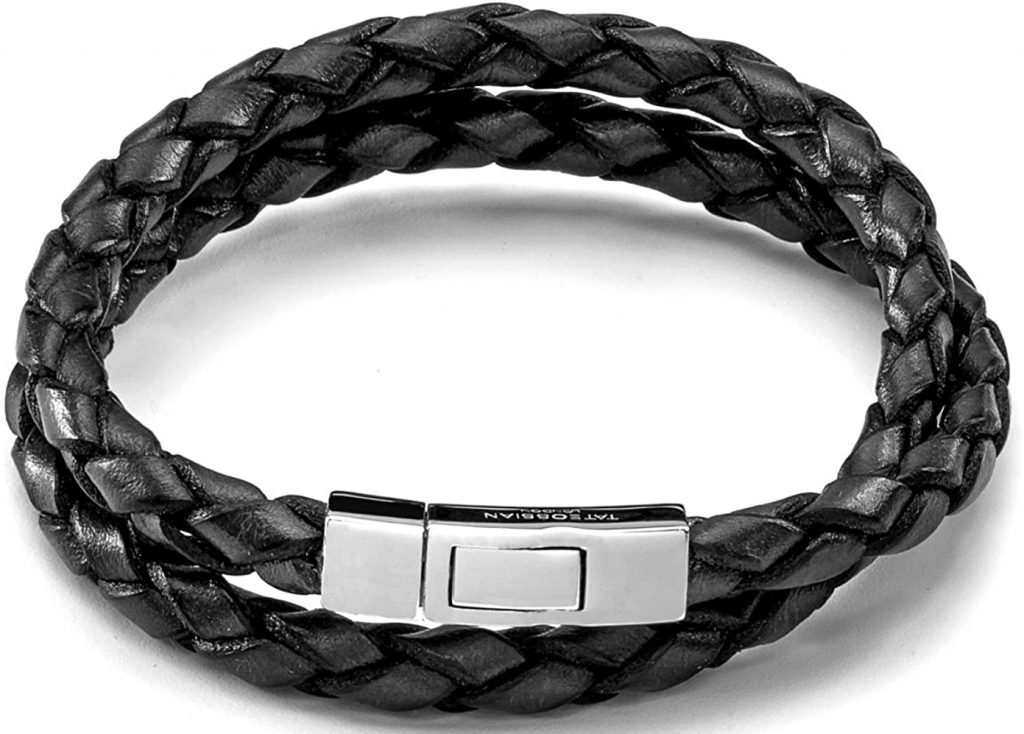 Robert Tateossian offers some nice synthetic leather strand double wrap bracelets, but we prefer the real leather, like this double-wrap Scoubidou with a rhodium-plated sterling silver clasp. Tateossian has been around since 1990, and they have built a reputation of mixing the elements with unlikely bedfellows, such as rhodium, crystal, nylon, leather, and precious to semi-precious stones. This is some of the highest quality craftsmanship you will find at this price point.
Get One Here.
The Jewelry Master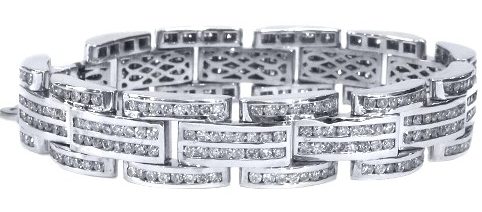 They have diamond bracelets for men that include a set diamond in each link, and this can be a nice look for classy gentlemen. But some gentlemen will not settle for just "nice", they prefer "brilliant," such as this Brilliant Round Cut bracelet in white gold by The Jewelry Master. There are no less than 352 SI2-3 clarity diamonds expertly set around this 8.4″ bracelet. With a chunky width of 14.3mm, this bracelet weighs in at just over 14 Carats and 84 grams of gold. If you like your bracelets lightweight, this is probably not for you.
Get One Here.
Bulova Precisionist
The Bulova Precisionist watch is a masterpiece of competency, capability, and accuracy. And while a bracelet has no need for this line of descriptive jargon, the Precisionist Chain Bracelet falls back on its reputation of iconic style and bold expression. Long before the precision watch ever existed, Joseph Bulova was crafting jewelry for Tiffany & Co that was innovative, distinctive, and balanced. That legacy continues in the Bulova Precision bracelet, complete with tuning fork accents, carbon fiber inlays, bolt accents, and a complex variety of textures, closures, and shapes. Precision has taken on a familiar but often overlooked meaning with this collection by Bulova.
Get yours here.
VY Classic Cuban Chain
Similar to the sensation of a fine watch, a good quality Cuban chain should feel heavy and well-balanced. It is the kind of balanced feel that can only be had when its chain is forged from solid 925, which consists of 92.5% silver, the gold standard in sterling silver purity. The Cuban chain is a thick and chunky design, unlike most other 'modern' cuts that would not fit a large wrist nearly as well. This one also comes with a double-lock to add a bit more meat while also providing some appreciated security. Most men have some silver in their stock portfolio, but this is a much more enjoyable way to invest in yourself.
Get One Here.
We've looked at a lot of different styles and brands of bracelets, but much like a good woman, a man's bracelet is an extension of your signature style, level of success, and legacy, so it is not an accessory that you want to just 'settle' on. This is one of the few things in life that can stay with you for a lifetime and never degrade, lose value, break, or go out of style, provided that you choose quality materials, a classic silhouette, and take reasonable care of it. It is entirely your choice how you live your life and how others perceive you, so don't budget too much for yourself when you should rather be investing.
Recommended Reads
101 Life Lessons for Men to Live By
100 Best Men's Style Websites
50 Best Men's Sites Every Guy Should Know
I'm a digital nomad and story teller that writes for Urbasm and a few other websites on men's interests, style, relationships and whatever tickles my fancy. In my spare time I like to play the field in search of my prince, travel, and consider myself an artisan of sarcasm at times.