A watch is one of a man's greatest fashion statements he can make to other men. But wait one minute here, what about making a statement that speaks fashion to the world – including women, your ex (eh, forget about her), and probably ancient aliens.
The men's bracelet has a long fashion history. Beginning with plant fiber, teeth, and bone, man eventually grew his tastes to prefer leather, gold, silver, titanium, beaded bracelets, and jewels.
Pirates used to adorn their necks and wrists with pricey accessories in the case their body was washed ashore, they could be given a proper burial (assuming the person who found them was honest). Today, the same thinking might get you a proper first date, a pat on the back by your boss, or entrance to a VIP lounge.
You just never know how far style and a proper fashion statement can take you. So, let's begin that voyage:
Chan Luu
A touch of color is key to designing a stylish piece by Chan Luu. These bracelets feature an eclectic mix of stone, sterling, and opelon. They have the fit and finish of a cocktail lounge conversation piece and the laid back essence of only requiring your wrist (shirt optional) and a lazy day at the beach.

Get One Here.
Blackjack Jewelry
Black onyx, black stainless steel, and black cubic zirconia highlight many of the bracelets from the house of Blackjack Jewelry. The accents and crafting of these create a very bold 'understatement' to the man in black or a muffled cosmic boom to the man wearing mostly white.

Get One Here.
David Yurman
We had no idea that one man could be behind the design of so many bracelets for men. David Yurman is a master mixologist of materials and in the above sterling chain-link bracelet that becomes clear to the tune of 3.11 carats of black diamonds. Simplicity has never been orchestrated (or highlighted) better.
Get One Here.
Thomas Sabo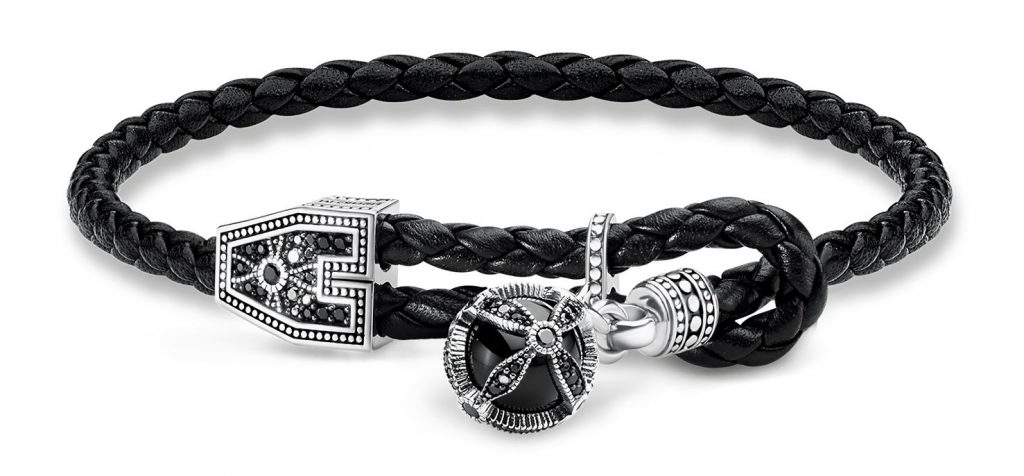 Sabo is a name behind a lot of intriguing watch designs, so it comes at no surprise that he also has an eye for bracelets. A bit of leather mixed with studded charm accessories has the ability to add attitude to just about anything you plan to bring to the table. Might we suggest a grey button-down and a pair of well-worn denim jeans? But honestly, you can't go wrong.
Get it Here.
Miansai
Here we go again with another designer who has perfected the simple, yet complex, leather strap for men. Ah, but Miansai is also known for its sterling silver, stainless steel, Rhodium, Trice, basic rope, and multi-layering – so all is forgiven. Layered Italian leather and metallic highlights finish off the above piece with just the right amount of sophistication to carry itself from the beach to the boardroom, then back to your balcony for some drinks after a successful first date.
Get it Here.
Tribal Hollywood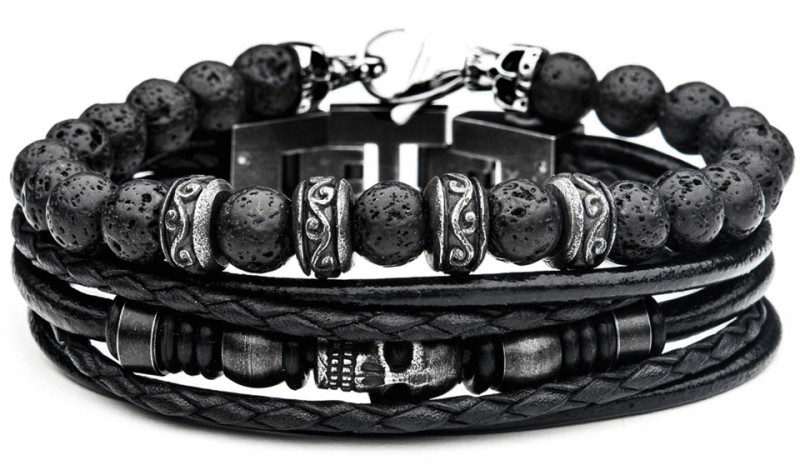 Leather and lace make a sexy combination in the bedroom, but in the urban war zone, a man needs leather, lava, stainless steel, and lots of skulls. The Necropolis bracelet (shown above) is a not so subtle way to add a bit of 'edginess' to any ensemble you're putting together. Yeah, we already know that you're 'bad'… Tribal Hollywood just gives you the chance to show it.
Get it Here.
Bottega Veneta
Leather is just leather until it has been upgraded to Nappa, double-stranded by an artist's steady hand, and given brunito accents to ensure the fit and finish is as incredible as this iconic fashion statement. This Nero Intrecciato Nappa bracelet is a perfect example of why 'keeping it simple' has become a catchphrase among the cool and collected.
Get it Here.
Zorrata
If you can get in on this "Gold Lion Stack" bracelet during a time when they are not on backorder – consider yourself lucky. But there are some very good reasons why this beaded bracelet is so popular, including onyx stone, black CZ, 14k gold clasp, and a one of a kind presentation.
Get it Here.
I'm a digital nomad and story teller that writes for Urbasm and a few other websites on men's interests, style, relationships and whatever tickles my fancy. In my spare time I like to play the field in search of my prince, travel, and consider myself an artisan of sarcasm at times.