Men of all values have been using the scope of their dreams, creativity, and bank accounts to design and build personal, hydraulic mancaves, otherwise known as sky garages. What we are talking about is a living space designated for both man and his beast(s). Or should we rather call it a velveteen welcome mat fit for a 3-ton queen?
Whoever designated their automobile to remain out in the dirty garage must not be an admirer of the machine. Well, perhaps the word machine is a bit too industrial. An automotive machine of the caliber we are discussing is certainly not a fuming barbecue pit or smoky lawnmower. It is a marvel of modern-day technology, a work of art forged out of the finest materials on earth, including titanium, carbon fiber, leather, stainless steel, blood, sweat, and robot tears.
We feel that the simple home garage has been cut short and underestimated for far too long. And apparently, we are not alone.
The sky garage at 200 11th Avenue in New York comes with its own car elevator for the penthouse suite.
In Singapore, The Hamilton Scotts apartment features a sky garage to enhance both your life… well, and your immediate view.
The Circle Sukhumvit 11 in Bangkok is a 35-story condo, featuring a fully working sky garage for each paying tenant.
In Dubai, the Damac Bugatti villas allow you to admire your favorite car from the comfort of either your sofa or personal pool. All we have to say is, but what about when you sleep?
This $85 million Beverly Hills mansion is equipped with a movie theater, wine cellar, candy room and you guessed it… a 16-car showroom.
This 60-story Tower located on the Miami shorefront comes complete with three car elevators, a movie theater, a spa, and plunge pools on almost every balcony.
Deep in Melbourne Australia's Western Corridor resides a living sky garage idea by Growland that places a glass display case in your living room. It will be just big enough for two treasured members of your automotive collection, and they also mentioned something about smart appliances, and security, of which we know very little since we never made it past the photo below.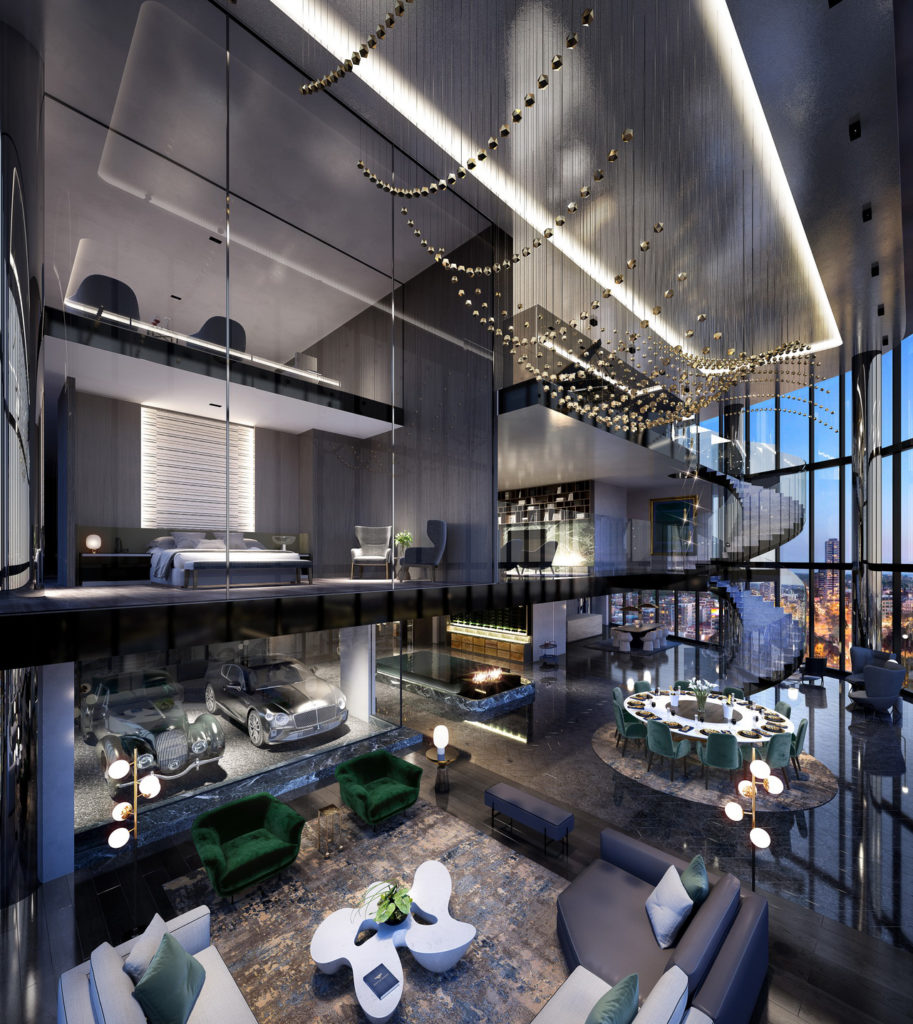 But what can a man purchase with his first $2 million?
Well, in Monaco Main Beach, you can expect some spectacular views from this 24-level villa. It features 360-degree views of the surrounding Gold Coast, plus an optional view of whatever vehicle you choose to ride up the automotive elevator to your living quarters. We say "living quarters" out of jealousy, as what you're really looking at is spreading out over an entire half-floor of the building for $1.8 million. Or you can upgrade to the penthouse which will earn you two floors for $4.9 Million (decisions… decisions).
Across the other side of the world in Melbourne, you will find a penthouse with views inside its double sky garage that more than rivals its stunning overlook of the city.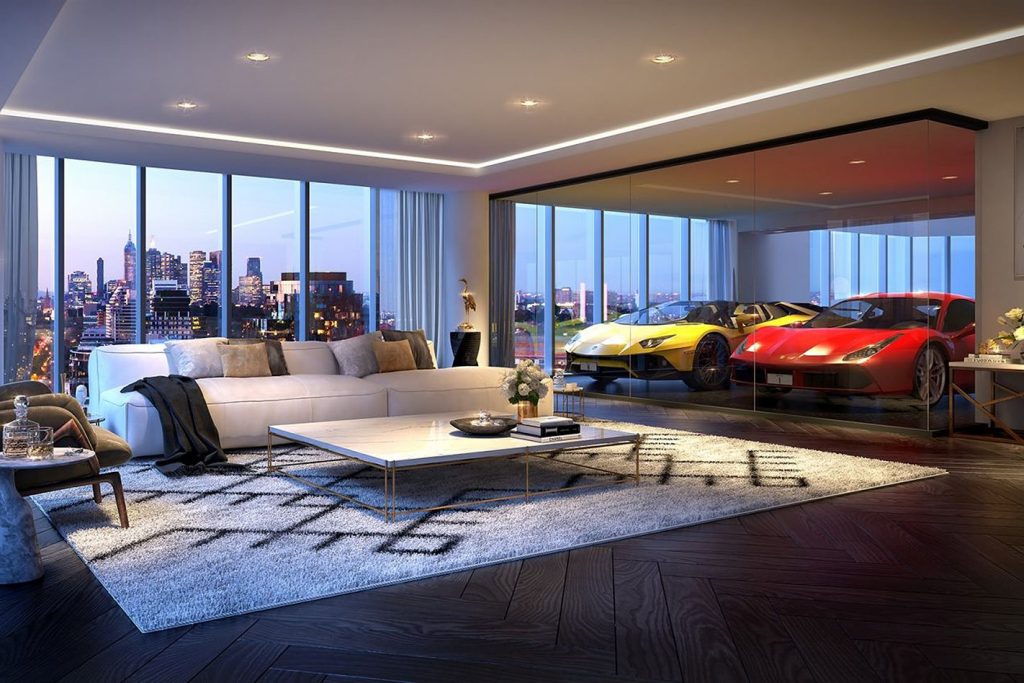 The KRE House in Tokyo, Japan is a 2.5-story house with a car lift that allows you to move your baby directly into the living room for all-day viewing.
So, how does a sky garage work, you might be wondering?
Gil Dezer, the property owner of the Porsche Design Tower in Miami Florida is more than happy to give you the full "car lift experience". He calls it the Dezervator, naturally.
From the top…
to the bottom…
The Porsche Design Tower is luxury-oriented accommodation, including ocean views via 90 feet of glass designated for each living area, and up to 1600 square feet of free balcony space. An in-house race simulator is also provided for those evenings when you just don't feel like 'going out'.
For anyone uncomfortable with heights, the Big Sky Mansion in Montana hides a 12,000-square-foot climate-controlled "garage" deep underground in all that seasonal snow. This is about 3,000 square feet bigger than the upper-level mansion, so this is for the man who has obvious priorities. It features individual spaces to showcase 70 cars, along with its own 1,000-gallon Sunoco gas pump, car wash stations, Dyno, and electric charging port.
Or if you're looking to do more with the less-than-perfect space you currently have, the people at Cardok can turn any residential patio into a hidden underground parking space using an innovative hydraulic underground lift.
Thanks to hydraulics, any one-car parking space can be forged into a three-car art masterpiece
(so long as you have the cash to turn that dream into a reality).
When it comes to designing your own garage, the 'sky' doesn't have to be the limit… but it's certainly a good place to start!
More Luxurious Spaces to See
Luxurious and Impenetrable: The Zombie Proof Bachelor Pad
The Royal Dutch Airlines Luxury KLM Bachelor Pad
The Ultimate Sky Garage Bachelor Pad
Modern-Day Bachelor Pads
Cubicles – The Seamless Modern Bachelor Pad