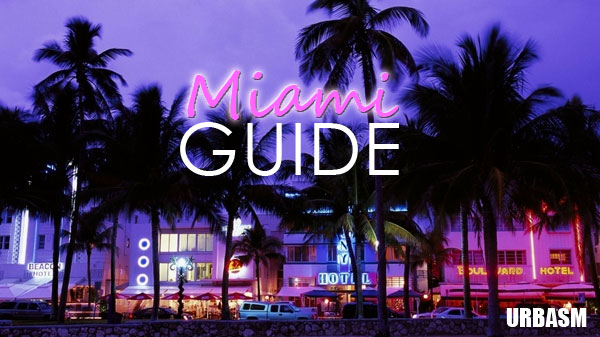 Miami is a bizarre place – not quite the United States, but not quite Latin America. There's so much glitz, glamour, and bare skin, you'll hardly recognize that you're sweating your balls off.
That being said, Miami is an incredibly expansive city. With the lack of public transportation, it's important to plan your nights out by district to avoid dropping hundreds of dollars on cabs. There's also a lot to discover. From more classic destinations like South Beach to up-and-coming neighborhoods like Wynwood, Miami offers dining and nightlife for a wide array of tastes.
Expect to soak up a lot of sun, go out every night and wake up at 3 pm desperate for a cortadito and a Cuban sandwich.
How to Get Here / When to Go

There are two options: I-95 or flying down (unless you're a complete baller and take a boat). If you're flying in, look into Ft. Lauderdale airport and other local ones within driving distance of Miami as it can definitely save you money. Wednesday night – Sunday night is a nice window to have your trip. With all the Sunday pool parties, you might be a little buzzed on your flight home, but how else are you supposed to leave?
The best months to go are December for Basel, March for Music Week, and February for lifestyle events like the International Boat Show. The city's fun levels are entirely dictated by whether there is some kind of festival or industry-wide conference.
Where to Stay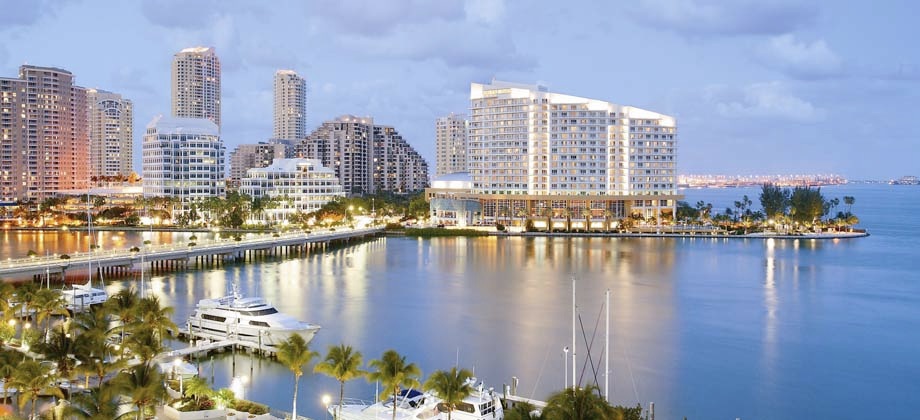 There are a million places to stay in Miami. With all the boutique hotels, picking just one can be overwhelming. Check out https://www.airbnb.com/s/Miami–FL if you're on a budget and ok with a less formal arrangement. Otherwise:
The Setai
Gorgeous pools, beachside, chic people roaming about, need I say more?
http://www.thesetaihotel.com/
The Biltmore
I won't speak too much about the Gables because it's further out of the city and considered to be more residential. The Biltmore, however, is a beautiful piece of Miami that will take you way back in time. Being a National Historic Landmark doesn't hurt either.
http://www.biltmorehotel.com/
The Park Central
The Park Central kicks it old school over on Ocean Drive. On top of a killer location a few blocks away from the causeway between South Beach and Downtown Miami, Park Central provides a nice amount of glamour for the price.
http://www.theparkcentral.com/
The Betsy Hotel
The Betsy has more awards than it does rooms. That being said, The Betsy has an ideal location for nightlife in Miami Beach. If you're a fan of the whole colonial look, Betsy definitely has your back.
http://www.thebetsyhotel.com/
Lord Balfour
Lord Balfour's South of Fifth address provides easy access to the best of South Beach without bringing you so close that you hear the crazies.  The best part?  Even if you don't bring a girl home, the graphic of a tattooed woman will linger above your bed waiting for you to come home.
http://www.lordbalfourmiami.com/
Shopping
Lincoln Road – Lincoln Road is so much more than your standard strip mall for tourists – it boasts some of the best people-watching in the United States. With an influx of foreign investment in real estate, the crazies are now coming from all over the world. Feel free to be incredibly cliché and get an overpriced meal at one of the restaurants on Lincoln Road, as it provides a perfect spot to watch people passing by.
http://lincolnroadmall.com/
Bal Harbour Shops– While this may be too much of a trek north for some, the results can be really rewarding once you get there. Bal Harbour will show you old-school Miami money, and the drive up Collins Ave is full of unique beachfront architecture.
http://balharbourshops.com/
CocoWalk– Cocowalk is a more low-key option if you went too hard the night before. It's your standard shopping plaza smattered with local art galleries, a Cheesecake factory, and shops.
http://www.cocowalk.net/
Design District– Somehow, a once underutilized area of Miami was taken over by luxury designers. Cartier, Chanel, they're all there. The Design District is the best place to take your girl shopping and grab a nice bit to eat after.
http://www.miamidesigndistrict.net/
Attractions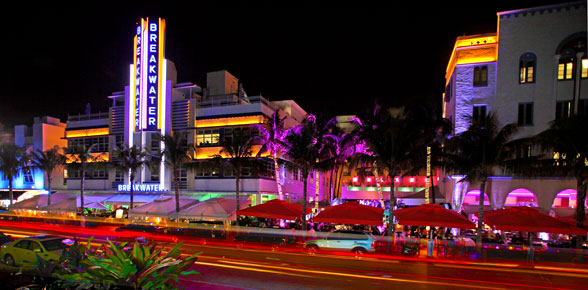 Beaches– As long as you stay north of Ocean Drive, you'll find a gorgeous beach with minimal interference. If you're staying on the mainland, be sure to take a cab since parking on the beach is TERRIBLE.
Art Galleries, Graffiti, etc.– Miami's love for the arts can be seen in its flourishing gallery spaces. Wynwood is an especially active arts community with its myriad galleries and absolutely stunning blocks of high-quality graffiti.
Jai alai– I'll just leave this here.
DJs– Try to time your trip with a favorite DJ or a couple of sets. There are amazing artists citywide with residencies, meaning you'll be listening to something good wherever you go.
Water sports– Jet skiing, Windsurfing, Parasailing, and Boat Rentals, they even have jet packs that attach to boats so you can hover over the water. No joke.
Things to Do
Rent a bourgie car – There's a reason why there's a Lambo at every stoplight, and it's because everyone rents them (See Bieber anecdote below)
Visit where Justin Bieber got arrested – 26th and Pine!!! Beyond being across the river from where I live, it was actually a great place to drag race prior to the whole Bieber being arrested thing. Tour buses even stop by it now.
#Lomo – Cuban food in Miami is everything. You can find my restaurant recommendations below, but you'd be surprised what amazing hole-in-the-wall places the locals will tell you about (Pero Tiene Que preguntarles en Español).
Hookah – More of a Lincoln Road activity, hookah is a great way to unwind after the beach or get a night started before going out.
Tennis, golf, and "Sun Sports" – FOX has a channel called "Sun Sports" which was not available when I lived in the Northeast. The channel shows golf, tennis, and Florida sports teams. I find "sun sports" to be a nice compliment to "water sports". Note how almost all of these encompass leisure (sport, not so much).
And hit the beach of course.
Night Clubs in Miami
If you're in Miami and it is dark outside, then the first question you should be asking yourself is, which nightclub should I be on my way to. Well, you've got a lot to choose from, and the next question you need to answer is how close to SoBe (South Beach) are you, and what kind of good time are you looking for? If you're worried about getting into any of these clubs, it's always worth sending the venue an e-mail to pay for a list or table.
LIV– This is one of Miami's legendary nightclub hot spots. The one thing we can say is to go easy on the glitter, as this place has more lights than a Las Vegas casino.
Mansion– Everyone needs to experience the Mansion at least once. They are known for their live entertainment, both on the stage and on the dance floor. By that, I mean that they have connections to great artists, but they are also a regular hangout for hip hop celebrities and semi-famous fashion models.
Story– This club is regularly attributed as one of the best "bottle service" alternatives in Miami. It is big, it is sexy, and whatever "story" you can think up, it will likely end happily.
Mynt– The Mynt lounge is trendy, futuristic, and another magnet for high-profile celebrities, including actors, rock stars, and fashion models. Just remember to bring your cash credit, as the drinks here are a bit more pricey than you may be used to.
Clevelander– This hot spot is back after a multi-million dollar renovation, and the result is an all-in-one party package. This includes great entertainment, beautiful views from the center of the Art Deco District, and a nice place to stay if you don't want to be doing a lot of driving.
Do Not Sit on the Furniture– This place is great just for its name, but it is actually a great underground dance club, that puts the "dance" back into the club, and you won't have to worry about jumping the "velvet rope" to get in, as there really isn't one here to speak of.
Update:
STEAM– It was an untimely surprise when Vagabond closed. The void that's developed since has left room for a less pretentious nightlife option in Downtown Miami and Wynwood – a place with a more traditional nightclub vibe, but one that is less garish than something like E11EVEN. Enter STEAM, the concept now filling the space on 30 Ne 14th St. While Vagabond may have been a tough act to follow, it certainly has piqued the city's interest as far as who, and what would be replacing it.
The interior design resembles a warehouse or factory from back in the day. And while some stages have cotton or velvet curtains, the ones at STEAM were made of metal links. The whole space had a hard edge to it that I enjoyed. The staff was adorned in rather revealing railroad attire – think Wild Wild West meets Daisy Dukes meets overalls. I even thought about bringing a wooden train whistle just to stay on trend, but in the end, I decided against being that guy.
Luckily, I didn't need too much help orchestrating chaos. From a girl in a nightgown roaming around the chainlink stage with a teddy bear to showgirls bathing in milk while serving Fruit Loops, the performance artists were out in force.
I was pleased to see a nightlife venue with such a diverse crowd (something that had been a big draw for Vagabond). It had a unique mix of downtown types dressed in business casual, Wynwood scenesters and more casual people from the Beach.
This will be the first of three nightlife concepts coming from Ramp Management Group before the end of the year, which is ambitious even by Miami standards. Will the themes and performance art continue? Or will the group's upcoming offerings take a different path? Time will tell.
Until then, choo-choo.
Where to Meet Women
The women of Miami are famous around the world, and some might even argue that they are among the top cities with the sexiest women. And we're not just talking about one kind of woman, but an assortment of them, including Jamaicans, Haitians, Cubans, Dominicans, Puerto Ricans, Colombians, Brazilians, and Venezuelans. Miami is a melting pot of sorts, and we can almost guarantee you will not go home disappointed by the view.
Alt/Artsy Chick – Up and down North Miami Avenue you'll find all kinds of girls from gallerists, to photographers and many other types that center on being the antithesis of Miami Beach Barbie.
Miami Beach Barbie – Ok she's basically everywhere in this city. If she's wearing some combination of black and neon colors in a skintight fabric, she's especially intent on finding someone to pay for all her stuff. If you're looking for the all-pro Miami Beach Barbies, check out the city's new 24/7 club called e11even.
The Brickell Babe – She doesn't really leave Brickell because that's where all her friends from high school live. While she's still not totally over the drama of her quinceañera, her fiery tongue will keep you entertained.
Hipster Chick – I know this borders on Alt/Artsy chick territory, but the hipster girls tend to keep their artistic inclinations to Pinterest and work normal day jobs. The Corner in Downtown at 3:30 am is the best time to find one. Plus you can see all the Barbies on their way to e11even next door.
Best Places to Go Out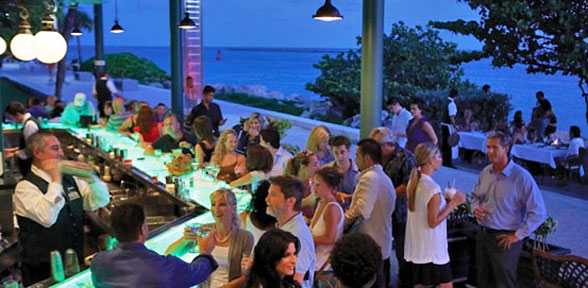 Wynwood
Wood Tavern – Taco Tuesdays at Wood are a special occasion, especially if the Brazilian samba dancers roll through. It's a more informal space that's good for a couple of beers.
Cafeina Wywood – Cafeina has a gorgeous open-air courtyard and nice ambiance. It also has a gallery if you like art with your liquor.
Downtown
Biscayne Tavern – Biscayne Tavern is a great pre-game spot. It's classy and centrally located to anywhere you're going out that night.
Grand Central – Grant Central hosts some amazing DJ sets, and the cold fog machine is a godsend. You may get a younger crowd depending on the night, but Grand Central is more of a dancing place than it is one to socialize at.
https://grandcentralmiami.com/
Miami Beach
Fancy Hotel bars like SLS and The Regent
http://galehotel.com/nightlife/regent-cocktail-club/
http://slshotels.com/southbeach/barcentro/
Lord Balfour – For all the drinking that goes on in Miami, few have places have gotten into mixology.  The bar in the Lord Balfour Hotel was an early adaptor and features an array of delicious cocktails.  Whether it's a Harney & Sons tea-infused concoction or a lighter, refreshing drink, the bar at Lord Balfour features quality drinks in a setting romantic enough to make you forget you're five blocks away from party central.
http://www.lordbalfourmiami.com/ 
SoHo Beach House – Make sure you know a member before you try gaining entry to the exclusive SoHo House. The playground for socialites is also a selfie-free zone due to the no-camera rule.
http://www.sohobeachhouse.com/
Rec Room – After 1 AM, Rec Room is the place to be on weekends. The décor is very Miami Beach. Just be careful not to miss it on the street due to the small sign they have outside.
Radio Bar – The Radio bar is a solid Friday night choice. Head around to the back, walk-in, and be enveloped with the warm string lights and late '90s/ early 00's hip hop jams.
Jazid – After the unfortunate closing of Chalk (R.I.P.), I started going to Jazid in South Beach more. The first floor has a lax jazz vibe, while upstairs you can listen to breakbeats on vinyl.
Rooftop Bars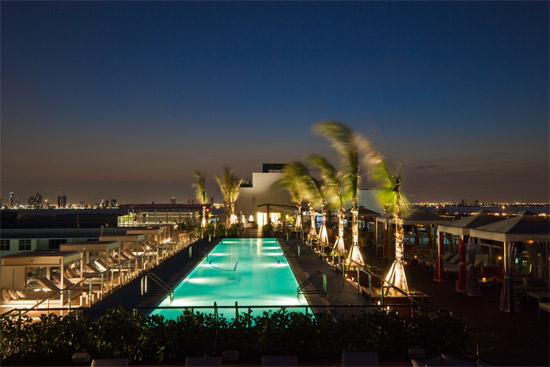 Highbar at the Dream Hotel – Cheesy joke about how they "set the bar high" aside, Highbar provides a gorgeous view and is a modern classic in Miami.
Area 31 – Area 31 is another solid option for a rooftop bar. It's one of the few places where there's a good amount of local young professionals, just in case you like your girl with a side of MBA.
Nom's
Hangover Brunch (Because let's face it, after a night on the town, you won't be up in time for breakfast)
Morgan's – Morgan's looks of out of place in Wynwood; a prim and proper house in a graffiti-laden neighborhood. Get there early to avoid the long line that goes all away down the ramp.
http://themorgansrestaurant.com/
Maxine's – Two words: Breakfast Burritos
http://www.catalinahotel.com/maxines/
Crumb on Parchment – If you come to Miami and manage not to make a trip to a Michelle Bernstein establishment you should be ashamed. The woman is Miami culinary royalty.
https://twitter.com/CrumbMiami
Panther Coffee – Just bring a separate suitcase so you can take a bunch of their beans to go. The coffee is great, and they have shockingly yummy cookies, empanadas, and other pastries. You can also learn a lot about coffee in a short trip.
Lunch
Latin Café – Go H.A.M. on the ham at Latin Café. The prices are great, so if there's one place where you gorge yourself on pork, it's here.
Pollo Tropical – If you don't have Pollo Tropical where you live, you should experience one of South Florida's finest fast food establishments. It's Wendy's style with the whole "fresh never frozen" philosophy.
HuaHua's – Another spot in South Beach that's perfect for the carnivore in you. #Tacos
Dilido Beach Club – With a gorgeous view of Miami Beach and women in petite art deco era waitress outfits, what's not to love?
http://www.ritzcarlton.com/en/Properties/SouthBeach/Dining/TheDilidoBeachClub/Menu.htm
Dinner
Michael's Genuine Food & Drink – If you're into farm-to-table dining MGF&D is the be-all and end-all. Some of the freshest food you'll find in the Design District.
Sabor a Perú – Another one of those places that serve cuisine so authentic that only locals frequent what is otherwise a really nice restaurant. #Ceviche
Sugarcane – Sugarcane boasts an amazing cocktail menu, and a diverse selection of tapas, and is one of the few spaces with real ambiance in Midtown.
http://sugarcanerawbargrill.com/#!our-story
Sushi Samba – If you're feeling Sushi, head on down to Samba Management's eponymous restaurant. They also own Sugarcane, and the quality is just as excellent.
Yardbird – If fried chicken, waffles, watermelon, and an intense food coma sound good to you, git' on down to Yardbird. Their reservation list is quite long, so book at least two weeks in advance.
There's no right or wrong way to do Miami. For all you know, your first night out can turn into your first day out of the vacation. That's why it makes the most sense to have an itinerary, but to scrap it if you find your night is taking on a life of its own. Some might say Miami is too unpredictable to "plan" a vacation, but that's just part of being in the Magic City.
"Every day like a mardi gras…"
Also, see our Guide to Las Vegas, 10 Things Every Man Should Do, and BC for even more ideas of where to go, stay, play, and have fun.