Movember has come and gone, but that doesn't mean that every man has already shaved off his mustache and/or beard. In fact, quite often when a guy grows some facial bliss he is welcomed into a world of new opportunities, including better health, more women, higher confidence, boosted respect; and did you read the part about more women?
A mustache can reduce the amount of dust, pollutants, and pollen that would otherwise find their way into your lungs. A beard can keep your neck warm in frigid temperatures. It also has the ability to protect your face from the sun and will help hold moisture and oil inside the skin to keep you looking younger. According to research, facial hair can also instill more trust in your peers, and help you to appear more physically fit.
And a beard is one of a man's greatest concealers, suggests celebrity grooming expert, Diana Schmidtke. Whether you've gained some weight over the holiday or have a jawline that just doesn't quite suit the rest of your face, a beard will create shadow and mystery, allowing onlookers to fill in the blanks with a more flattering silhouette.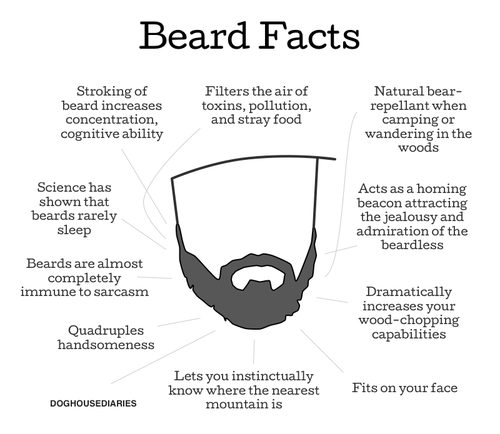 With so many benefits of facial hair, it's easy to see why some guys take advantage of it year-round. However, it isn't all fun and health benefits. A beard needs to be groomed and cared for in order to produce the kind of benefits mentioned above. But if you follow a few essential rules and product recommendations, there are practically no limits to what a man's mustache/beard can accomplish (pull a kitten from a tree, save a whale, sing kumbaya, etc.).
The Growth Phase
"A great 'stache (or awesome beard) doesn't just happen on its own," says Mike from the Grooming Lounge."It's got to be grown, maintained, and nurtured." So how can you take action? Well, you can rub it, massage it, or feed it with plenty of Biotin. But in the end, there is really only one key to growing facial awesomeness.
"Patience! That is the keyword to growing either a mustache or a beard," says Paul from Beard And Ink. And Paul should know; he has an awesome beard. Give yourself at least a month to expect anything worth being proud of to make an appearance. In reality, a great beard can take a lot of time, so you have to be willing to put in the due diligence to get it just right.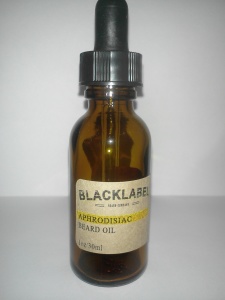 "The first step to growing a Great mustache is to always moisturize," says Greg from the Blacklabel Beard Company. "You need to invest in a good, all-natural, organic beard oil or beard balm if you're going to grow a mustache." What should you get exactly? Well, Blacklabel Beard is the expert on these matters and we kind of like the idea of having a soft smooth beard while attracting the finer members of the opposite sex. This is a job for Aphrodisiac Beard Oil. With scents of vanilla and cinnamon trailing you, your beard could become the best wingman you've ever had.
A lot of guys might make the mistake of not caring for their beard until it gets to a certain length. "You must start [the oil regimen] the first week or you are likely to be uncomfortable, itchy, and unsightly," recommends Greg. In that way, a beard is like a champion sumo wrestler–It is never too early to start training like a pro.
Beard & Moustache Care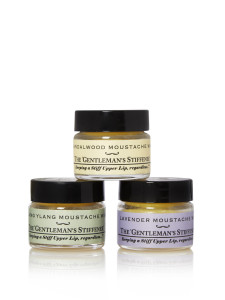 "My personal favorite is the Captain Fawcett Sandalwood Moustache Wax," says Liam from Regal Gentleman. "A great wax and all with a traditional sandalwood scent. I'm a huge fan of Sandalwood!" So are we Liam, and  Regal Gentleman has a huge selection of grooming products, including pre-shave oil, shaving cream, and aftershave.
"I use Apothecary87 and Bear Face for my beard and mustache," says Paul. "Also Captain Fawcett; they've got an excellent reputation." Apothecary87 has a huge assortment of grooming essentials and they are all quality.
Do you really need an entire gift pack to grow a mustache or beard? Heck no, but you will need a selection of these items to do it right. "Your results will depend on how you treat your stache, what you use, and how often you use it," reminds Greg. "If you do this, you'll be happy with the result." And if you don't do any of this, well– you can always take up knitting at your local nursing home while you wait for your awesome mustache/beard to happen.
Professor Fuzzworthy offers a Deluxe Beard Grooming Kit that any bearded man will put to good use over the winter season. It comes with a 100% Boar Bristle Beard Brush, Beard Gloss Balm, Beard Detangling/Conditioning Bar, and a Beard Shampoo Bar. So, what's the difference between a beard oil and beard "balm", you might be wondering? Well, beard oil conditions your beard, allowing it to maintain a healthy appearance. Beard balm is a thicker formula that will help tame even the most unruly beards into submission.
And while we're on the topic of taming; any beard will also benefit from a high-quality boar Bristle Comb, like the one on the left by Kent, sold by the Brighton Beard Company. The advantage of using a natural bristle brush like this over a synthetic brush is that it helps to draw out impurities (dust, excess product, etc.) from your beard as you use it. It also stimulates the follicles to help promote new growth. Chicago Comb offers your mustache a comb, which is slim, balanced, anti-static, and made of carbon fiber.
"Once you have the 'stache you so desire, it's all about keeping it well-groomed and maintained," says Liam. "Try trimming into shape and using a good mustache wax to get your handlebars in action." Captain Fawcett offers a Moustache Wax Cornucopia gift box that is a classic recipe developed by the captain himself. It features an assortment of three scented pomades, including the aroma of Lavender, Sandalwood, and Ylang Ylang.
"Don't neglect cleaning the skin underneath, so it doesn't get infected," says Mike. "And be sure to condition it like you would your hair on top, otherwise it'll get itchy and scratchy and you'll want to get rid of it." Rather than worry about a bunch of individual products to keep your beard clean and soft, the Grooming Lounge offers an Ultimate Beard Maintenance Kit, including a collection of Bluebeards Original Beard Wash, Beard Saver, a Kent Slim Jim Comb, plus a few optional extras. Viking Revolution offers their own formula of shampoo and conditioner, featuring all sorts of natural goodness to help reduce irritation, prevent dandruff, promote healthy growth, offer a soft natural look, and leave you smelling like a freshly squeezed batch of Sandalwood.
The one bit of extra advice we can offer is not to shampoo your beard or mustache too often. This can backfire by damaging and dulling the facial hair (yeah, it's more sensitive than some manly men realize). A weekly shampoo is probably all you will ever need to maintain an even balance between cleanliness and good moisture retention.
Beard Shaping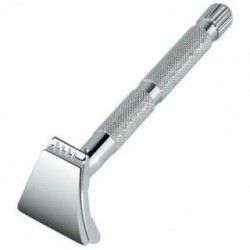 As in the hair on top of your head, a good cut will make or break your look. "Grab either a detailing razor or trimmer to keep it the right shape and length," says Mike. Yeah, we've been so focused on growing that beard or mustache, we've forgotten that any beard needs to be shaped and trimmed to maintain its stature and your level of confidence. While a regular razor can do the job for basic shaping, a detailing razor, like this Merkur 907, will allow you to get a lot fancier with your designs. It specializes in trimming those hard to reach places, including in between your eyebrows.
For bigger shave jobs we turn to the experts at Dreadnaught. Their Spartan Double Edge Razor is a classic, precision-engineered stubble buster that is hefty, shiny, and will likely outlast an upcoming apocalypse. It is easy to clean, takes standard razor blades, and looks darn good. Another option is their "Cut-Throat" Shavette/Straight razor, which offers the precision of a standard straight-razor with the convenience of blade replacement. Philips Norelco OneBlade Hybrid is a good option for guys who wear their beards at multiple lengths.
You are also going to want a good foundation from which to work for future shaves to come. "Moisturize in a manly way with the Cooling Moisturiser containing Jojoba," says Justin from Dreadnaught. "It enjoys a fabulous reputation as the only natural wax ester with an amazing similarity to the oils created by our own skin, and is thought to help prevent oily skin and outbreaks of irritation."
So far we have managed to avoid all electronic gadgetry, but one's beard can get a little messy without the occasional trim. Scissors work for this, or you could get something a little easier, like the Norelco 7300 beard vacuum. And your nose and ear hairs could use some attention too. Panasonic has a great line of wet/dry trimmers, including the Panasonic ER430K
.
And speaking of gadgets with electricity, if you prefer an electric shaver, Fashion Beans recommends the Braun Series 9
. We're partial to the Remington Heritage
, and we also like the Philips Norelco Series 8900. But if you want the closest shave possible, we say—ditch the electric and go old school with either a double edge or cut-throat.
A tip for you electric guys considering making the switch, a razor is like a woman. It requires a gentle touch and slow stroking motions. A lot of guys who are used to an electric razor go at a double edge like they were hacking down a forest, but you need to think of it as carving out a Venus de Milo—with a slow and steady hand. It is also better to take short strokes rather than one long one, use a pre-shave oil to help the blade glide across the skin, and rinse the blade often.
To keep up with the need for new blades and other shaving accessories, the Dollar Shave Club can send you a monthly care package with most of your favorites at a reasonable cost. And if you're wondering what do to with all the equipment we've shown you so far, there are a lot of options when it comes to shaping your beard: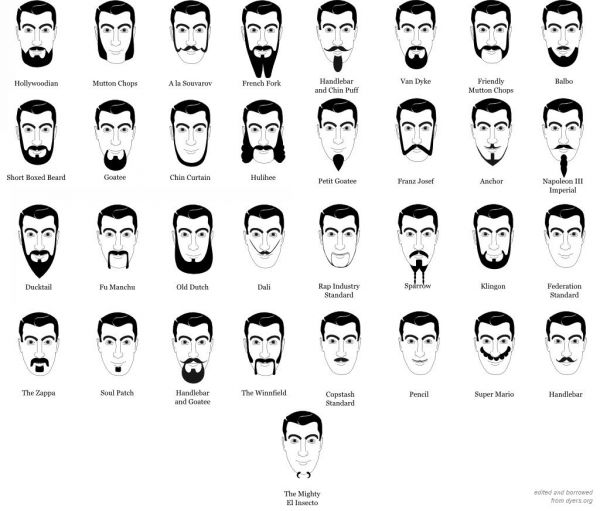 Skin Care
As far as general skincare goes, a man has a lot of options. If you've ever watched a woman stand in front of the skincare aisle for hours reading all the labels, you probably have an idea of how lost you can get down this yellow brick road. We'll make it easy for you. You're going to need one good facial cleanser. M3 Naturals Activated Charcoal Scrub is a great all-in-one cleanser. It features active ingredients to help scrub off old skin cells, but it is also gentle enough not to cause too much irritation. Anthony Logistics Glycolic Facial Cleanser
 exfoliates the dead cells, stimulates the growth of new ones, and can even help if your skin if it is prone to breakouts.
As far as moisturizers go, you don't need anything too fancy, just something that works. Brickell offers a Daily Essential Face Moisturizer, and we can't argue with its effectiveness. It offers natural ingredients free of all the enemies of awesome skin. One important tip is to remember when choosing your moisturizer is that dry skin will enjoy the extra lubricating properties of oil-based lotion, while oily skin will fare better with water-based. If you have normal skin, it is usually best to lean towards the oil-based side of the fence.
To allow your moisturizer to work at maximum performance, apply it while your skin is still damp from cleansing. This will help lock moisture in and allow your moisturizer an easier time doing its job. The nighttime is when a man has the greatest chance to repair any damage that has occurred from the day before. Fashion Beans recommends Clarins Super Moisture Balm
, which helps to energize skin cells and will leave you looking more refreshed by the morning.
What goes into your body also demonstrates what you get out of it, so keep in mind that sleep is important, eating a healthy diet, staying hydrated, avoiding direct sun with a good UVA and UVB protectant with at least an SPF of 15 or more. Jack Black offers a nice balance of sun protection with their Double-Duty Face Moisturizer. It absorbs quickly, doesn't leave your skin feeling oily, and offers a few extra ingredients (Blue Algae Extract and Sea Parsley) that also help to nourish, repair, and hydrate as it protects.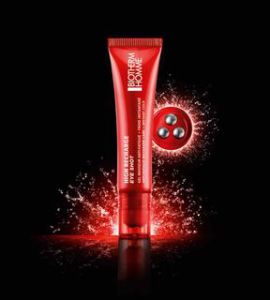 The eyes are one of the first things that a woman notices on a man, and it is a shame that some guys don't care for this all-important body part as well as they should. In particular, we are talking about the skin around your eyes, which frames your character along with your eyelashes and eyebrows. Wrinkles, bags, and dark circles will take away your youth before it's time, and the skin around your eyes can begin to breakdown as early as your mid to late twenties, so it is never too early to begin. Biotherm makes a killer eye cream called High Recharge Eye Shot. Dior Homme has an anti-fatigue firming eye serum that will not only moisturize, but can help remove some of the damage that has already occurred (dark circles, puffiness, etc.). Another good all-purpose eye cream is Dermalogica Total Eye Care with SPF15
.
Hair Care
Men like to know their shampoo and conditioner is working for them, which is why a lot of peppermint formulas are popular in the guy markets. They cause the scalp to tingle and dance with icy fireworks. This year we learned that one does not need to travel far to enjoy such bliss when you shop online at Mr. Pompadour.
Dry shampoo is a relatively new addition in a man's arsenal of grooming products, and from our own experience, it works great at absorbing excess oil while applying a little freshening fragrance to the mix. Drybar Detox Dry Shampoo
offers a simple formula that keeps your hair fresh and clean smelling without a single drop of water. It also features effective volume enhancers, which is exclusive for this company.

We have also learned that hair gel is always better to be seen than heard, which is why we are big fans of the brand, Hair Situation. It combs out almost as smoothly as it goes on, and they offer enough variety in their four products to enable you to do just about anything you want, and not have to pay for it later with the dreaded fly trap head (locks of stickiness). Pomades, sculpting clays, and wax go into the hair (rather than on top) to create a natural, touchable style. It works best for the gentleman with short to medium hair, and we're big fans of Mr. Pompadour's sculpting clay. Just remember that a little dab goes a long way.
While some guys are more worried about what they're putting into their hair, other guys are more concerned with just how much more time they will have with theirs. Male Pattern hair loss is difficult to avoid for some, but before you classify yourself as doomed without a doctor's opinion, keep in mind that there are plenty of other reasons that some guys experience temporary hair loss. The basics of hair care can be forsaken while relying too much on hair products to make all the magic happen. You need to sleep somewhere between 7 to 8 hours a day, reduce your daily stress, and eat your vitamins to maintain a healthy head of hair.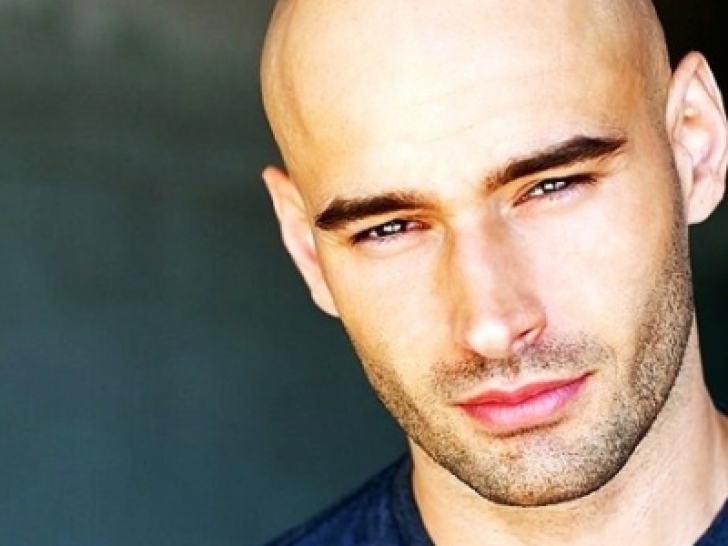 However, if there is no denying that your hair is on the way out, and the standard tricks and tips don't seem to be helping–own the look. Guys, you may see change as bad, especially when it has to do with your once full head of hair, but you should take pride in your style no matter what. Any look (hair or no hair) can be carried out with grace as long as you approach it with class and confidence. If you're all out of ideas, head to your barber with an open mind. They have been trained to deal with these sorts of problems, and they can probably give you some pretty good advice on how to wear your hair to get the most out of it.
And no grooming lesson would be complete without touching upon the topic of manscaping. According to various surveys, close to three-fourths of men trim or shave their body hair at some point in their life. The legendary tool for most all your manscaping needs should fall to the Philips Norelco Bodygroom Series 7000
. The Series 7000 offers 'body zone' dedicated attachments and a unique head design that will help to protect you from razor burn in those, ahem, most sensitive areas.
Fragrance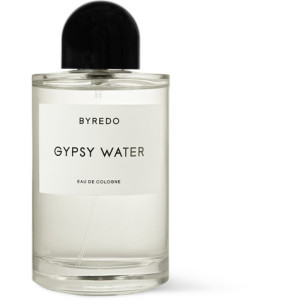 We asked Mr. Porter for some suggestions to keep your beard awesome this holiday season, and they suggested that every beard looks better on a gentleman when he smells like a gentleman. We agree, which is where a couple of ounces of Byredo Gypsy Water comes in. It has a unique scent of bergamot, peppers, and berries, with just a hint of vanilla and amber.
D'Marge has done their homework, offering up the best men's fragrances of 2020. Their list includes Tom Ford's "Fucking Fabulous", Zadig & Voltaire's "This is Him", Creed's "Santal", Jo Malone's "Velvet Rose & Oud", Eight And Bob's "Original", and Viktor and Rolf's "Spicebomb".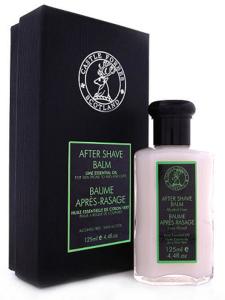 And to nick two birds for the price of one stone, Castle Forbes Essential Oil Aftershave Balm offers up the light scent of lime along with a dose of moisturizer and razor rash busters (Witch Hazel and Aloe Vera). And don't forget about the huge selection of beard oil scents available at the Blacklabel Beard Company. And for general cleanliness and pleasant aroma, we highly recommend the Craft Beer Soap Pack made by Swag Brewery. A six-pack comes with Honey Pilsner, Belgian Witbier, Apricot Wheat, Oatmeal Stout, Hoppy IPA, and Vanilla Porter.
Accessories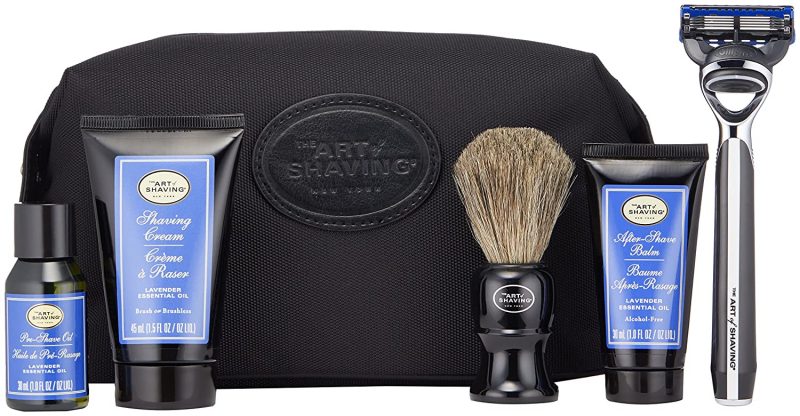 The Art of Shaving Travel Shaving Kit can make traveling more enjoyable, by including everything you'll need in one convenient Dopp kit. It includes a Pre-Shave Oil, Shaving Cream, a Shaving Brush, Morris Park Razor, and their own After-Shave Balm. Baxter of California makes a nice travel-sized shave brush, and the Tweezerman G.E.A.R Essential Grooming kit will take care of your nails and hair using a sleek multi-nail tool, tweezers, scissors, and fingernail clipper. If air travel or size is a concern, MÜHLE makes an even more compact cowhide travel manicure set.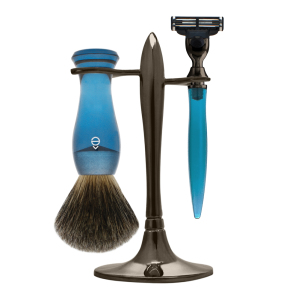 As far as keeping all your stuff together, we like the classic look of a Genuine Buffalo leather Dopp kit or the simplicity of the "Spacepak" toiletry bag by Flight 001. For whipping up your own shaving cream lather, Dreadnaught offers a nice porcelain shaving bowl and drip stand to keep your natural shaving brush in peak condition. E-Shave offers a classy and elegant t-stand for both your razor and brush.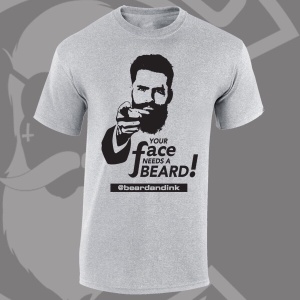 A Goateesaver can keep your goatee straight and true, and a razor sharpener by RazorPit will keep almost any single blade cartridge sharp for months. A good old-fashioned Razor Strop is also a must for the guys who like to keep your straight razor clean, sharp, and awesome. And once your officially a part of the bearded/mustache man's club, display your pride with a t-shirt from Beard And Ink. We like the "Your Face Needs a Beard" Tee. But there is a lot more than that to choose from.
We humbly thank all the experts who helped make this guide possible.
Final Word: Beards, hair, and skin cost money; How awesome do you want to be?
Get more ideas from Our Holiday Gift Guide.
Read More
Insider Tips from the Grooming Lounge
ManCave Originals – The Giftbox to Give to Yourself
Keep Your Teeth and Improve Your Overall Health
50 Best Men's Sites Every Guy Should Know
Eric has written for over a decade. Then one day he created Urbasm.com, a site for every guy.