Remember Vegas? Since the pandemic, the streets have been a little sparse, but that also translates to some great rates if you're ready to get back into the game. But let's be honest here, Las Vegas can become your greatest endeavor or your worst nightmare. The difference relies on where you go, who you know, and the attitude you have while you're there. Ask us how we know? Combined, our staff has taken weekend trips, week-long vacations, visited gentleman's clubs (ok, strip clubs), nightclubs, found a great steak, and lost bad crab legs in a latrine at Circus Circus. We have won money, lost cars, ruined long-term relationships, married a stripper, divorced her hours later, and then rented a Dodge Viper in celebration of our newfound bachelorhood.
From its seedy underbelly on up to its penthouse suites, this is a town that can chew you up and spit you out. However, if there was one wingman you could take with you on your upcoming Vegas Vacation, we would recommend us. This is because we have collected the very best insiders tips, and then turned them inside out, so you not only know the scoop on the best of Vegas but also know the worst, and by that, we mean the kind of stuff that you only hope "stays there" once you're ready to go home.
In this guide, you will discover where to go, what to do, what not to do, and tips and advice on how to enjoy all your favorite sins. So, whether you are heading to the sin city with the guys, by yourself, or with your gal, this is the best that Vegas has to offer. And if by chance we miss something, please leave it in a comment below. We will be keeping this up to date to cover all the newest and hottest Vegas events.
How to Get Here?
A road trip to Vegas may help you find yourself somewhere along the way. It worked for Hunter S. Thompson, anyway. However, if you're coming by plane, we'd highly recommend arriving on a Thursday and then leaving on a Monday to avoid the long lines at the security counter, casino lines, and to have enough time to leave with a reputation in this town, or at least to feel like you have.
If you have the vacation time, we'd just assume get here on a Monday and leave on Thursday. Trust us, every night is like a weekend in Vegas, and the lack of tourists and kids is about the only thing you'll be missing.
Where to Stay?
We know what you're thinking–I'll just pick a dive somewhere on the Strip, and save my money for what really counts, like food and gambling. This may sound like a great idea until you come back to your room from a long night, and realize your room smells like a musty latrine. Almost every man has rolled into Vegas, grabbed a cheap motel, learned his lesson, and vowed to never do it again. We're here to save you from that mistake, and just get a decent place to begin with.
Most any rate you are given over the phone or online is negotiable unless you happen to be going during a busy time, such as New Years. The least expensive time to visit Vegas is between Thanksgiving and Christmas (or anytime a pandemic happens to be in full swing). Be forewarned that price reduction equals less action in the city. Another great time to go to enjoy reduced rates is July through August. This is because the moment you step outside your hotel, your shoes will melt right off your feet. Our favorite time of the year, as far as fun, sexy women, and great weather goes–is March through the beginning of June.
When calling for a reservation, never accept the first-rate you're given, as there is almost always a better deal they can offer. Keep in mind that almost every resort comes with a fee of $30 or more, and this is never included with the published (or quoted) rate. If you're not the type to haggle, an online discount source, such as Priceline or Hotwire, will likely find you a better deal than average. And as much as we love the nostalgia (older hotels) that surround Las Vegas, they are often better seen from afar. Why? Because they tend to get ridden hard and put away wet.
Vegas is a town that prides itself on its newest innovations. The older places have tighter machines, don't always upgrade rooms as often as they should, have dirtier beds (always check for bed bugs), and as a result, don't often present the best opportunity for a great time. But there are a few classics that don't follow the above rule, and they come with our highest recommendation. This includes the Wynn (medium price) and the Palms Place (on a budget). The single bachelor on the prowl will likely find the most action at either Hard Rock, Mirage, Ceasars, Flamingo, Rio, Palms, or MGM Grand. These are not the most lavish hotels, but they make up for it with greater opportunities to score, both on the tables and with the women.
Hotel Recommendations
JW Marriott – When you want to experience Las Vegas, but also have the means to escape into your own tropical paradise (away from Vegas), JW Marriott is about the best place to do that.
Virgin Hotels – The Hard Rock Hotel has been upgraded with a new Mojave desert theme thanks to the Virgin label. This is home to the new Night + Market restaurant and Elia Beach Club. Don't call looking for a "room", as they prefer to call their oversized accommodations, "Chambers".
Aria – The Aria is sexy, mysterious, and quite frankly one of our favorite places to splurge when "good" just isn't good enough.
Bellagio – This is a huge hotel, featuring a great adult-only pool, comfortable rooms, and 5-star service. However, just keep in mind that its 5-stars are earned best when they're not overbooked and in the middle of their busy season.
Wynn & Encore – Centrally located on the strip, and featuring great dining, pool, and comes as one of our highest recommendations.
The Cosmopolitan – If you like a more modern appeal, you'll enjoy the edgy decor and residential-style guests rooms at this very classy LV favorite.
Resorts World – We mentioned that Las Vegas prides itself in innovation, and Resorts World is the first resort in the sin city to offer digital logins and cashless wagering at both the slots and tables. But as cool as that is, they had us at the nine pools, 3,500 rooms, 117,000 square foot casino, and over 40 restaurants and bars
Venetian – Excellent shopping, convenient location, good dining. This is a hotel we'd consider a good all-around choice when you just don't know where else to go.
The Palazzo– If you've seen one 5-star Venetian-styled resort… you haven't necessarily seen them all. The Pallazzo shares the same spa and Grazie club as the Venetian, but in our opinion, the layout of the casino is a hat tip better.
Caesar's Palace – Great location on the strip with some of the best shopping, shows, casinos, rooms, and more. This is still a Vegas icon and is worth your consideration.
MGM Grand– The MGM has a great casino, large standard rooms, excellent entertainment venues, and it is within walking distance of just about anywhere you'd want to be.
Flamingo – This is a budget option with a great buffet. While it may not be set up for the most vibrant crowd, you'll save a bunch.
Hard Rock – This is a cool hotel that is worth a stay at least once. It features nice rooms and is fairly central to the strip.
Palms – Perhaps not the best location. However, it does feature decent rooms, gambling, dining, and a few fun nightclubs.
Sunset Station– If you don't mind being off of the strip (located in Henderson), this is a fantastic hotel that features good food, decent nightlife, great shopping, and all for around $30 a night.
Four Seasons– If your wingman is your dog. Fido will love these high-class accommodations, which just so happens to welcome most furry friends under 25 pounds.
While there are lots of hotels in Vegas, these are some of our favorites.
Getting Comps
Just because you have reserved a room, does not mean that you won't get the chance to upgrade while you are there. When it comes to having a good time in Vegas, the Pitt Boss can be your best friend. This is the guy whose job is to keep you happy and gambling, so if you are winning big, don't be afraid to ask for a penthouse. While this may be unlikely, there is another way to get a great upgrade, and it involves calling out a hotel on their mistakes.
Every hotel in Vegas receives the majority of its guests through word of mouth. The last thing a popular hotel wants is to have a guest leave, tell all his friends how unfairly he was treated, as that will trickle down the stream, and before you know it, they've lost hundreds of potential guests. So, to keep people happy, when a mistake is made, it is customary to comp the guest with a room upgrade, free dinner, or whatever else seems appropriate at the moment.
In our own experience, not having a room prepared on time, or having to wait in a very long line for the buffet can be the types of aggravation that will be rewarded with a comp. The key to getting one is to be pleasant and polite about your request. Let them know that you are disappointed with their service, but not so disappointed that a small comp won't change your mind. It is all a game, with the winners being those who can prove they are loyal customers but have just been wronged in some way.
Who to Tip
There are plenty of unspoken rules in Vegas, and to keep yourself classy, it is helpful to know where you should (and shouldn't) be tucking your dollar bills along the way. Concierge, dealers, and cocktail waitresses will like you (and on some occasions, help you out) if you extend a thank you to their services in the form of a cash reward. Also, don't forget the people who check your bags, take your car to the parking garage, and clean your room. It is not only classy to remember these hard-working folks, but you will be treated to a much better vacation in the long run, as karma seems to have its way around this town–just ask O.J. Simpson.
How to Get Around Town
When traveling around Vegas we don't necessarily recommend the monorail, which after all the hype, has became a rather useless source of transportation in many ways. Many of the individual casinos are interconnected, but if you want to avoid blisters, the bus systems at all the hotels will get you where you need to go with relative ease. If you need a taxi, don't bother trying to hail one down, as they will probably just run you over. Either call an Uber (also used to reserve a spot on the bus) or wait in line out in front of a hotel like most everyone else.
The GF Experience
Nice try, but this is not what you were thinking. Not everyone goes for the same reasons, and for those that go with their girlfriend (or wife), we'll take care of you first. If you gambled the entire time, you could be without shoes and a shirt within a matter of hours, so it's a good idea to take in a few shows or attractions while you're here. She'll love you for it, as most women don't like gambling too long; especially when they aren't winning. However, don't get too carried away with the shows, because many of them will set you back $100-plus, and these aren't even the really good ones.
No matter how much money you have, there is plenty of opportunities to impress your girl in Las Vegas. However, a word to the wise, rumor suggests that Vegas may make her want to marry you or renew your vows while you're here, so be careful.
This is a town that has risen out of the desert like a mirage, meaning that most everything here is an illusion. An illusion of beautiful women, limitless money, and a reminder that dreams can come true. The quickest way to impress is to dress the part. Out of all the excess that is in this city, the one thing that you will rarely find is a well-dressed man–and as ZZ top once said, every girl crazy about a sharp-dressed man.
However, this trip isn't just about her, so make sure you find a little you-time. There's enough restaurants, live shows, and shopping to make practically any woman happy during a brief stay. Just drop her off at any one of these, and you will be given a free pass for at least the next three to four hours. We highly recommend places like the Grand Canal shops at The Venetian, the Forum Shops at Caesar's Palace, the Fashion Show Mall across from the Wynn hotel, or a visit to the premium outlets.
If you're looking to take in a show, Cirque Du Soleil is one of the highlighting shows for anyone who thinks they've seen it all. Each show features some of the Olympic's greatest talent, mixing gymnastics, danger, outlandish costume, heavenly bodies, and humor, into a never-ending thrill ride that is actually worth its nearly $200 admission fee. If you're up for some magic or to be amazed, you might try Criss Angel's Mindfreak or try to catch Penn and Teller while you still can (they aren't getting any younger). By most expert reviews, Love, at the Mirage, is one of the better shows if you can only afford one. And if you like to gamble the way we do; believe us, you may only want to spring the cash for one. There are plenty of inexpensive things to do, that are just as fun–like shopping.
Getting on each other's nerves yet? It can happen, but not to worry. Drop your girl off for a day to indulge at a spa at either the Mandarin Oriental, Aria, Encore, or Qua Baths & Spa at Caesars Palace. This will give you the chance to explore our guide for guys (without girlfriends), and choose an adventure that won't get you into too much trouble, considering you will have to be back to pick her up eventually.
Shopping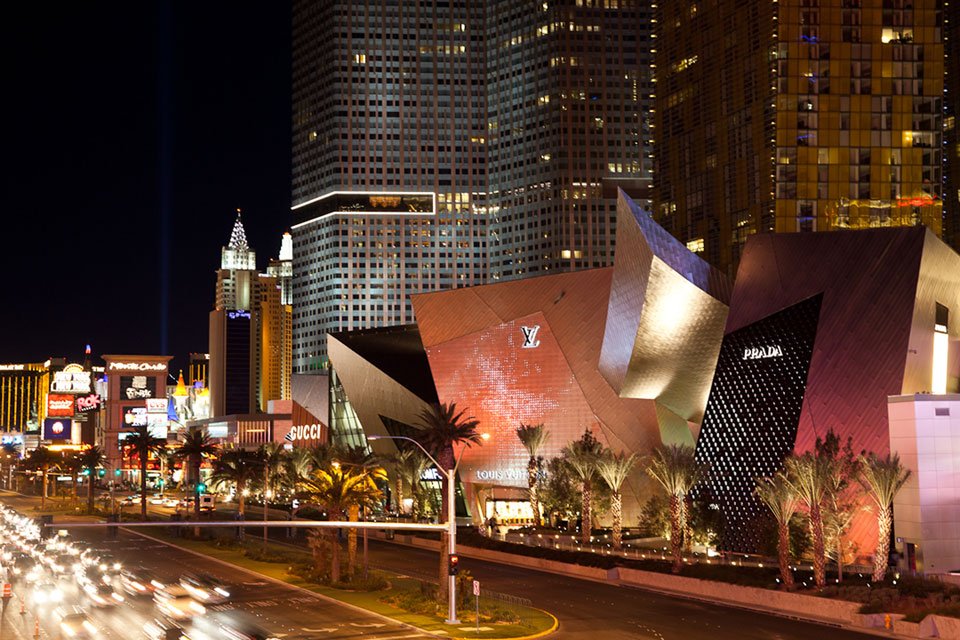 There's a premium outlet both south and north of Vegas worth a visit. It's a bit of a ride, but the deals are worth it for you bargain hunters. Do some real man shopping at hit Crystals in CityCenter. Over 500,00 sq ft of premium brands, and it feels more of a place to wander around, and possibly have a drink at one of the nightclubs. This is not what you call your typical mall. The Venetian is a popular hotel also know for its Grand Canal shops, and Caesar's Palace has the Forum Shops, which is another shopping mecca that we highly recommend visiting. Don't forget the Fashion Show mall (with over 250 shops), and it is conveniently just across the street from The Wynn.
If your girl would be better suited to a Bond film, and we're talking about the spy part, and not just lying around in a bikini looking sexy, Stiletto Spy School is a great place to drop her off for the day. She will learn how to both, seduce and kick your ass, and what you'll also get out of the investment is a few hours to yourself – you're welcome.
Las Vegas Attractions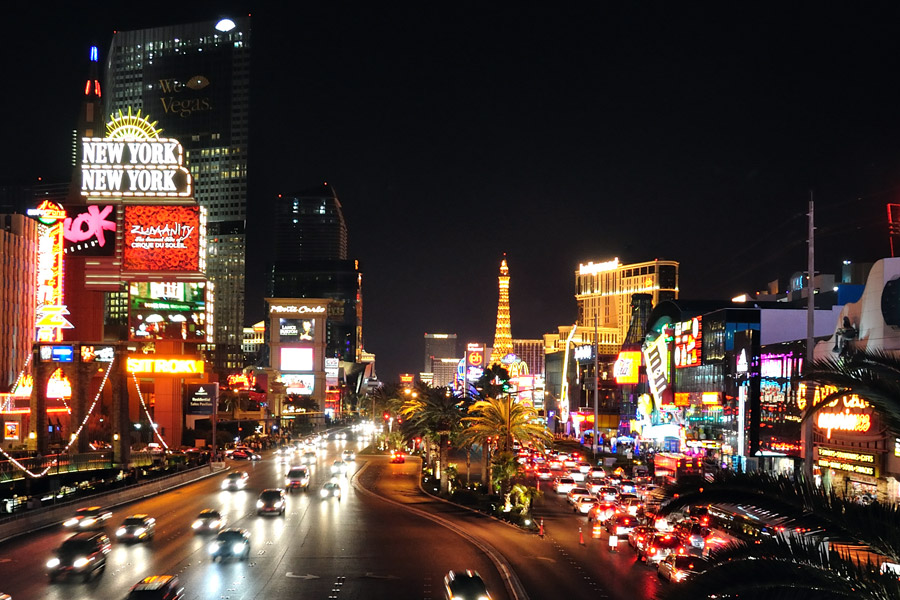 One of the best (free) attractions is found at the Bellagio fountains. If your girl has never been; take her here first. Every half hour between 3 PM and 8 PM, and every 15 minutes between 88 pm and midnight, a spectacular water/light show is choreographed to the likes of both modern and classical music. Inside the Bellagio, you'll find a free seasonal garden, featuring holiday themes throughout the year, filled with flowers, trees, insects, birds, and playful animatronics.
Mandalay Bay features one of the strip's most memorable attractions, a shark reef, featuring an aquarium quality mix of crocodiles, sharks, fish, sea turtles, rays, and komodo dragons. The hotel, itself, also offers a dedicated station where you can view these beautiful creatures 24-hours a day. Outside of the Mandalay, the water theme continues with a beach, wave pool, and relaxing lazy river. Or head over to the MGM Grand and take in some of their own patented brands of entertainment, including David Copperfield (yeah, he's still kicking), the Lion Habitat, or Brad Garett's Comedy Club.
We'd recommend taking any girl to the Frankie Moreno show at the Stratosphere, which is not to be confused with the Frankie Morino, who is a drag queen. He is a lounge singer, who has been described as a cross between Harry Connick Jr. and Dave Matthews, and his version of big band is a hell of a lot more entertaining than the PBS shows you used to watch with your grandpa. One of our favorite ways to score points with a lady is to take her for a Gondola ride at the Venetian or to see the Siegfried and Roy Secret Garden and Dolphin Habitat.
Here's a tip for you bachelors (or soon to be bachelors currently with a GF): The Secret Garden is a great place to meet up with women. Why? Because while most guys are waiting for the nighttime, you'll be picking out the choicest morsels by playing a different angle, meeting women while they're engaging in one of their favorite activities, animal watching.
Once you've done all that, it will be time to take in a show. Some of the other well-known shows include Criss Angel, Penn & Teller, Zumanity, and of course the Blue Man Group. If you're with your GF and want to give her a show to remember, send her to see Thunder Down Under or Chippendale's. Hopefully alone, or with a few girlfriends.
For a few cheap laughs, M&M World has a great free tour of their building. The store has a lot of great souvenirs and memorabilia. She'll also enjoy the short twenty-minute 3-D film that features the beloved M&M characters. The Elvis-A-Rama Museum could be another interesting attraction, that features one of the more talented Elvis impersonators on the Strip.
Speaking of Elvis impersonators, if you're tired of seeing the same old impersonators, you need to go see "Big Elvis" at the Barbary Coast. This man has one of the best Elvis voices we've heard, and while he doesn't particularly look a whole lot like him, it makes his show all the more unique. The last we heard, he had lost some weight and was no longer as 'big', but no matter as he can still sing.
The Freemont Street Experience, located in downtown Vegas, still has some of the best entertainment for free. The Neon Museum is near the Freemont Experience. They have a collection of antique neon signs that range throughout the history of Vegas. It is best to go at dusk or night so that you can see the glory of the lit-up neon glow.
If that doesn't give you your fill of neon, the night light show most certainly will. You can catch the show every hour, starting at dusk, and it concludes at midnight. The light displays are just as colorful as ever, and the glittered, costumed characters you'll run into along the way might even be more colorful.
Part of what makes Vegas great are the burlesque shows and topless revues, just one of several things the city has become famous for. This is probably a show you could take in with the girlfriend both of you can enjoy.
Let's face it, seeing one of these shows would beat going to see Celine at least a million times over.
We wouldn't leave ya hanging, so here's a look at what to expect.
The shows in Vegas change all the time, so the best way to plan ahead is to check the shows on hotel websites for what's new or whether something that interests you is still running.
Where to Eat?
A man has gotta eat, and unless you're planning on munching down on surf and turf for $8.99, you really can't go wrong at many of the "all you can eat" buffets in town. Unlike the old days, the amount you spend on a meal really will be equivalent to its quality. Cheap food can still be found among the strip. However, the $4.99 surf and turf extravaganza is not what it once was.
The Buffets
Good food has become a privilege for those who are willing (and able) to pay for it. The Wynn is the king of Buffets (called "The Buffet," but don't let the name spoil your appetite), offering a layout fit for anyone with even the most discerning tastes. At Ceasars Palace, the Bacchanal Buffet continues to have a buffet worthy of its price. The Buffet at the Bellagio is also one of the premier places to stuff your face, as is the Studio B at the M Resort Spa.
If you're on a budget, the buffet at T.I. is surprisingly good and features some nice decorative touches from the designer, Adam Tihany. The breakfast buffet at the Flamingo has some of the best bacon you'll find in town, and the other stuff ain't too shabby either. The Luxur used to be one of our favorite mid-priced buffets, but we have watched it gradually decline over the years, so Luxor, consider this is your calling card to get your sh*t together.
Outside of the strip, South Point hotel and casino can dish out a mean buffet if you're hungry, and looking to take a break from the crowds.
The Restaurants
To get your day started right, Payard, at Caesars Palace has the best quiche and croissants in Vegas, and while they may not sound too manly, we guarantee they will get your man tiger roaring. Speaking of carnal animals, SW Steakhouse at the Wynn is one of the best places to get steak and potatoes with a bottle of expensive red wine to wash it down. Guy Savoy at Caesar's, continues to be one of the best Parisian meals in America.
Daniel Boulud Brasserie of the Wynn is another must-eat. With famed chef Daniel Boulud at the helm, we should not even need to rave about the food… but the atmosphere would be worth the experience in itself. The entire dining experience takes place within a cozy mountainous cove with a giant waterfall with flowers and a frog that occasionally peaks out over the falls. You will never get out of here for anything less than $100 to $400 depending on the number of guests in your party. Figure at least $100 per person, and a lot more if you're a wine connoisseur.
Bartolotta, located at the Wynn is one of the best places to quench your seafood craving, as they have their fish flown up fresh from the Mediterranean daily. If you're up for some Asian flavor then you might want to check out the Tao at The Venetian or Beijing Noodle No. 9 at Caesars Palace. A little off the strip, Raku Japanese restaurant has some of the best crab miso we've ever put into our mouths.
If you're looking for a more laid-back dining experience? The Public House at The Venetian might be the answer, and with over 200 beer choices what could go wrong? For a great menu drop by Serendipity 3 at Caesars Palace, or First Food and Bar at the Palazzo. Also, a visit to Carnegie Deli at The Mirage usually does the trick. If you're after a good burger, and frankly who isn't, you'll want to investigate KGB Burger at Harrah's Las Vegas, home of the original gourmet burger.
Other great options include Top Of The World at Stratosphere for great food and a great view, along with Grand Luxe Cafe at The Venetian, or get some fantastic Mexican (food!) on at the Cabo Wabo Cantina. Carson Kitchen is a great choice if you just don't know exactly what type of cuisine you feel like, as they deal in a little bit of everything (tacos, oysters, shrimp, lasagna, mac & cheese, and Bacon jam) and it is all good.
Should you be looking for fine dining and more sumptuous cuisine, a trip to Scarpetta at The Cosmopolitan, Bouchon at the Venetian, or the popular Sage at ARIA. However, if you've been gambling all day, and need a jolt of energy, there is really only one way to go – steak.
Steak & Extravagance
The best steak is what every a lot of guys will be hungry for when visiting Las Vegas (or anywhere else) and there's no shortage of amazing places to try. A night at Carnevino, CUT, Tender, STK, Prime, Edge or N9NE is going to satisfy even the most demanding steak aficionado.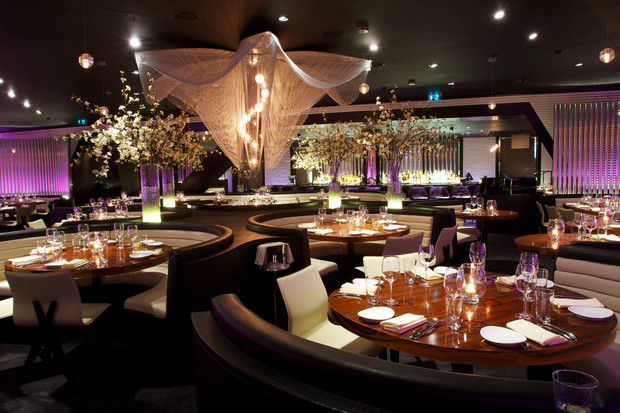 Cut by Wolfgang Puck is a staple in Vegas and offers some Japanese Wagyu that we highly recommend. Bazaar Meat by Jose Andres offers the style and flavors of a chophouse that dabbles in a little bit of everything from pork to flying fish. STK is about as hip as a steakhouse can get (they've got a DJ), and yet the steak is actually what we would call "classic" (why fix what isn't broke).
Westgate resort is home to the Edge Steakhouse and it is the #1 rated steakhouse on Tripadvisor at the time of this update. They have a nice assortment of wet, dry-aged prime cuts and also American Wagyu. Just keep in mind that the Edge is closed on Sunday, Monday, and Tuesday. Benihana (on the strip) offers up an assortment of sushi to go with your steak and they also offer outdoor dining or a seat at one of their 18 available teppanyaki tables.
If you're up for a gamble (why not, it's Vegas) there are hidden treasures we found out about from asking taxi drivers where some of the locals eat. One is called Ellis Island and it is possibly the best steak you'll ever eat for only $9. The decor is like a trip back in time, and you could imagine the rat pack probably visited one night on a pub crawl. The place wasn't decorated that well, in fact, it probably hasn't been touched since the early 60's. They may have even shot some Fear & Loathing movie scenes there, it has that look.
Stripsteak is off the casino floor of Mandalay Bay and does not have a view to rave about, but their wood-fired steak is savory enough to carry you through without even noticing. Another local favorite is the Golden Steer Steakhouse, which has been around since 1968 (and looks it). But in a good way, as the old Vegas charm of this place is actually quite endearing is you're looking for a bit more of a laidback dining experience that won't let you down.
If you're up for some real extravagant dining, the Mandalay hotel's, Fleur de Lys restaurant, has a $5,000 burger called the "Fleurburger 5000" which features a Kobe beef patty topped with a rich truffle sauce, served on a brioche truffle bun, and comes with a bottle of 1990 Chateau Petrus. While you might think that's a lot to spend on a burger, this isn't exactly In&Out style.
The good news is that if you brought a dinner guest (as a witness for bragging rights, or any other reason) they would receive their burger for free. Considering this means you'd only be paying $2,500 for your burger, and you get a certificate in the mail, how could you say no?
To make the night a real success, one might stop by Tryst nightclub at the Wynn for their $3,000 cocktail named Ménage a Trois. We know it's on your bucket list, and you could probably get the version between the sheets for even less, but this is made with Cristal Rosé, Hennessy Ellipse, and Grand Marnier Cuvee du Cent Cinquantenaire Liqueur. 23-Karat Gold flakes and liquid gold syrup.
However, if you're looking for something unique and have concerns about going into debt over the experience, you might find Dinner in the Sky a great alternative if being suspended on a platform almost 200 feet off the ground sounds like fun. This is a three-course dinner complete with wine pairings where you and about 20 others are strapped into your seats for a feast, and a view.
The Man's Guide to Vegas
Any state that can avoid income tax because of its vast tourist contributions is obviously onto something, and Las Vegas has been pulling in crowds of players since Bugsy Siegel, the famous New York crime boss, built the Flamingo in 1946. Bachelors gather here year-round to soak up the dazzle, lights, great shows, big breasts, and world-class casinos. In recent years several new casinos have popped up along the strip bringing even more glamour to the city. But enough with the history lesson…
Things To Do in Vegas
Vegas has all kinds of manly stuff to do during the day, such as shooting a high-powered gun. However, here's a tip. If you are going to pay $50 to shoot a machine gun, you might want to split it up into a few spurts, otherwise, you'll be nothing but a 10-second chump, and end up looking like an amateur.
How about getting in a few rounds of golf while in Vegas. You might want to try Royal Links. They've become known as ParMates, a program offering caddies that are beautiful women who will hold your wood, but we're just not too sure how they might affect your stroke.
Besides visiting the "Las Vegas" Sign to get your picture taken, standing at the top of the Eiffel Tower, riding the thrill rides on top of the Stratosphere, or taking a leisurely stroll through LV's official "Mob Museum," most people also recommend the High Roller at the LINQ. This is the largest observation wheel in the world, and also located at the LINQ is an urban zipline that is a bit more adventurous, but worth its $32 ticket in our opinion (so long as you make your reservations early – it can be a long wait otherwise).
It is also customary to take a helicopter tour of Vegas and the surrounding desert (a.k.a. Grand Canyon). The night flight over Las Vegas is pretty spectacular. It is only a short 15-minute ride, but it is also only $90 per person, which is not bad considering the cost of gas these days. You can also explore the Canyon in a hot air balloon or take the slow road to these nearby destinations on a bus. They do have nighttime bus tours that take you to all the famous spots during their most glittery hours of the evening.
The Emerald Cave Kayak Tour on the Colorado River is definitely a step up from the Gandola boat rides by Madame Tussauds. There are also ATV tours of the Canyon, Dune Buggy adventures, a sunset horseback ride, and an option to poke around on a scooter for several hours. But who wants to poke around town when you could be blowing through town instead. For $200, you can get a 2-hour exotic car driving experience. They say two hours, but only expect about 5 laps around the track inside the supercar of your choice, but it's worth it.
One of our best days in Vegas was renting a convertible Dodge Viper and carving up the Desert Mountains on our own. For about $180, we spent half the day in the Viper (it's probably more now). One tip is to not wear shorts as the exhaust runs just along the underside of the door and does wonders for your tan if you like the black and blue burned look. It is also very hot and air conditioning is not an option on these cars, so go during the evening or morning. Of course, the more money you're willing to spend, the more, super (Ferrari or Lamborghini), your car will become.
Gambling
No surprise to anyone, gambling is one of the best things to do in Las Vegas. However, before we get into what you should be doing, we are going to warn you of one tempting thing not to do. In a land of never-ending free drinks, and a seemingly endless supply of sexy waitresses' to bring them to you–it is easy to lose track and end up drunk. Spending a day in Vegas with a hangover is not as productive as the films make it out to be, so keep yourself in control. Free drinks have the specific purpose to make you more careless with your money, and less strategic with your gambling, so don't fall for these sirens.
Blackjack has good odds and so does craps. A few of our staff have also had some luck at roulette in the past. Poker is an easy game to learn, and most casinos offer free lessons during the afternoons. What is the best casino for poker? The Bellagio is a favorite among many veterans and amateurs alike, with the high-stakes games taking place in a back area called "Bobby's Room". The slowest gameplay in the casino would have to go to craps, which means you'll get more out of your money, even if you aren't lucky. The beginner needs to know only two phrases; pass line and don't-pass line.
Casinos such as the Paris, Wynn, Bellagio, and Mandalay Bay have brought about a new sophistication and expectation of lavish comforts that can only be found in very few places in the world. However, lavish surroundings aren't the only reason to rave about a casino. The MGM Grand is one of the largest casinos in Vegas, giving guests a lot of room to stretch out and try new things. We also like Ceasars Palace for its classic design, friendly dealers, and relaxed playing style. While we already mentioned staying away from the buffet, the Luxor does have a fun casino.
You don't have to be a high-roller to enjoy playing in Vegas. When it comes to Downtown vs. the Strip, you should know that downtown does have its good aspects, just as the old-school vibe and low table minimums. The bets start at $1 at the Casino Royale on the Strip, which means your coin roll will go a lot further. The Flamingo is another great place to get in some inexpensive gameplay, with bets starting as low as $5. El Cortex has the best blackjack tables around, and bets start at $5 and sometimes go as low as $3 on the weekdays.
Las Vegas Nightlife
Now that you have some money in your pocket, and a little time on your hands, this is the part where you slip off your panties, loosen your noose, toss aside all hesitation and fears, and experience the evening portion of Vegas. Yeah, we're talking about nightclubs, singles bars, and strip clubs.
Thursday is the New Friday
The first item of business is to understand the weekly schedule. It is true that every night is a party night in Vegas, but some are a little more party-oriented than others. In general, Sunday evening through Thursday morning is the most laid-back time to visit. If you like your nightlife a little easier going, these are the nights to limit yourself. Because as soon as Thursday night hits, things tend to get insane with bigger crowds, higher prices, and higher volumes. But to your advantage, these nights also offer more to choose from, including bigger venues, bigger entertainer names, and more reason to live by the old mantra, What happens in Vegas stays in Vegas.
Night Clubs and Singles bars
Before you head out to a Vegas club, stop in front of a mirror for a moment, and check to make sure that you are not wearing any of the following "get the fu** out of my club" garb, which includes sandals, tennis shoes, sports hats, shorts, baggy jeans, jerseys, beanie caps, and anything with a bunch of glitter on it (unless attached to a pair of long legs and breasts).
For your best chances of getting into a club, there is a dress code that many are not aware of. Collared shirts are your friend while perusing the nightlife in Las Vegas. However, there is one catch. Almost every other guy who's been to Vegas knows this and will bring along the standard collared shirt just for the occasion. So, how can you ensure that you get in the door before that other guy does? Well, you have a few options.
One, you can come to the line with a group of 10 Victoria's Secret models. You could be wearing a diaper and cowboy boots, and you'd still get in if you are rocking a sexy group of women. For the average guy, you'll want to accent or layer your collared shirt with either a trendy tie, nice watch, and maybe a light suit jacket (make sure it fits correctly, and remember you can remove it once you're inside).
Getting into a club is like applying for a job. The usual applicants get put aside, while the ones that stand out go straight to the top of the pile. Another way to stand out is with your shoes. Shoes make the man, and when it's your turn to speak to the doorman, if you're wearing a pair of leather wingtips, you'll be earmarked as a potential customer.
Urb's Recommended Clubs and Venues
There are so many clubs in Las Vegas, yet only so much time and money to make your rounds to all of them. Rather than tiring yourself out in your search for the perfect club, we're going to make it easy on you by offering up our top 10 list of recommended clubs.
Marquee @ The Cosmopolitan – Imagine 60,000 square feet of multiple bars (7 in all), pool, skating rink, and nothing but the best DJ's in the business. Now stop imagining, and go live the dream.
XS @ The Encore – Not everyone is into electronic music. However, even if you hate it, an experience at the XS is unlike anything you have seen. We're talking about a grand staircase entry, and semi-nude dancers wrapped in gold foil.
Surrender Beach Club @ The Encore – The sexy sister club of XS, features three bars, classy pole dancers, and is wrapped in more single women than you'd find at a One Direction concert.
House of Blues @ Mandalay Bay – A better name might be "The House of Anything But the Blues." However, just $30 will get you in the door most nights, and their ability to host some of the biggest bands of the past decade will make it well worth your while to scope them out when you first get into town.
Hakkasan @ MGM Grand – Five levels and 80,000 square feet of food, lounging, and dancing (Tiesto is currently their resident DJ).
TAO @ The Venetian – This club needs no introduction, as its large Buddha statue and sexy eye candy on the dance floor will be plenty to keep you entertained for at least the next three hours.
Mandarin Bar @ Mandarin Oriental – Sometimes a guy just wants a laid back experience, and this is exactly what the Mandarin Bar is for.
O'Sheas- Every local town has a favorite Irish pub to play beer pong, and O'Sheas is where you used to go in Vegas. It closed its doors for awhile, but it's on the way back.
The Beauty Bar – Freemont Streets best bar features inexpensive covers, great music, and plenty of PBR beer on tap.
The Joint @ Hard Rock – If you are a fan of music, the Joint is an icon of the Strip, where just about every great rock musician has passed through at one time or another. Don't forget to check out their epic music memorabilia collection while you're there.
A couple of worthy mentions would have to be the Haze at the Aria, Ghostbar and Moon at the Palms, and the Chateau.
Now, we did not mention The Act Night Club in the above list, because it is not for everyone (and now it is also closed). However, if you are looking to push the limits of your Vegas experience, and we're talking about pushing the limits of local obscenity laws (and yes, in case you were wondering, Vegas does still have a few of these intact)–you will find no crazier place than The Act. Expect to find a floor full of condoms, and acts of sex and bestiality performed on the stage for your entertainment. This is the raunchy/seedy side of Vegas, but most attendees leave without a complaint, so they must be doing something right.
High Vs. Low-End Clubs
Not every club worth going to has naked women. The dance clubs have a lot of opportunities to hook up with beautiful women. Our first tip, is to avoid the high-end clubs, as quite frankly, the most beautiful women are not actually found here. If you think about it, most any club that is difficult to gain entrance is not going to be popular with the majority of women. Considering that hooking up is almost always a numbers game, it makes sense that your best times are going to be found at the places that people can actually get into without signing away their firstborn child.
If you really want to experience the finest that Vegas has to offer, Studio 54 and Skybar are two fairly exclusive clubs. If you flash enough bills, and are on the arm of about five Victoria Secret Worthy babes, you'll probably eventually get in. However, most would argue, if you have five Victory Secret babes, what the hell are you doing in a club? Assuming that you are here to have a good time, and not get bogged down in long lines, empty clubs, and stuffy uptight women; one of the more mainstream clubs is where you really want to be, like at the Bellagio. In fact, you will likely have the most luck at the Bellagio if you follow two rules.
Rules for Working a Vegas Club
Rule number one, dancing is for dancing. If you are at the club to meet women, you will do yourself a favor to hang around the quiet fringes, where the women are more interested in chatting than dancing. Rule number two, there are plenty of opportunities to hook up (for free) in Vegas if you look for the women with really big alcoholic drinks, and then lay your best pickup line on her the moment she finishes that drink. The reason being, most paid escorts prefer tea or cranberry juice, because they are working, and trust us, their company is never free, so don't think you're one of the lucky ones.
The Lights, The Stars–The Sexy Women
Beyond the gambling, most guys come to Vegas for the women. We've personally run into several stars, including Cameron Diaz and Nicole Scherzinger. A few of the hot spots for celebrity spotting are at the 10K (Mirage), Andrea's (Encore), Hyde (Bellagio), Lavo (Palazzo), Tao (Venetian), Wet Republic (MGM Grand), and of course the XS (Encore). With that said, some of the sexiest women you will find in Vegas will be hiding out in a classy gentleman's club.
Etiquette of a Strip Club
Not knowing the etiquette while at a classy strip club will do more than just piss off a stripper or doorman, it could get you thrown out the back door by a bouncer, so here are a few tips to make sure you know how to play by the rules. The clubs in Vegas like to do it with style, which basically means no shorts, no collar, no shoes–no nude women for you. In addition, some of the classier clubs will also require that your shirt be tucked in.
When you enter a gentleman's club expect to pay a cover fee. If you arrive with a group of well-dressed guys, you may be able to talk your way out of a cover, especially if you arrive early, which is between 7 and 8 PM. If you talk your way into the club for free, offer your thanks in the form of buying a drink immediately, and tipping the bartender decently. This will put you in good graces with the staff, and you will be treated with respect.
In the normal world, plastic makes the world go round. However, in a strip club, cash is where it's at. You can't buy yourself some personal attention or a lap dance with Vista, Mastercard, Discover, or America Express. In this situation, the US Presidents will speak loud and clear. Andrew Jackson ($20) will get you a lap dance, and an Abraham Lincoln or a few George Washington's should get you through each girl on the stage. In all, expect to put out about $30 per hour, and this includes drinks, dancing, and tipping.
Come with cash in hand, as most ATM in these clubs charges 15 percent for a withdrawal, which is practically a lap dance in itself. Speaking of lap dances, the biggest rule is hands-off. The stripper controls all the action, and you're just along for the ride. And trust us from experience, you'll get a much better dance if you play by the rules, so grabbing a little ass is almost never worth it. Another thing to keep in mind is that a stripper does not equal a prostitute, so propositioning one of these girls is a no-no.
A Gentleman's Top Strip Clubs
While Vegas has many good strip clubs, these are the five we'd recommend seeing before you step into any of the others.
Best Times to Visit
If you're looking for a special time to go, there's always New Year's Eve. But if that doesn't fit with your plans you might consider Halloween for something different. I mean, you'll never see more sexy nurses anywhere. There's the Helldorado parade, or you might check the Fetish & Fantasy Ball at the Hard Rock. If you're really a betting man, visiting during sports events like the Superbowl, boxing or MMA might be a good (or bad) bet, or perhaps during the World Series of Poker which happens around June/July.
If extreme is more your thing, you'll want to make the trip for the Extreme Thing Festival in late March. Which is also a great time to visit for St Patrick's Day. There's also the Vegas Mardis Gras around the third week of April on Fremont Street, which is around the same time that the Pure Aloha Festival is in full swing.
It is also no surprise that Las Vegas is home to all kinds of conferences and conventions, but one you might not know of is the AVN Adult Entertainment Expo. This is where the stars come out to shine for over 30 years. Not only is there an awards show for categories such as best actor, actress, MILF, oral and more. After the trade show, you have the opportunity to visit the after-parties which is the next best thing to visiting the Playboy mansion.
The only thing we can add is that you should expect to pay more on a trip during a big convention. These are some of the most popular times guys come to Vegas, which means your room will cost more, your food, drinks, and even your lap dances.
Las Vegas Pool Parties
The theory to pool partying is this: Why go to a strip club when you can let the strippers come to you? The Rio Hotel has a deal with the Sapphire Club, so that one of the hotel's pools is populated by off-duty dancers; but the scene doesn't seem to have gelled yet — it's just a bunch of dudes paying ($50 on weekends) to ogle strippers getting a tan. Still, we'd stick with the slightly more adult pool/club scenes (toplessness is strongly encouraged so that you won't have to deal with kids).
If you're trying to hit all the best topless pools in Vegas, you'll want to become well acquainted with Tao Beach at the Venetian, Moorea Beach Club at Mandalay Bay, Venus at Caesars, and Bare at the Mirage. We'd also recommend the Sappire Pool and Day Club. This is the first pool owned and operated by a strip club, which makes its grounds somewhat of an American heritage.
We're sure that you've always wanted to know what goes down at a Las Vegas pool party during the day. Well, have a look:
As the saying goes, What happens in Vegas, stays in Vegas–and maybe that's because you're not allowed to buy drinks for more than three people at a time. Yes, it's true — that's an actual Nevada law!
And please consider that what happens in Vegas, also probably ends up on Facebook, Twitter, Tiktok, and YouTube (possibly in that order).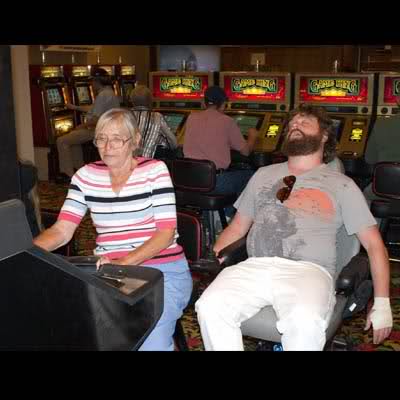 So next time you're in Vegas, be sure to take in a show or two, grab a great meal, check out who's playing at the House of Blues, take in a lap dance, and always–always remain a gentleman.
Because you just never know who you're going to run into.
Read More:
The Ultimate Guide to Miami
10 Best Beach Cities To Visit
Man Travels – Canada Expedition Edition
10 Things Every Man Should Do Before He Dies
Pendlay Rows Technique – What Every Man Should Know