When a man makes the decision to spend some quality time on the slopes of some of the greatest mountain ranges found within the borders of North America, there are only three things that he needs to know – when, where, and how? And while these are three very simple questions, the appropriate answer depends on what you intend to accomplish. But rather than waste time with questions, we'll just assume that your main objection is greatness. The greatest mountains, the most epic stories to bring home, and the best deals.
And with that said, let's get down to business.
The Balance of Time and Space
What makes one ski destination better than another is the careful consideration of its pros and cons. Skiing in the prime time of the season, which for most places is considered to be November, December, and January- usually has the best snow conditions, most holiday festivities, and is the most beautiful time of the year to visit the mountains.
On the negative side, you will have to maneuver through more crowds and higher prices.
To skip the crowds and inflated prices a guy has two options:
Your best option to balance out the crowds and higher prices is to book an opening week special or a tail end of the season trip. Just keep in mind that it is always risky to book for opening day because you never know how much snow will be on the ground until that day hits, but most resorts will make it worth your while by offering stellar prices and special events (but we'll get more into this topic shortly).
Springtime skiing may not be known for the best snow, but it does offer more sun, fewer crowds, and plenty of package deal discounts.
Such package deals may include ski rentals, day passes, and lift tickets. In a sense, it pays to either be like a well-prepared ant who books early or like the grasshopper who plays around and waits until the very last minute.
But is there any true advantage to doing one over the other? Not really. It's all a matter of your own preference and budget. But if you prefer to hang on to your money rather than burn through it, here are a few more quick tips:
Roll with a Nice, Yet Lesser Known Resort
Ski Resorts are like cars. The ones with a reputation and name for themselves are generally the most expensive. That does not mean that some of the lesser-known places are not just as nice. If you bargain hunt, you can often find a lodge that is close enough to take the bus and only lose a few hours out of the entire trip.
If you calculate three meals per day, your food bill could quickly topple your room rate and ski passes before you even realize what hit you. To minimize the effects of this, many skiers bring an assortment of breakfast and lunch snacks to munch on throughout the morning and afternoon, and then only go out to eat no more than once each day.
Spring for a Rental, Split the Cost
There is more to a skiing budget than bringing your own skis, goggles, high-tech jackets, and boots. If you have never thought about budgeting your ski trip around a rental instead of a hotel, you're missing out in several ways. Let's consider Snowcreek Resort in Mammoth California, for instance. They offer a full kitchen, washer/dryer, fireplace, and even a garage to store your vehicle and ski equipment. You get all that for $208/night, and a two-bedroom/two-bathroom can sleep up to eight people comfortably – or four people really comfortably. That could be just $26 a person.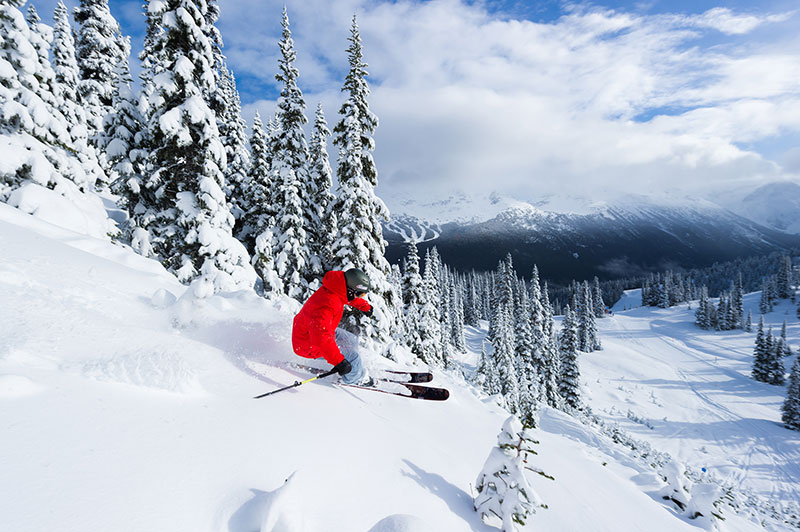 Where to Go
Finding the best ski mountain is the next decision. Here are a handful of the top world-class resorts in North America that are likely to be within driving distance of wherever you live right now:
Opening Day Delights
If you're the kind of guy who likes to see a movie on opening night, date the head cheerleader before the rest of the football team does – then opening day on the slopes is the place you belong. It not only offers better deals but also a lot more entertainment value for your money. Allow us to explain.
There are two times out of the season when resorts will offer the best rates and incentives. Before the season begins, and when they have an overabundance of vacancies. Just in case the season turns out less profitable than hoped, resorts like to stack the cards in their favor by booking as many advanced reservations as possible. To do this, they offer great early bird specials.
One of the most exciting portions of the ski season is opening day. You waited an entire Summer and Fall for this moment, and as if that isn't enough excitement, most resorts play upon that in the form of early bird package deals and special activities. Here are a few of the most popular opening days venues found in ski towns near you.
Whistler Blackcomb Mountain Resort opens towards the end of November and ends in mid-April. They are known for their Opening Pass-a-Mania, which will roundup 20 competitors who will take on a 24-hour battle of 15 epic ski challenges. In the end, there will be two winners (male and female) who will take away with them a free pass for the rest of the season. As a further incentive, challengers will get dibs on the gondola.
In the Northeast, Killington is generally one of the first ski resorts to open in mid-November, thanks to one of the largest snowmaking systems in the United States. Stowe Mountain, however, does not open until the latter portion of November.
In Mammoth Mountain, the ski season opens towards the beginning of November and has been known to last well into the summer. The Squaw Valley Ski Area generally opens in the mid-portion of November and closes sometime in mid-May. The activities at the Squaw traditionally kick off with a ski with a Monster Toast, a massive balloon drop, and a cable car base jump by JT Holmes. The opening day traditionally concludes with an evening of live music at the Olympic House.
The Jackson Hole Mountain Resort opens in late November and runs through April. There is no better time to enjoy the fresh snow of Jackson Hole than during the early portion of their season.
Vail and Winter Park are usually early birds, opening in the early portion of November, then closing in mid-April. The Aspen and Breckenridge season generally starts mid to late November and closes in late April. Breckenridge kicks off opening day with a complimentary breakfast. Copper Mountain, Keystone, and Snowmass all open in mid-November. Every year Cooper Mountain kicks off its ski season in November with its annual Lift-Off, featuring pub crawls, raffles, live concerts, and the annual U.S. Snowboarding Grand Prix.
The Alta Ski Area opens its doors in mid-November, generally between the 15th and 21st, ending in mid-April.
Top Holiday Ski Resorts in the US
When deciding which ski resorts should be considered the cream of the crop during the holiday ski season in the good old USA, three spectacular options come to mind: When deciding which ski resorts should be considered the cream of the crop during the holiday ski season in the good old USA, three spectacular destinations come to mind:
Aspen and the Colorado Rockies
Aspen is consistently one of the top holiday ski destinations every year, offering four mountains from which to unleash your skiing fury upon. Buttermilk and Snowmass are known as the more family-friendly of the four, with Snowmass holding the annual ESPN Winter X Games each January. The Aspen Highlands runs are reserved for the intermediate to advanced skiers, with over 35 percent of its terrain dedicated to experts.
Each year the mountains of Aspen receive 300-plus inches of snowfall, which helps fuel its famous double-black diamond runs, steeps, and breathtaking winter views. During the holidays, Snowmass village is decked out in holiday cheer, featuring carolers, Santa's Village, and the annual Torchlight Parade. Aspen also features snowshoeing, cross-country skiing, dog sledding, sleigh rides, and ice skating.
Copper Mountain is consistently one of the premier ski areas of the Colorado Rockies, known for its fresh powder, music festivals, and hip atmosphere. But just because some people are willing to spend an arm and a leg during their ski vacation, doesn't mean that you have to. Copper Mountain is a relatively small area with limited lodging availability, which means it books up fast, especially during the height of ski season. To ensure that you will have a few options where you stay, it is advised that you start your search at least six months in advance. It is a debate as to whether or not it's better to stay at a rental or hotel. To answer this, there are several key aspects to consider. In general, a hotel will give you the best rates for a short stay (one or two nights). Hotels are also best when it comes to room service and in-house amenities, such as a fitness room and swimming pool.
Is it better to stay at a rental or hotel?
To answer this, there are several key aspects to consider. In general, a hotel will give you the best rates for a short stay (one or two nights). Hotels are also best when it comes to room service and in-house amenities, such as a fitness room and swimming pool. The rental, on the other hand, is designed for longer stays, rewarding you with more money to spend on other things. Rentals are larger, feature more bedrooms, and can accommodate more friends. Another big advantage of a rental is its homey features, such as a kitchen, washer/dryer, and garage. Having your own garage will be handy if you plan on bringing your own toys (skis, snowmobile, etc.), instead of renting them.
Through the ski season, En Fuego has become a monthly Saturday night tradition, beginning at 6 PM and lasting through 8 PM, featuring bonfires, fire jugglers, stomp and rhythm performers, dog sled teams, air shows, and fireworks. At the end of the season, the annual Sunsation festival features free concerts from headlining musical acts, the annual Hometown Heroes contest, and the 1976 Games.
Vermont
Vermont is known for its IBM computers, Ben and Jerry's ice cream, maple syrup, and scenic alpine ski trails. With an average of 225 inches of snow every year, 20 ski resorts, 179 ski lifts, and 6,052 acres of mountain slopes, Vermont has become a top ski destination for any man. The alpines of Vermont accommodate just about every level of skier, offering moguls, snowboarding, and 885 miles of cross-country, Nordic trails.
It has been said that no matter where you are in Vermont, you are within one hour of some of the best skiing of your life. With 20 mountain ski resorts to choose from, it can be a tough decision deciding on which one to tackle first. In truth, there is probably not one mountainside better than another, but rather certain trails that will be more appropriate for your skill level.
Okemo mountain evenly distributes 119 trails between beginner, intermediate, and expert skiers. For advanced skiers, Okemo has the highest vertical drop of Southern Vermont, stretching in excess of 2,200 feet. It is also ranked number six in the nation as the most well-groomed ski area according to SKI Magazine. Endurance skiers will enjoy Okemo's long trails, particularly its 4.5-mile trail. This trail is actually a paved road in the summer, which is turned into a ski run for the winter months. Okemo also has a 155 million gallon pond dedicated for snowmaking, which ensures a white winter wonderland no matter how much snow's been flying.
Another great mountain known for its multi-level skiing, is Smuggler's Notch, or Smuggs, as it is nicknamed by its frequenters. The mountain gets its name from the folks who transported illegal alcohol across the Canadian border during the prohibition. Located in the Green Mountains of Vermont, Smuggs has been given the second-highest snowfall in the area, and has been rated time and again as the number one family ski resort. There is probably no other resort in the area with such a huge variety of activities for the entire family.
Not too far away from Smuggs is Stowe Mountain Resort, which has 118 dedicated to intermediate and expert skiers. Stowe is also known for its plentiful mile-long trails, newly upgraded lift systems, and 4,395 foot high Mt. Mansfield, which is the tallest mountain peak in Vermont.
Killington offers the most variety and convenience of any ski mountain in Vermont. It is known for its 181 trails (the most in all of Eastern North America), snowboarder terrain park, high capacity lift (less wait between runs), and extra-long ski season, which used to be the longest in the Eastern portion of the United States. If your home base is closer to the East Coast, Killington Peak is definitely one of the top resorts for the holidays. It is the largest ski destination in the Eastern side of the United States and also hails the highest vertical drops in all of New England. It has been said that you can stand at Killington Peak's (a 4,241-foot tip), you can see across five distant outlying states.
Mammoth Mountain, California
Mammoth Mountain always tops the list as one of the best ski resorts in the US. It is located in the Sierra Mountains which gathers over 400 inches of snowfall per year, which makes it hard to believe it also boasts over 300 days of clear blue skies. Mammoth features over 150 trails, 3,500 acres of ski terrain, 28 lifts, and three gondolas.
Their annual events for the holiday includes old-fashioned holiday cheer, also known as their annual Night of Lights. The event includes spectacular Christmas displays, fireworks, and an "on-snow" Torchlight Parade.
If you play your cards right and you might run into some ski bunnies too.
Don't know what to say to a bunny if you do happen to meet one?
Well, we've got you covered with that dilemma too.
12 ways to flirt with women using only your body language
How to appear sexier to women
5 best ways to ask any women for a date
Wing girl, Marni Kinrys, on when and how to approach women
Read More of our Travel Guides:
Ultimate Guide to Las Vegas
Man's Greatest Travel Destinations
Ultimate Guide to Miami
Eric has written for over a decade. Then one day he created Urbasm.com, a site for every guy.