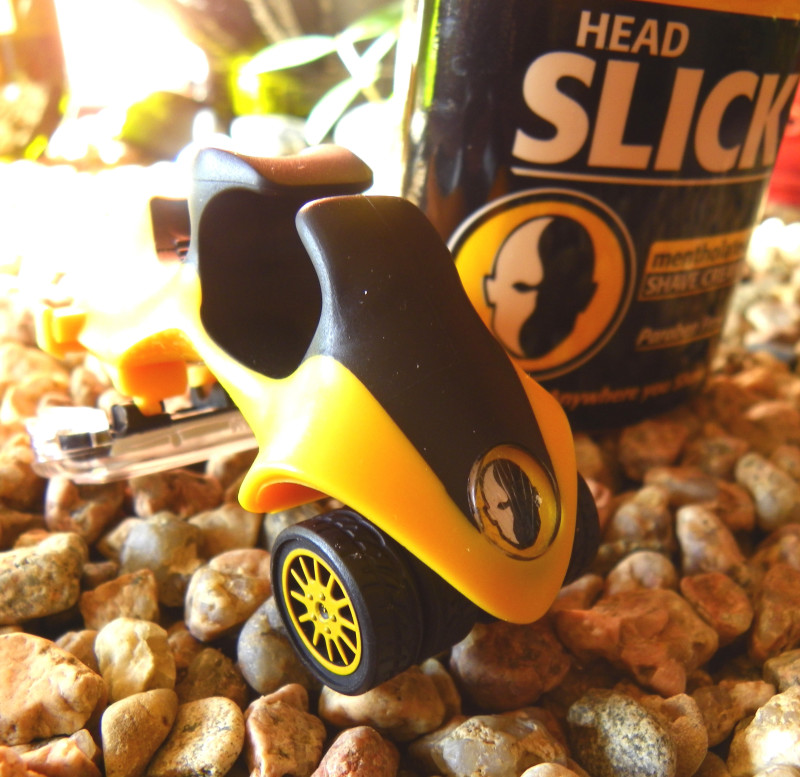 When was the last time you brought your head some flowers, treated it to some Barry White, and maybe a nice massage. Your head does a lot of great things for you, and what do you give it in return? May we suggest a limited edition John Van Hamersveld ATX Headblade.


A couple weeks ago we were contacted by HeadBlade to check out their new logo, and we learned that they had been working with the famed graphic designer, John Van Hamersveld. This is the same guy who designed album art for the likes of such legends as The Beatles, Jefferson Airplane and The Rolling Stones. He is a visionary of psychedelic art and has reinvented the HeadBlade logo with some macho pizzaz.
In other words, we liked it.
But art can only do so much for the unwanted stubble on your head—so how does it work? As we got it out of the box we noticed that it looked a bit like a high performance ATV, and it has the suspension and tires to boot. We soon discovered that it had been designed that way to glide over your most difficult terrain, whether it be on your head, body or face. And after passing it around between ourselves (don't worry, we didn't share razor cartridges) we unanimously agreed that it works.
Unlike your typical 'safety' razor, shaving with the ATX is a pretty flawless process. The wheels and suspension help to keep it on track and at a pretty precise angle, which means you'll receive practically no cuts or razor burn, even if if your a bit of a reckless driver (i.e. impatient, in a hurry) like I am. We like how the design can be used with your middle finger for maximum maneuverability over your head and body, but can also be held as a traditional razor for your face.
Here's the quick tutorial we used before we got started:
The HB4 blade design washes clean and doesn't seem to clog too bad, even with a couple days growth. I simply filled the sink with some water and ran the ATX back and forth a few times to loosen the stubborn hair. The blade is also pretty reliable, meaning that I've been using the same one for the past couple weeks, and it is still taking care of business the way it should.
And one thing I can say for all of us, is that its unconventional design really grows on you over time. It does take three or four practice runs to get the complete hang of it, but the trial process is pretty forgiving, meaning that you're not going to butcher your face or head in the process. Don't get me wrong, a traditional double edge does a great job too, but you have to take slow gentle strokes to get the best results. The ATX is not as finicky—and we liked that.
And while it has been designed particularly for your head, we found it equally effective for just about any unwanted hair. We'd even imagine that it would do a pretty good job in your nether regions for a good portion of the trip, although we might suggest using a traditional razor for some of the detail work, but we won't get into that.
We give HeadBlade a macho head nod for a job well done on their new logo and ATX shaver. And we'd also like to give a shout out to some of the shaving accessories that came with our kit, including the scrub "Head Shed", shave cream "Head Slick", and lube (moisture lotion). I've become somewhat of a snob for real shaving cream in a can with a brush, but the "Head Slick" works great. It's quick to lather up and does a good job of keeping the ATX in motion.
It's a jungle on your head, and we've learned (sometimes the hard way) that the quickest way to tame anything wild—is to use the right tools. Get more info here.

Urbasm occasionally receives vendor/brand sponsorship's for mentioning their products and services.
Eric has written for over a decade. Then one day he created Urbasm.com, a site for every guy.