To clarify, we're not recommending that you drop your briefs on the street corner like Freddy Fairhair, but rather to drop them in the nearest trash receptacle and get yourself something a lot more fashionable—like a pair of designer boxers or boxer briefs.
And if you think that boxers do not have much influence over the opposite sex, may we turn your attention to a group of studies from the Journal of Consumer Psychology. As it turns out, women consider touching a nice pair of boxers as some kind of reward, and lucky for you—we have found you three pair that are very touchable.
Saxx Boxer Fly
Saxx claims that their platinum underwear is so soft "it makes cashmere jealous". And I can tell you from experience that women love the feel of these. So what do you get out of the deal? Well, you get a usable fly, which is becoming an extinct commodity for a good portion of athletic (spandex) underwear.
Get them here.
Calvin Klein Boxer Briefs
Just about every woman has drooled over a pair of Calvin Klein's fitted to a sexy man/celebrity. This conditions women to see this signature waistband as a suggestion that there must be something pretty spectacular about any man who dons the insignia.
Get them here.
Of course it helps if you have the six-pack to match—but if you don't, there is always…
2(X)ist Cotton Boxers
The baggy boxer has its place, but trust me when I say it is not over at your girlfriends place; not if you want to impress her with your loungewear. 2(X)ist has found a nice compromise between comfortable and form fitting boxers, which allows plenty to the imagination, but not so much that it looks like you have an entire drawer of socks dumped into your rear.
Get them here.
So, this is your last warning guys:
Get rid of those ugly briefs before us women are forced to rip them off… and we won't do it nicely.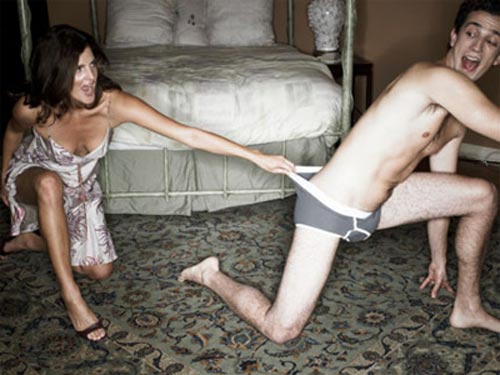 Read More:
What Your Underwear Says About You
Man's Boldest Accessory Is His Underwear – Don't Blow it
Wearable Tech – High Performance Fashion from Head to Toe
I'm a digital nomad and story teller that writes for Urbasm and a few other websites on men's interests, style, relationships and whatever tickles my fancy. In my spare time I like to play the field in search of my prince, travel, and consider myself an artisan of sarcasm at times.