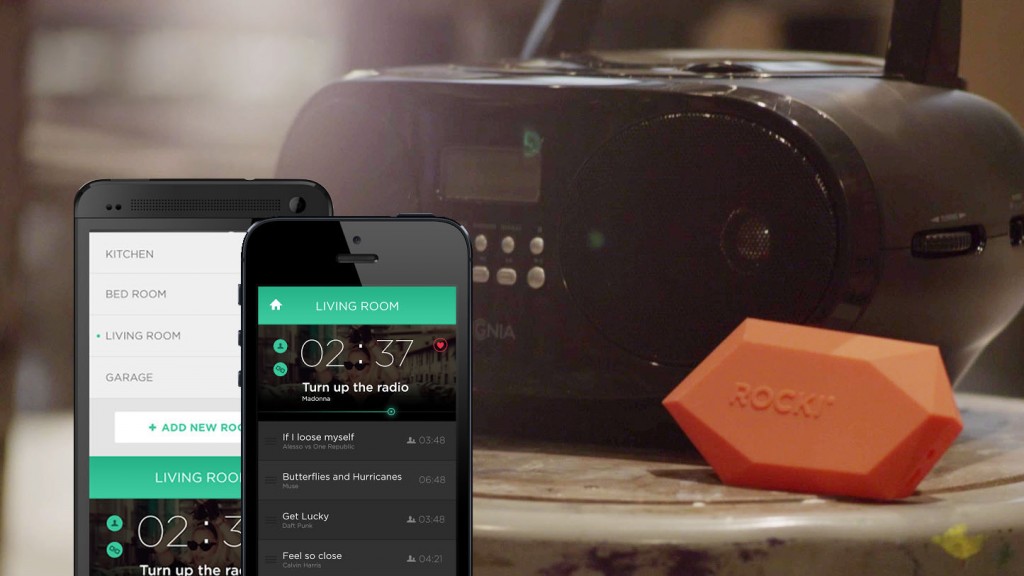 Good things do occasionally come in interesting packages, and the Rocki wifi streaming media player is one of them. It is about the length of a credit card, maybe just a bit thicker than the key remote on your vehicle, and looks like a figure from your 8th grade Geometry class. It also comes with a soft interchangeable silicone jacket that functions to protect itself from the dangers of the world, as well as the possibility of falling on your small toe. Actually, I would probably describe Rocki best as a modern pet rock, except it comes in a lot more colors (seven, to be exact), more personality, a better looking mug, and will do a whole lot more for the money.
Rocki is certainly not the only wireless music game in town. You can pickup a wifi speaker system from just about any tech brand these days. The problem is, it will also likely rock your wallet a bit, as high quality wireless speaker systems do not come cheap. Check out the Naim Muso for further proof of that theory. Of course, there are many lower price options, but the only way to deliver 'big' sound at an exceptionally low cost (we're talking around $50) is to utilize some of your existing high quality speakers, and this is exactly what Rocki does.
To keep this kind of tech affordable, Rocki should work with just about any speaker (or player) you have, and to ensure this, each Rocki comes with its own 3.5mm to 3.5mm cable and 3.5mm to RCA cable. The initial setup of Rocki involves plugging it in to a speaker source, waiting for the voice to confirm it's ready to go, and then connecting it with your home network or hotspot. It can be plugged in the wall to service your music fetish 24-hours a day, or used remotely via its own rechargeable battery, which from my experience seems to be good for somewhere around 6+ hours of continuous use.
As a relatively simple gadget, Rocki comes with an on/off button, mini USB, and 3.5mm jack. However, this is all you need really, as the real magic happens once you merge this device with one of Rocki's free apps. But enough speculation about how it works, let's put this little device to the test. To accomplish this, I chose to raise a dusty old Pioneer stereo back from being deemed technologically (and hopelessly) outdated.
Let's see if Rocki was up to the task.
Now, I wish I could say that this gadget is entirely plug and play, but setting up their free app with your favorite iOS or Android device(s) is going to take a little doing. However, if all else fails you can also set Rocki up by connecting it directly to your wireless router via this set of instructions. In addition, your device will need to have access to either Last.Fm, SoundCloud, Windows Media, Airplay, or Rhapsody in order to play music. The installation of the apps took some time for me to get right, but I am not the most app savvy guy around. I had the best luck with the iOS based app. However, after few emails back and forth with Rocki's friendly tech team, I was also able to get Android communicating with my old Pioneer.
I was fortunate enough to sample Rocki's three-pack, which comes with three Rocki devices. Three is better than one, because you can plug several into the speakers around your home, give each one its own name (i.e. living room, kitchen, bedroom, etc.), and control the music from your phone or tablet wherever you go (provided you already have a speaker in that room). I put the three Rocki's to use in everything I could think of, including the previously mentioned Pioneer, a home theater receiver, computer speakers, and an old boombox. They all worked and sounded fantastic.
As you can imagine, Rocki would make a trick (and affordable) whole house sound system. Rocki calls the idea 'Multiroom Sync,' and they are currently working on a firmware update that will allow you to control several devices while in sync with each other. For now, this device only works with one Rocki at a time, so you can stream music to multiple devices, but each device will not necessarily play in sync. This is unfortunate for the current Rocki owner, but even without the Multiroom Sync feature, Rocki is still a good deal for wireless sound, assuming you have some speakers or an available stereo system to work with and an iOS or Android friendly device to operate it.
Overall, Rocki offers crisp/clear sound, and it is convenience is excellent once you get the heavy lifting (syncing everything up) out of the way. The Kickstarter company also seems to be motivated to continue to improve their customer's experience with their product. I expect to be seeing some new and improved features coming for both their apps and firmware in the coming months. They've already made some nice updates since their launch, including their recent partnership with Rhapsody.
And now that you've heard my story, you can start your own adventure with Rocki here.
Eric has written for over a decade. Then one day he created Urbasm.com, a site for every guy.