A man has absolutely no reason to fear plaid, provided his direction is clear, honest, and well guided. We like floral prints during the warmer months, but they need to be handled like liquid nitrogen, as too much can light the night on fire (and not in a good way).
Plaids, on the other hand, are a bit more forgiving, especially if you follow these six simple rules:
1. Don't mix plaid with other prints (unless you feel justified to do so)
The general rule to plaid is to limit it to only one piece at a time, and let the focus be on that. Take this Tommy Hilfiger plaid hooded puffer jacket above for example. It works well with just a white t-shirt and denim. However, there is always a time and place to break these rules, such as when—you just want to.
2. One rule at a time
We like to break the rules when it comes to style, but we also try to uphold at least one rule, and that is to break only one rule at a time.
3. Don't mix more than two patterns of plaid
We've seen some stylists pull off an arsenal of prints, but in the real world, you probably don't want to mix more than two patterns. We like the mix of the Luciano Natazzi 2-button sport coat (above) with the subtle plaid of a pair of check chinos (below). This is how you can double up on the plaid without getting too obnoxious.
4. Your neutral color is your safe zone
No matter how crazy your plaid gets, you can always count on your base color to bring things home, or should I rather say, turn things down a notch. For the Fall/Winter season, we like our base to stay within the darker shades, like these Izod American double pleated chinos in dark navy (above).
5. When in doubt, ground your base color closest to the ground
Some guys are committed to going full plaid, but we tend to keep it safe by grounding our colors and patterns with a solid foundation of either pants in either black, blue, or brown. But hey, if you want to shake things up a little from here, we like the pattern designs of Happy Socks, or the professional appeal of a pair of Saint Laurent low top sneakers.
6. Plaid accessories work with almost anything (especially a Kilt)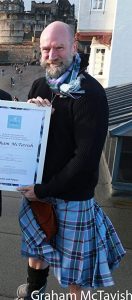 One of the easiest way to introduce some interest to any base outfit is to throw on a plaid tie or scarf. We like the winter appeal of an authentic Scottish Tartan, such as the one worn by Graham McTavish (above). And speaking of men's accessories, don't forget that layering is the safest way to make any style more interesting, and you can always peel it off if you find it's not working for you later in the day.
We may be recommending to style your plaid responsibly… but as far as the style police go, you can get away with a lot more that you realize, so go a little crazy once in awhile–just because you can.
More Style Advice
100 Best Men's Style Websites
Men's Shopping Online – Best Style and Fashion
Men's Style – What Women Secretly Wish You'd Never Wear
7 Style Tips Every Man Should Know
Urbasm occasionally receives vendor/brand sponsorship's for mentioning their products and services.
I'm a digital nomad and story teller that writes for Urbasm and a few other websites on men's interests, style, relationships and whatever tickles my fancy. In my spare time I like to play the field in search of my prince, travel, and consider myself an artisan of sarcasm at times.