During the global lockdown due to the COVID-19 virus outbreak, even the most city-going men are considering a move into nature. In fact, nature offers plenty of opportunities for male hobbies, such as camping, fishing, and even hunting small game.
Of course, if you haven't ventured into the wilderness before, you should know what to pack and what to expect from the great outdoors. As you get accustomed to living in a tent or a cabin in the woods, you will discover an entirely new side to your manliness you would have never discovered if you remained in the city.
The Tent
Since most hotels, hostels, and motels are closed due to the coronavirus pandemic, you need to be prepared to sleep in tents and log cabins. The latter are rather comfortable to stay in but sleeping in a tent is a different cup of tea.
First of all, selecting the right tent is harder than it seems. Choose tents that are made from a waterproof fabric and can accommodate at least three people. If you're going camping with a mate, then it is better that both of you sleep in the same tent contrary to bringing two separate tents. The larger the tent, the more stable and sturdy it is.
Once you erect the tent, be sure to go around it and inspect the fabric and the poles. Since you're a novice to pitching a tent in the middle of nowhere, you need to make sure the poles are firmly dug underground and that the sides of the tent don't have any holes in them.
First Aid Kit
Living in an urban settlement means that we have 24/7 access to medical care and drug stores. That's why you might forget that when camping in the wilderness the nearest emergency service might be hours away.
Hopefully, you will never have to use it but you must pack a first aid kit when hitting the great outdoors. Even the simplest of emergency kits can make the difference between life and death. Usually, a first aid kit contains gauze, scissors, aloe, tweezers, super glue, pain medication, ye drops, Ban-Aids, antiseptic cream, etc.
Call (in) the Wild
Although your self-isolation in the wilderness should be rudimentary, you will obviously have to bring your mobile phone with you. Not only do you need it to keep in touch with friends and family back home but a phone can be a lifesaver in case of an emergency. A mobile phone is among the few high-tech camping essentials you cannot do without.
In order for the cellphone to be useful, it needs to be fully charged. However, trees don't really come with a power outlet inside their trunk so bringing a portable phone charger is a must. Luckily, there are numerous portable chargers and power banks to choose from and their price is constantly dropping.
Outdoor Cooking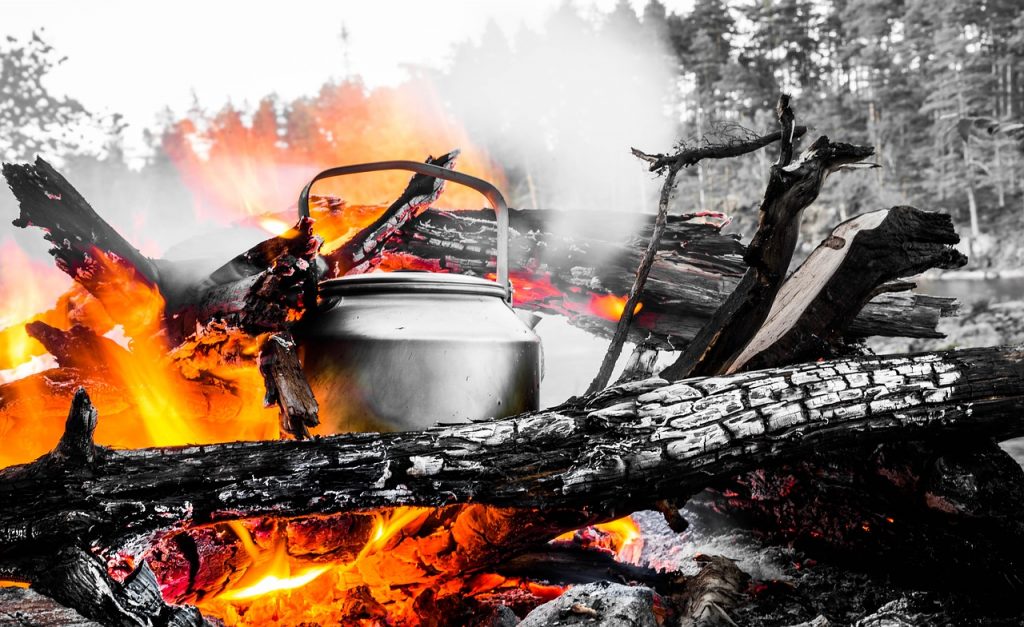 We presume you cooked before outside at a backyard barbecue party. However, preparing food in nature requires a different strategy. For instance, if you hung your food (or fish it), you can eat it with your hands, so no utensils are necessary. On the other side, if you have plans to bring canned food, then you should pack the most basic utensils, such as knives, plates, pots, forks, spoons, etc.
The utensils you decide to pack for the camping trip should be durable and lightweight. Buying new cutlery especially for the trip is desirable. Furthermore, you need to brush up on your fire-starting skills without using a lighter or a burner. In this sense, the camping trip will be a journey both through time and space as you rediscover your caveman masculinity.
Gathering Firewood
Starting a fire in the wilderness can be dangerous so you need to practice it a couple of times before you leave for the great outdoors. Also, if you plan camping on the grounds of a national park, starting a fire can be banned so be sure to check the local regulations.
If it's OK to light a fire, start by collecting firewood. Large, dry logs will burn deep into the night keeping you warm and allowing you to cook food as explained in the paragraph above. In order to prevent the fire from getting out of control, be sure to make a circle of stones around the hearth. Always extinguish the fire using water to be certain the fire is out.
The Knife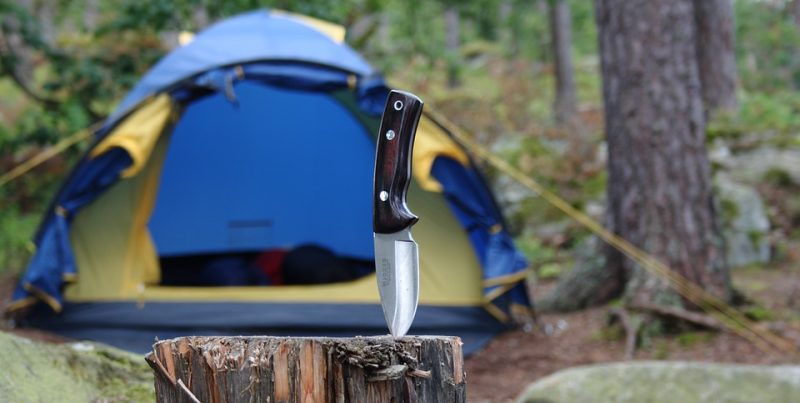 There is hardly a man who hasn't watched at least one movie from the Rambo franchise. In the movie, Stallone is armed with a multipurpose survivalist knife and you should get one for your camping trip. From slicing fish filets to self-defense, there isn't a scenario in which such a knife won't come in handy. Finally, the knife will prove essential when it comes to setting up a camp and clearing bushes and trees.
We have listed some of the essentials the urban man requires to survive venturing out in the wilderness. Once you grasp the basics and become an experienced camper, you will wish to visit the great outdoors even after the pandemic is over. Let's face the fact: No one can call himself a man unless he can thrive in all-natural surroundings.
This article is written by Bily Bum, an electrical engineer, tech, and gaming fan with 15 years of experience in the technology world. He uses every spare moment to workout to stay in shape. With his family and friends, he likes to go camping or picnicking where he enjoys the benefits of nature. He is also a contributor to the website Techiezer.