Your granddaddy was way ahead of his time. Well—as long as he wore suspenders, that is. In fact, we're about to argue that suspenders are as valuable today as any of the wearable tech you are currently using.
Why do we love suspenders so much? Let us count the ways:
1. Instant Masculinity
We're trying to decide what gives the guy below the huge load of man stuff he is bringing to this picture.
Is it the beard or the suspenders? We say, both. Yeah, definitely both!
2. Covert Bulge Operation
The problem with a belt is that if you have any amount of a gut, it will eventually slip down until it is cradling your belly, creating an even bigger bulge than you should be held accountable for.
A pair of suspenders keeps your pants wherever you want without needing to cinch a belt too tight. This helps to even out your silhouette in the vertical line, which is another way of saying it helps to make you look fashionably slimmer.
We know that Leo has a bit of a 'Dad Bod' bulge these days, but under a pair of loose fitting pants and suspenders, he looks pretty darn slim and dapper.
3. Posture Perfect
Suspenders also help give your posture a bit of an edge. In other words, they can be used to help you stand up straight—Because if you don't, you're pants are going to fall down. Yeah, those suspender designers were way ahead of their time.
4. Wall Street Boss
The "Wall Street" look will never go out of style. You've got the contrasting colors, custom-tailored fit, clean lines… and the classic button-on suspenders.
Suspenders are what helps your suit look clean without the customary bunching of fabrics that happens with a belt. It is always the small (but important) accessories that make you look like a boss, whether you really are one or are just practicing.
5. Ergonomic Daily Comfort
If you were to ask which is more comfortable between a skinny leather belt cutting your torso in half and organ circulation along with it, or a pair of flexible leather straps hung gently over your shoulders? Yeah, I think we already answered that question for you.
6. Leg Stretchers/Symmetry Makers
With a belt, your kind of limited by where your pants can sit on your waist. It really depends on how your body was designed.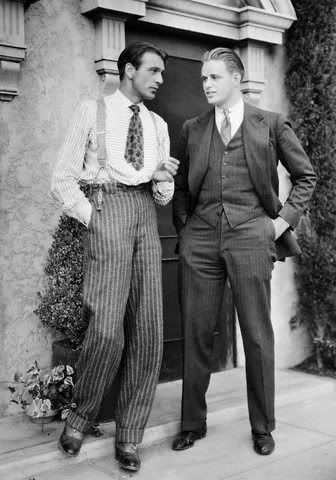 However, with a pair of suspenders you can rock them low, in the middle or way up high. It's all good, as you can adjust them to rest anywhere you like, no matter where your natural waistline is. This is great news for guys with an overly long torso or short legs, because they will make your legs look longer (proof above).
7. No Butt; No Problem
Not all guys were born with a butt. And when that happens, there is not a heck of a lot a belt can do to help keep your pants up. If this is the case for you, then a pair of suspenders is probably just what you've been looking for.
8. High Tech Survivor Gear
A pair of everyday suspenders could one day save you or someone else's life, as they make a great tourniquet in a pinch. As a matter of fact, we're fairly certain that MacGuyver could have built a battle cruiser using only a pair of suspenders (and some duct tape) with the help from the guy in number one.
And to get you started with some of these high tech devices, we've enlisted the help of the experts at JJ Suspenders, who have recommended two suspenders that every ultimate man should own. We're talking about a pair of everyday clip-on leather suspenders that can be worn with a pair of jeans, khaki's or anything else you can think up.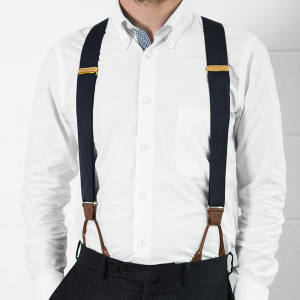 And for the more dressy or formal occasions, JJ recommends their Royal Sapphire Classic Navy Suspenders. These feature a Y-back design, leather detailing and are made in England.
And if you'd like these two suspenders as a gift set, we're giving them away for absolutely free. All you have to do is enter our Raflecopter Giveaway below:
OFFICIAL RULES
NO PURCHASE IS NECESSARY TO ENTER OR WIN THIS CONTEST. VOID WHERE PROHIBITED, TAXED OR RESTRICTED. Urbasm's "JJ Suspenders Ultimate Man's Gift Set" Giveaway begins at 12:00:00 PM Mountain Time on May 22, 2015 and ends at 12:00 PM on June 5, 2015.
ELIGIBILITY. This Contest is open to legal residents of the Continental United States who are eighteen (18) years of age or older at the time of entry and can enter into valid contracts in their state of legal residence. Only individuals may enter; no entry from any corporation or other entity shall be accepted. This Contest is VOID outside of the Eligibility Area and where otherwise taxed, prohibited or restricted. By submitting an entry, each contestant: (1) agrees to these Official Rules, and the decisions of Urbasm, which shall be binding and final in all respects; (2) acknowledges that Urbasm has not made nor is in any manner responsible or liable for any warranty, representation, or guarantee, expressed or implied, in fact or in law, relating to any prize; and (3) warrants that he/she is eligible to participate in this Contest.
HOW TO ENTER. To enter this Contest, go to this link and either follow us on Twitter, tweet a message, or share a link to this giveaway on Facebook. Must use the Rafflecopter entry [above] to enter.
PRIZE(S) One (1) pair of JJ Leather (Clip-On) Suspenders and one (1) pair of JJ Royal Sapphire Classic (Button-On) Navy Suspenders (total retail value $150). Winner will be responsible for all applicable taxes, fees, and/or any other expenses associated with acceptance and/or taking delivery of the prizes. All expenses not specified above, including, but not limited to insurance, incidentals, etc., are the sole responsibility of the Grand Prize winner. All delivery arrangements will be as designated by Urbasm and are subject to availability. Prize is not redeemable for cash, and no substitution, assignment or transfer of any prize will be permitted. Odds of winning depends on the number of entries received.
WINNER SELECTION. On or about June 12, 2015, one winner will be selected. All prize awards are subject to verification and will be awarded upon winner validation and verification by Urbasm. The potential winners will be notified. If the initially selected winner is ineligible, cannot be contacted after three (3) attempts by Urbasm, the prize will be forfeited and an alternate winner will be selected. Limit one (1) prize per household.
Urbasm occasionally receives vendor/brand sponsorship's for mentioning their products and services.
I'm a digital nomad and story teller that writes for Urbasm and a few other websites on men's interests, style, relationships and whatever tickles my fancy. In my spare time I like to play the field in search of my prince, travel, and consider myself an artisan of sarcasm at times.