Happy July and the 10th Anniversary of our Urbasm Salutes America Bikini Edition. As you may remember from your favorite high school history teacher, it was on the first day of July that Congress was preparing to vote on the future of America's ties with Great Britain. And then (as you may also recall) on July 2nd, the tallying of the votes brought the realization that America had now been declared an independent nation, and that was a pretty big deal.
However, this realization was only felt by those in Congress on July 4th, as the earliest the first newspaper (the Pennsylvania Evening Post) delivered the news to the people was on Saturday, July 6th, 1776. One horse-power could not deliver a message all that quick back in those days, and newspapers were a man's primary way of knowing what was going on in the world.
But once the news hit the stands, this declaration forged from the notions of Thomas Jefferson, Roger Sherman, Benjamin Franklin, John Adams, and Robert Livingston, created a sense of excitement in the people. A sense of anticipation and freedom that we will now attempt to recreate in the following photos…
Yes, there is much freedom and excitement to be seen here.
The stars and stripes have always looked fantastically proud laid out over an old flag pole, we get even more goose-pimples when they are displayed across a boardwalk, in a lounger, or seductively emerging from a shimmering pool.
As you can see, the month of July has many reasons to celebrate our independence, from the first signature by John Hancock to the last (penned on August 2nd). And since its original design, the American flag has gone through various stages of dress (so to speak), which we feel is represented best by this next set of bikini-clad re-creations…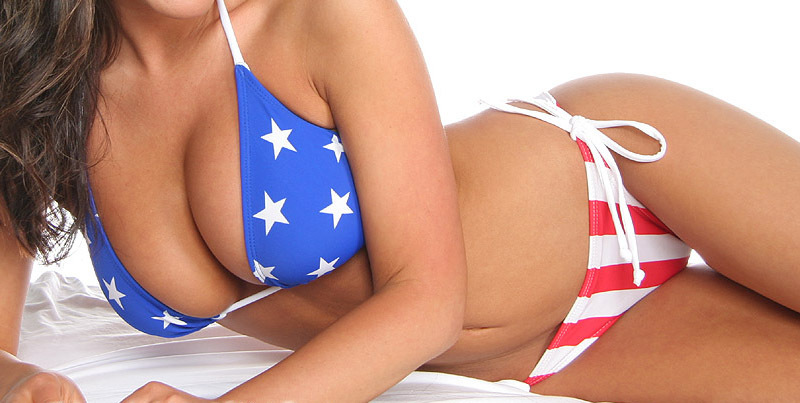 And true to these photos, those stars would continue to outweigh the 13 original stripes (colonies) as the next couple of centuries would pass us by…
And here we are, 246 years after that pivotal declaration was made, and we are still enjoying that freedom.
And now may we have a moment of prayer in hopes that we will never bow to any other opposing ideas of independence, as the result would be… well, much worse than the re-creation found below.
God Bless America to all our readers!
And for our neighbors to the north, Happy Canada Day (July 1st) eh.
Past Independence Day Bikini Tributes:
Urbasm Salutes America – 2021 Edition
Urbasm Salutes America – 2020 Edition
Tribute To America – Bikinis, Blessings, and Freedom (2019)
God Bless America and Beautiful Women in Bikinis (2018)
Tribute To America – Bikinis and Freedom (2017)
Independence Day Done Right – 2016 edition
Urbasm Salutes America – 2015 edition
Happy Independence Day – 2014 edition
Happy July 4th – 2013 edition

Single and sexy. Hello ladies..