Winter is on the way for most of us. But before you head to the dark corners of your basement to hibernate your golf clubs, might we offer you a better option? Well, more like over 125 better options at a bucket full of some of the top golf courses in the United States during the winter ski months.
What makes a truly worthy winter golf destination is a combination of amazing views, lavish accommodations, and a world-class professional difficulty level. If you're ready to trade in your Subaru golf experiences for an AMG GT Roadster, any three of these should be the next couple boxes you check off your man card.
Myrtle Beach, South Carolina
Myrtle Beach, South Carolina is a mainstay for the golf enthusiast. Not only is the weather perfect, but the communities take care of their courses as if they were a shrine. The Legends make up six award-winning courses, packaged around a luxurious Villa, complete with world-class restaurants and three pools. May we suggest the "three-night package," which includes three rounds of golf, breakfast, practice balls, and of course, a golf cart.
Myrtle Beach has a few other noteworthy golf courses, such as Kings North (above), designed by Arnold Palmer. And there is also the 27-hole Waterway Hills, known for its plentiful woodlands and majestic and vast (golf ball-filled) lakes.
Sandestin Golf & Beach Resort
One of the best-kept secrets for winter golf is the Sandestin Golf & Beach Resort. This resort has been classified by Travel and Leisure Golf, as one of the "Most Underrated Resorts" found in Destin, Florida. Here you will find four professionally designed courses, including the Burnt Pine Course, designed by Ree Jones; the Links Course, designed by Tom Jackson; Raven Course, designed by Robert Trent Jones; and the Baytowne Course, also designed by Tom Jackson.
While Sandestin is one of the best resorts, you will find many other worthy golf destinations in the Destin area. In fact, it has been said that a golf enthusiast could probably play for two months straight in Destin, Florida without ever tapping into the same hole twice.
Emerald Coast, Alabama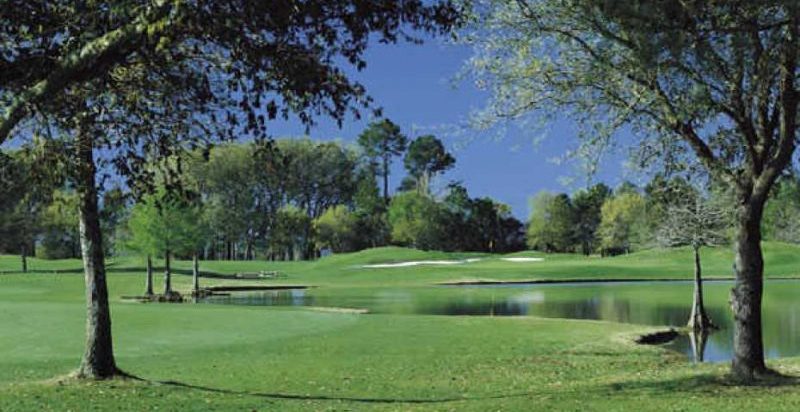 Emerald Coast, Alabama offers a twist to the typical golfing experience, including dense marshes and green wetlands. Perhaps the most gnarley fairways can be found at the Arnold Palmer designed, Craft Farms Course, located in the Gulf Shores of Alabama. This course was rated by Golf Digest with 4½ stars, and that is an honor not often bestowed. Look for their "Stay and Play" package deals which usually offer the best deals during the winter months.
Also among the Alabama Gulf Shores, is the 5-star ranked Golf Club, the Wharf. this private course features some of the most spectacular views and challenging play you will find anywhere. The area underwent a $5 million renovation a while back, and we can assure you that it was $5 million well spent.
Palm Springs, California
Palm Springs, California, is an oasis for winter travel, and it also happens to be one of the premier areas for off-season golfing. It offers over 125 golf courses, featuring vibrant green grass, native palm and olive trees, mountain views, and surrounding lakes. One of the best resorts to play is the Indian Canyons Golf Resort. The course is surrounded by mountains, rolling greens, lakes, and the legendary historic Walt Disney landmark fountain, which shoots 100 feet into the air.
More Travel
Colorado's Greatest Road Trips
6 Amazing Places in Colorado to Heal and Rediscover Your Spirit
The Ultimate Guide to Las Vegas
The Ultimate Guide to Miami
Man's Greatest Travel Destinations
About
Loves bourbon, travel, and spending time with family (in that order).