I say, "By the pricking of my thumbs, something wicked this way comes!"
A young boy vanishes on his way home from a friend's house.
It is 1983, Hawkins, Indiana where Will Byers and his friends have just finished a campaign in a fantasy role-playing game. He rides his bike home like he usually does. It's a small town. What could possibly happen?
The next morning, his mother, Joyce Byers, notices the empty bed. She immediately becomes concerned, because Will is a good kid. He would never run away. He does what he is told and has certain routines which he does not stray from. Joyce embarks on a quest to find her son, not knowing this is one of the many stranger things happening in this community. Enlisting a reluctant chief of police, she faces an uphill battle to find Will, who has been taken to some place unimaginable.
Will's friends conduct their own search for him. Joined by a quiet girl they find wandering the outskirts of town. She calls herself Eleven and the boys soon learn she is connected to Will Byers' disappearance in a strange way. As they search for Will Byers, they uncover many weird occurrences. Eventually, the kids join the adults in their search for Will, and find out the biggest secret the town holds is just down the way, on the outskirts of town.
As the series unfolds, the revelations come slowly at first, but then pick up their pace. Chills adorn this series like Jack-o-Lanterns on Halloween. There are no real terrifying moments; just an overall sense of foreboding. As the plot unfolds, it evokes that creepy excitement of what the next step will reveal; what answers will be found by turning that proverbial corner?
The episodes tell the story fluidly. It is like watching one, long eight-hour movie. Anyone who starts watching this series, unless very disciplined, will want to continue on to the next episode and the next. Upon reaching the end, that person will feel the outcome is very satisfactory.
Though this is a horror production, it is not as gory as a typical horror production. When compared to something like Game of Thrones, or A Nightmare on Elm Street, this production might have received a PG rating. Most of the scary stuff is skillfully handled off camera creating tension, a dim sense of panic, and also inducing excitement. It is due to these scary elements that parents should pre-screen this series for those under the age of 13. This production includes some themes about dating, romance, and other things along those lines. As such, this series should be watched by those mature enough to handle it; perhaps teens and older.
The acting in this story is solid, if not award-winning. Winona Ryder turns in a great performance as Joyce Byers. The stressful worried looks changing into a touch of madness as the search wears on; the sadness which brushes her face when thoughts of her son being lost float through her mind; the joy and conviction that emanates from her when she finds a clue as to where he is. All of these expressions and more are what Winona Ryder has brought to the table and wrapped up into this character.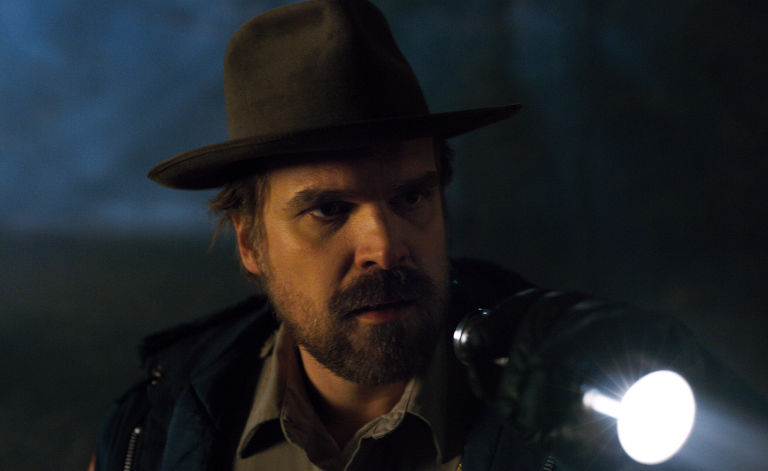 David Harbour plays Jim Hopper, the Chief of Police in that small town. He brought a likeability to this drunken slob of a character. As the story progressed, he allowed the audience to warm up to the character by shedding that gruff persona. He accomplished this by bringing in brighter mood changes and accentuated certain expressions which gave him a more positive outlook. The fact that he eventually accepted Joyce's story and became sort of protective of her gave the character another level of warmth.
In the first episode, his reaction upon seeing her in his office clued the viewer that he and Joyce Byers knew each other; possibly on a romantic level sometime in the past. This situation before him gives the viewer an idea of why he is reluctant to help Joyce, especially in the beginning. Seeing this range in acting, it will be interesting to see Mr. Harbour's take on the titular character in the new Hellboy project.
The younger actors, especially Millie Bobbie Brown, were very good. Ms. Brown was captivating when on screen with her performance as Eleven. She is a rising star for sure.
The series is short, but the pacing of the story is even. It is not a bad thing as it sucks the viewer in with a gripping tale. It practically forces the viewer to get involved with the characters and experience the strange events which occur. This is what good writing and directing can do with such material and the Duffer brothers have proven they can do it. They created this property and have directed most of the episodes. It is a well-earned effort for a well thought-out project. Hopefully, season two sees the same amount of care and craftsmanship.
Yes, a second season is in the works. Although, one won't have to wait too long. It will air tonight, and according to reports, the setting of this story takes place on Halloween of 1984. The new season will be darker than the first and scarier, according to the creators. That should make for a fun time this Halloween!
If the terms demigorgon and "the upside down" are currently meaningless, or are not in one's vocabulary, then go watch season one and prepare for a rare ride that zips one back to the 80's. Prepare to witness all the strange things that happen in Hawkins. This show hits all the right buttons when it comes to storytelling. It won't disappoint.
This Halloween, gather your friends and grab that blanket to hide under – and prepare for even stranger things to come in season two.
Erich is the author of the thriller, Is Love Everlasting? He has a BA in Communications from Colorado State University. He lives in Arvada, Colorado with his cat, who always tries to help him with his writing. He enjoys watching movies, writing poetry, or reading a great book. Follow Erich on Facebook at http://www.facebook.com/erichswritingspot. Get his book at Smashwords: http://www.smashwords.com/books/view/410406