The Gift GUYde, much like the Hess Truck, is back. And it's better than ever.
Now in its third year, here are our picks for the 2016 winter holidays:
Sunglass Warehouse
Excalibur for $13.95
Sunglasses are a better present than they get credit for. It's more personal than a gift card, but not so close that you need to know sizing information. This pair of Excalibur from Sunglass Warehouse is an affordable option that doesn't skip out on style for the price.
Jaegaer-LeCoultre
Reverso for Various Prices
The Reverso is a line of watches with expert craftsmanship for the gearheads out there. The timepieces feature a flippable watch face, allowing a bit more flexibility to how you style it. For high-end watches like these, it's important to visit stores and monitor sites like the RealReal, Amazon, etc. to make sure you're getting the best deal possible.
Topman
Chevron T-Shirt for $30.00
The holidays are a great time to stock up on basics, even if it's for yourself on a sale. Neutral colors also make for safer gift options. For the guy who needs a wardrobe upgrade, but isn't looking to be too adventurous, keep it monochromatic and geometric.
Sperry
Decoy Waterproof Boot for $90.00
Winter holidays are the perfect time to upgrade your boots. While it's easy to go with the practical ugly option, Sperry proves you don't have to pick between form and function. The all rubber bottom will ensure you don't lose any toes to the wintry slush.
Barbour
Lochy Tartan Wool Blend Duffel Bag for $379.00
It's nice to see luggage makers breaking outside the standard monochromatic looks for something stylish but still practical. With this duffel from Barbour and a garment bag, you won't be checking anything at the airport, even for a weeklong trip.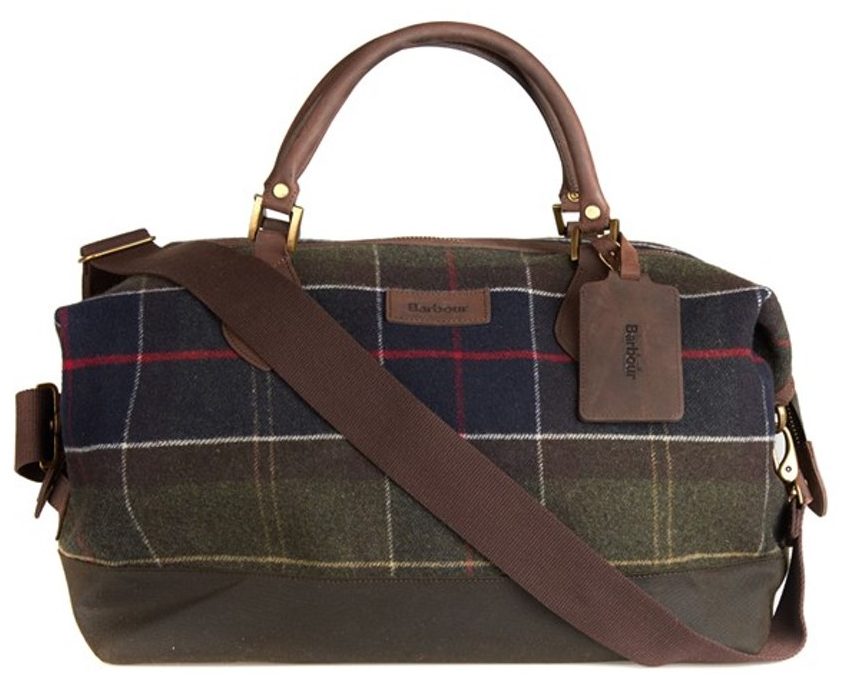 Rhythm
Brunswick Walk Ochre for $79.95
I discovered Rhythm during a Black Friday sale in 2015 and have continued buying their shorts ever since. The Australian surf brand has a relaxed fit to its clothing and always has manages to use bold prints in tasteful ways. The Brunswick Walk Ochre shorts embody that perspective. While you can order from Australia, they also resell through PacSun and Amazon.
SoBe Politics
Flamingo Hat for $34.00
Have that friend who won't stop talking about how gentrification is ruining the neighborhood? Get them something from a local business.   SoBe Politics takes merch orders on their Instagram page, with availability at boutiques in the 305 as well. I'm holding out for the day we get hats with golden croquetas on them.
Old Spice
Holiday Gift Pack valued at $100
Old Spice is releasing their annual holiday gift package, which takes from some of the best products in their fuller line up of antiperspirants, deodorants, body washes, body sprays, shampoos, hair stylers, electric razors, shave gels, aftershaves, and colognes.
This year the package is valued at $100 and comes with a $50 StubHub Gift Card in case you want to see Old Spice ambassador Von Miller play live with the Broncos. Enter Urbasm's giveaway of this exclusive prize pack here: https://www.urbasm.com/2016/12/urbasm-old-spice-100-holiday-gift-pack-giveaway/
Need more ideas? Check out last year's Gift GUYde here.
Jason Wilson is a creative innovator trying to learn everything he can about this hectic vortex called life. He currently perform freelance social media, PR and web promotion strategies. Follow Jason on Twitter: @JasontheJumbo