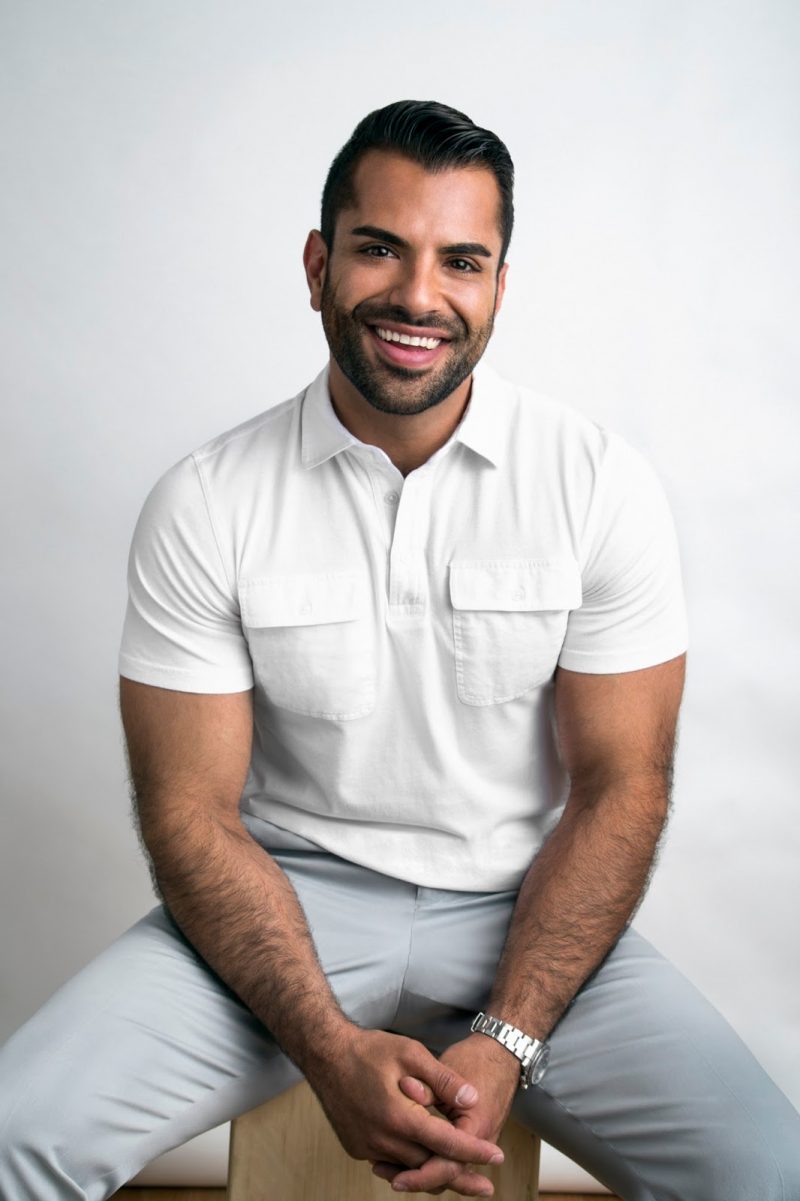 Every man must create his own story; he must build his own legacy. And there are two ways to look at this. The first is to avoid the pitfalls of disappointment and failure by avoiding anything you fear might not lead to success. The second is to seek out those disappointments and failures until they become the lessons that teach you how to turn your failure into success. And there is only one shortcut through this rocky terrain, and that's the advice of a really good mentor. A man like Shervin Roohparvar.
Shervin is an entrepreneur, reality television star, a connoisseur of fine women, cars, and a strong mind and body. We were curious if he had already filled out his man card for the coming year, and as it turns out, he had – and we were there to take notes on how it's done:
Shervin Roohparvar: Nice to meet you.
Urbasm: Nice to meet you too, Shervin. What's new?
Shervin Roohparvar: Well, there is a lot going on. Season five of Shahs of Sunset wraps this Sunday on Bravo TV at 9/8c, and this was my first season as a main cast member. Last year, I was a secondary cast member so, this season has been a completely different experience. I am still getting used to fans calling my name and wanting to talk to me about the show, or take a picture. It is really exciting and I am enjoying every minute of it.
And myself, I am a business guy, so I've got a lot of things going on outside of the show. In San Francisco, where I'm from originally, I've been a part of numerous tech companies and also been involved with the hospitality/nightlife industry on the West Coast through 1923 Management . I'm also co-partner in Munitio Headphones and am in the process of developing a clothing line that we are gearing up to launch later this year. I've got my hands full, but that's the way I like it.
Urbasm: That's how to get things done.
Shervin Roohparvar: Better than being bored.
Urbasm: This is true. What drew you to the show, Shahs of Sunset, in the first place?
Shervin Roohparvar: In my case, I was approached. At first, I thought it was a joke. I thought my friends signed me up for a good laugh, but it turned out to be true. So, I am a big believer that things happen for a reason and it was just an interview so, why not. That interview became an on-camera interview, which became a casting. For me, I never thought I was going to get chosen – I am in the tech industry –-how often do I have cameras in my face?
Urbasm: Right.
Shervin Roohparvar: Then all of a sudden I got an offer. I have always been curious what happens on the other side of the screen. I think that is what really drove me to take on the opportunity – the experience. Why do we do anything in life? Why do we go to the aquarium, the museum, or a waterfall? It's to create memories.
Urbasm: Do you have a favorite memory from the show so far?
Shervin Roohparvar: I like to say that all my moments are my favorite because each experience was memorable in its own way.
Urbasm: No, there's got to be one.
Shervin Roohparvar: Okay, this year my Mom was on camera. It was a short cameo but meant a lot to me. She has always been so timid and shy so, I was really proud of her. It was an awesome moment, I'll never forget.
Urbasm: And we bet Mom was proud too. Okay, now let's pretend that Mom is not going to be reading this next question. Describe five women that every man should date at least once?
Shervin Roohparvar: There are five types of women?
Urbasm: At least!
Shervin Roohparvar: I always thought there was only just the one – the crazy one and that was it.
Urbasm: (laughs)
Shervin Roohparvar: If you have other types I should experience, I would love to meet them!
Urbasm: All we can say is that you're missing out on the other four.
Shervin Roohparvar: Are you sure? I feel like I have been out there looking pretty hard. But I think that every man should definitely date the crazy one at some point because it helps you appreciate the good ones. The other thing to note is that everybody is a little crazy, and you just might hit that exact right amount of crazy you need in your life.
Urbasm: (laughs)
Shervin Roohparvar: And men should always experience the maternal and mature type too. It will make you appreciate – or not appreciate – what you have with somebody else.
Urbasm: Crazy-maternal-mature. That sounds like our kind of woman. What do you think is the best way to approach one of these women for the first time? Because let's face it, that is what will make or break most of us guys.
Shervin Roohparvar: Indeed. I'll tell you what I think is really attractive to a woman – confidence. Whether you have it or you don't – don't concentrate on that. You come out really confident, even if you have to fake it. It will be well received, and that will instill real confidence in yourself. Don't second guess yourself, be exactly who you are – because women can tell when you're not. Don't think that you have to show off. You are better off just being you, and being confident.
Urbasm: Okay, so you're known to be a man of quality. Where is the best place to meet a quality woman?
Shervin Roohparvar: It depends on what kind of quality you're looking for.
Urbasm: Oh, something that will make your Dad wink and Mom shutter.
Shervin Roohparvar: (laughs) Yes, there are all shapes of life, isn't there. Honestly, the best place I've found to find a quality woman is at a quality event, like a fund-raiser or charity gala. A museum, bookstore or coffee shop, are also great places to run into women of substance as well. I always tell my friends – you're not going to find quality at the clubs and bars. They are the party goers.
Urbasm: True.
Shervin Roohparvar: A park. Oh, a dog park is a good one!
Urbasm: Yeah, we've heard that can be a good one.
Shervin Roohparvar: That is a great one! If you have that shared interest – there you go, that is your icebreaker. 'What kind of dog is that?' Is it male or female?' I mean, it's almost natural. She is there. She is putting her energy towards an animal. It's a great way to begin an organic conversation without coming off like you're trying too hard.
Urbasm: Never thought of it that way before.
Shervin Roohparvar: We should start a business – Shah's at the Dog Park. For guys who want to hang out, you know?
Urbasm: Right, but would we have to have a dog?
Shervin Roohparvar: Yeah, it would be kind of creepy to show up at a dog park without a dog.
Urbasm: Yeah.
Shervin Roohparvar: But I'm telling you, we should set up a business like that. We could take a couple pictures of a guy and his dog – and photoshop them so they both look younger and better.
Urbasm: (pause) We like that.
Shervin Roohparvar: But hey, don't take that idea from me. We can partner in on that.
Urbasm: Okay, you're the brains and muscle; we'll be the creepy guys without dogs making the other guys look better. Let's do it.
Shervin Roohparvar: Yeah.
Urbasm: Which brings us to the next question… have you ever used a wingman or wing woman to pick up on a woman?
Shervin Roohparvar: I have not, but I think I make a pretty good wingman.
Urbasm: What's your secret?
Shervin Roohparvar: You want to build your boy up. It is always a good idea to use some humor, and you want to listen for the signs – of when it is time to walk away or when it's time to help. Pay attention, because if they give you the look, like, 'get the hell out of here,' that's your cue to go!
Urbasm: Right. Good advice.
Shervin Roohparvar: Yeah.
Urbasm: Okay, switching gears… we've read that you recently at opened a high-end, streetwear retail store, as well as your own clothing brand. What can you tell us about that?
Shervin Roohparvar: It is called ESTATE, and we are a high-end urban brand based in Seattle. We've got a 100 percent handmade t-shirt that we've designed ourselves and are manufacturing here in the states, along with hats, accessories and other high-end brands including Chapter, Reves Paris, Stampd and others. They're are a lot of brands we look up to and model our aesthetic after, my personal favorite is Tom Ford.
Urbasm: If you want to play with the big boys, you've got to jump in the boxing ring with the heavyweights.
Shervin Roohparvar: But you know fashion is different than sports, right?
Urbasm: (silence)
Shervin Roohparvar: I mean for guys, we don't like change. We want to wear our same shoes, the same pair of jeans and keep everything the same. We are definitely going to follow our same basketball, baseball and football teams, but in fashion, we don't want to be the guy who refuses to take off his bell bottoms. You have to let go of a style or trend once it's out of style. Fashion is ever-changing. This is what we are wearing now, but it will change tomorrow.
Urbasm: So a lot of the style cues from Estate come from you and what you've learned over the years?
Shervin Roohparvar: No, what I bring to the table is a business strategy and operational plans. I have zero designer talent, but luckily for the brand, I am the business strategist – and that's one reason we're growing. It takes a team to put it together, right?
Urbasm: Absolutely.
Shervin Roohparvar: If you check us out at shop-estate.com, you'll see that we stay up on trends, but also respect classic style.
Urbasm: We'll do that. Okay, let's try something. Using your brand as an example, lay out an outfit would that would be good for a guy going on a first date.
Shervin Roohparvar: Black high top sneakers. Black jeans and a branded t-shirt. These are different than regular t-shirts in that they are long and fitted on top, giving a more 'put together' yet casual feel to your look. Black is always a safe color to choose for almost any occasion, even in California. I don't know why though because it was 150+ degrees here yesterday.
Urbasm: (laughs) And now the bombshell: What are the three things every guy should know, according to you?
Shervin Roohparvar: Okay (silence). Every guy should know how to be confident, how to engage self-discipline and follow through with dedication. If you apply these three things to anything that happens in your life – they will become the recipe to success.
Urbasm: How's that?
Shervin Roohparvar: We've already talked about confidence, but you also need to have the self-discipline to know when to take and when to give, when to buy and when to blow. Sometimes you have to do things when you don't want to. I don't want to go to the gym every day. Sometimes I sit in the parking lot and try to think of every reason not to go inside, and it is my self-discipline that forces me to go.
Urbasm: We know that conversation.
Shervin Roohparvar: And dedication – If you're not dedicated to what takes place in your own life, then there is no point in living.
Urbasm: Instructions for success from a man who follows what he preaches. Thank you, Shervin.
Shervin Roohparvar: Anytime, have a great day!
Catch Shervin this Sunday in the season finale of the Shah's of Sunset on Bravo TV at 9/8c. But the husky lady has yet to bring down the curtain for Shervin, as you can also catch him in a two-part reunion on August 2 (Part 1) and August 3 (Part 2). And beyond that, you can always hang with the Shah on Instagram and Twitter – we already do.
Read more:
Inside Look at the Yotta Lifestyle
Dan Ariely on Life, Love and Finding Your Own Success
Survivorman Les Stroud On Being a Man
Eric has written for over a decade. Then one day he created Urbasm.com, a site for every guy.