The Tempus Machina Watch Company claims to be passionate about vintage Rolex's, and their flagship release, the "Red-Depth" 216A Submariner is all the proof we needed to know they speak the truth.
The 216A is "the perfect fusion of vintage and modern," according to Tempus Machina. But what they've really achieved is to create a watch that is absolutely uniquely beautiful – while also being undeniably Rolex. In other words, this is "the exact watch Rolex would make today if they chose to design and build a big crown to honor their masterpieces of the past."
It takes anywhere from 3 to 6 months for a skilled craftsman to take the 216A from start to finish, and much of this work involves hand-sculpting and modifying a modern Rolex Submariner to exact tolerances to fit their vision of this modern classic. Now we'd imagine that you'd like to know how they were able to craft such a watch using a combination of new technology and old world crafting techniques. We did too… and so we asked the owner of Tempus Machina, Jeremy Davis, politely – and he responded brilliantly:
Urbasm: What were the steps involved with the redesign of such a significant watch, like the Red Depth 216A?
Jeremy Davis: The first step was to ask ourselves, "what specific features of the big crowns makes those models so alluring and timeless?" Even when we asked other fellow vintage Rolex enthusiasts, the responses were universal; The domed crystal, chapter-ring gilt dial, 8mm Brevet crown, red triangle insert, lug holes, sleek coin-edge bezel and the chamfered lugs create an ensemble that is cherished to this day. With the exception of the crystal, we were confident that all of these elements could be drawn together by using the base 114060 Submariner only and sourcing original Brevet Crowns. But we knew it would not be easy, and the fabrication process required hundreds of hours of trial and error. But once all the pieces were assembled together for the first time, we knew we had created something special.
Urbasm: That's for sure.
JD: One of the earlier 6538 Submariner models had a "200/660" depth rating pad-printed in red enamel. This dial is a beautiful harmony of elegance and simplicity. So red-depth was natural choice for the 216A. The vision was to create a watch that encapsulates the spirit and simplicity of the classic big-crowns We believed we have achieved that with the 216A.
Urbasm: From start to finish, how long does it take a craftsman to modify this watch to completion?
JD: Every 216A requires about 3-6 months to complete.
Urbasm: Does one craftsman put one watch together from start to finish, or does it pass through several artisan hands?
JD: Most of the modifications are performed in-house. In the now distant past, Rolex would have skilled artisans honing and polishing the cases by hand. It was important to us that these skills are preserved and in many cases, improved – so every single 216A is hand-sculpted from a modern 114060 case using proprietary, purpose-built machinery.
Urbasm: What would you say is the most difficult part of building a 216A?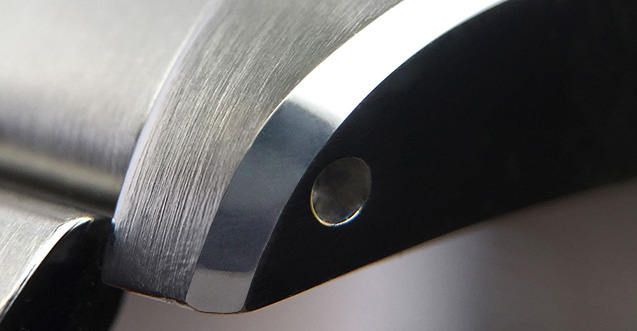 JD: Drilling the lug holes is tremendously difficult. Drilling a 1.25mm hole from the outside of a slick angled surface, through 904L stainless steel, to match the existing inside shouldered-spring bar holes of the 114060 is no easy task. There is no margin for error. Likewise, crafting the coin-edge bezel from an existing modern scalloped-bezel has its own unique perils as the tolerances of the coin-edge teeth must be within 1/100th of a millimeter. The bevels on the lugs are also hand-machined and must be razor sharp at the transition of the polished surface to the satin finish on top of the lugs. This is extremely difficult to achieve and required us to create a proprietary process such that the angles of every bevel is consistent and perfectly polished using specific diamond polishing pastes and a rotating tin plate. This process is similar to "zaratsu" polishing, the ancient art of samurai katana blade polishing.
Urbasm: Can you talk a little about the special materials that went into the watch?
JD: The sapphire crystal has single sided anti-reflective coating and is manufactured for Tempus Machina to our exact specifications. It was imperative that the 216A incorporate as few non-OEM Rolex parts as possible. Every single component of the 216A is currently being manufactured by Rolex or has been used in the past. The only exception is the domed crystal and an adapter to fit the 0.9mm Rolex 3135 stem to the 1.1mm Brevet big crown. While we don't have the resources of Rolex, we wanted to create a modern big crown Submariner that Rolex themselves would be proud to build today, if they chose to do so. The 216A is a culmination of our love for vintage Rolex timepieces, a specific vision and a tremendous amount of sweat equity.
Urbasm: While it may be obvious to most who have read thus far, but in your own words, what would you say makes the 216A unique from what other watchmakers doing similar watches?
JD: Unlike other watchmakers who may compromise design elements for feasibility reasons, Tempus Machina's 216A has no compromises and if there were, the 216A would never have been built. Every model Tempus Machina brings to market will embody this philosophy.
Urbasm: And that's how it should be. Looking to the future of smart watches, do you see watches like the 216A taking on more features to compete with this technology or do you think that a classic watch like this will always have a place in the modern watch market?
JD: Smart watches today are still in its infancy. Without a doubt, there is a time and place for them as they evolve with technology in terms of form and function. Like any vintage watch, the 216A can be passed down from generation to generation and still be functioning 50 years from now. I'm not so sure a 2015 Apple Watch will see much wrist-time in 2165.
Urbasm: Nope, we can't see that happening.
JD: So I don't feel smart watches are competition, but rather are complementary to traditional mechanical watches.
Urbasm: Can you give us a hint of some of the things to come from Tempus Machina?
JD: There are several models we are working on, each with its own unique challenges in terms of fabrication. As a hint, just ask yourself what other classic vintage models evoke emotions in you similar to the 6538 big crowns. As fellow vintage Rolex enthusiasts, there's a good chance that we are contemplating something similar.
Urbasm: (laughs) Yeah, enough said! Thanks for chatting with us Jeremy.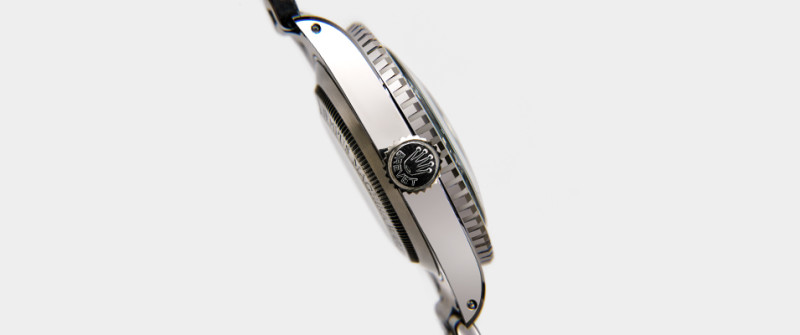 If you've ever wondered if it were possible to improve on something that was already considered mostly perfect…
We invite you to visit the Tempus Machina Watch Company here.
Eric has written for over a decade. Then one day he created Urbasm.com, a site for every guy.