It can be a tough life for a fitness model/actress. They have to make time for photo shoots, auditions, training, filming and social media… To tell you the truth, we don't know how they find the time for all that in one day. It is a good thing that for us fans of fitness models, all we have to do is tune-in and enjoy the scenery.
But you know what is even better than looking at photos of fitness models? Spending some quality time with one – and this week we spend some quality time with the sexy, talented and very fit… Miss Laci Kay Somers.
Urbasm: Hi Laci, what do you have going on this year?
Laci Kay Somers: I am coming out with a new 2016 calendar – also t-shirts and new cell phone cases. Hopefully a couple film roles… who knows.
Urbasm: That sounds great. You have a lot of different talents under your belt, including being a personal trainer, actress, singer and cosmetic nurse. Do you find that guys are intimated by all that independence and success?
Laci Kay Somers: I can say some guys are intimidated. The ones that are weak and not confident with themselves. That feeling can lead to insecurities, which in turn leads to being intimidated. I am a very open, honest and laid back person. People need to give me more of a chance. Now, the right guy will be drawn to it and want to build with me as we support each other.
Urbasm: True, and what do you think most guys underestimate about spending time with a successful women?
Laci Kay Somers: I think they underestimate that we are just like everyone else; we just work harder. We can be strong. but we also need help and a solid support system.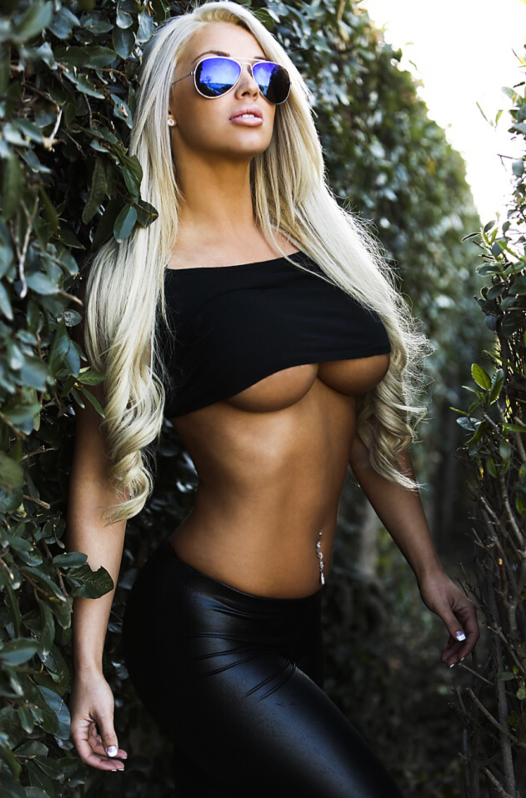 Urbasm: Do you ever approach guys, or do you prefer to wait for them to come to you?
Laci Kay Somers: I prefer guys to come to me. I know I can be intimidating, but it's all about energy. I feel like the right men can feel my vibe and I, in return, can be attracted to that.
Urbasm: How would you describe your ideal Prince Charming?
Laci Kay Somers: My ideal Prince Charming would be very down to earth and funny, someone who is head over heels in love with me and constantly giving me attention. Someone who is loyal and honest and shares my fitness and food  passion.
Urbasm: Which reminds us, as a personal trainer, we were curious what your workout routine was looking like these days?
Laci Kay Somers: To be honest, it is key to switch things up constantly so your body does not plateau. But something that always stays consistent with me is kickboxing. I love the bag and running mitts with the guys. I keep cardio and weight training a part of my every day and make sure it is a balance.
Urbasm: Based on your experience, what do you think that a lot of guys get wrong at the gym? In other words, what are the worst things that most guys are guilty of when it comes to our workout routine?
Laci Kay Somers: I would say most men just want to get big so they lift heavy and improper form, which can lead to Injury and or the muscles not forming properly. I feel that they need to not sacrifice their form for weight and just get used to the rhythm of things first.
Urbasm: We agree with that. Have you ever had to use your strength on a guy who was getting out of hand?
Laci Kay Somers: Only holding someone back from a fight, but that's pretty much it.
Urbasm: That's a good thing. What is the best way that someone has ever approached (and impressed) you? Are there any pickup lines that have actually worked?
Laci Kay Somers: I'm not a big fan of pick up lines, but like I said before, I like guys who are very persistent and all about me. So, guys that try hard and don't give up. If you want someone you just have to work for them and get creative.
Urbasm: Okay, so bonus points goes to creativity. Most surveys seem to suggest that us men also lack in the romance department. What advice would you give us?
Laci Kay Somers: As mentioned, I believe everything feeds off of energy. There are some men who are romantic and some not. I don't really think it can be taught, you really just have to have it. But for the right girl, I feel like men will do whatever it takes, including finding their own way of being romantic. I would just say to be yourself and if you're not vibing with someone then you wait for that person. Someone who makes you want to be a better person and be romantic – someone who motivates you.
Urbasm: And finally, what are the three things that every man should know, according to you—to make us all better men?
Laci Kay Somers: One, never give up on the woman you love. Two, holding the door open and always complimenting us is a good thing and doesn't go outta style. And three, stick to one woman and if she's the one – that won't be hard. Bonus, if you love someone make sure you tell them every day of your life.
Urbasm: Great advice. Thank you, Laci.
We know that you've likely not had enough of Laci Kay, so to help you with that, I'm going to leave you with my own Doc-approved prescription. What you do is follow Laci on her amazing Instagram and then check-in with her whenever you need a quick jolt of mojo. You're welcome!
Read More:
Mercedes Terrell On What Guys Should Know
Ashley Alexiss on Curves Dating and What Every Man Should Know
Pamela Jean Noble on Hooters, 8-Pack Abs and Cocky Guys
Lover, fighter, and bona fide sex expert.