According to Hooters International, Pamela Jean Noble is one of the top ten sexiest women in the world. She has been a prominent fitness model, actress, black belt in Taekwondo, host on PBS's Hot Shots, a regular on Fuel TV's The Daily Habit, and a ring card girl for the MMA. Pamela has also been bestowed the BFM's Model of the Year, Fitness Gurls' 3rd Place Physique of the Year, Hooters Miss West Coast 2014, and she is one of the genetically blessed few who can say she rocks an 8-pack in competition form.
But what you might be wondering is… just how many pictures of Pamela in a bikini can we can fit into one interview? Read on to find out:
Urbasm: What have you been up to Pamela?
Pamela Jean Noble: I'm just trying to catch up from all my traveling.
Urbasm: That's right, you've been busy with the Hooters tour.
PJN: Yeah.
Urbasm: How did that go?
PJN: It went really good. It was a lot of fun. Now I have to get back to my normal activity. I have a lot of catching up to do.
Urbasm: What do you have coming up?
PJN: We've released the Hooters calendar that I was on tour for, and after this next fight, it is up in the air. I have had a tough schedule, so I have not been able to go on as many auditions.
Urbasm: What are the top three things that are on your bucket list for the new year?
PJN: One of them I already achieved. I wanted to place top ten in the world for the Hooters International. How many people can say they are the top 10 in the world. I was pretty excited about that. I didn't really expect it, so that was really great. I also really want to get some traveling done. There are a lot of foreign countries that I want to visit, and I want to get more magazine stuff.
Urbasm: What is something about you that most guys might not know?
PJN: As far as a weird fact, I barely have any fingerprints. The only reason I know that is at Hooters we have a fingerprint scanner, and it never comes up with me like it should. As a fun fact, I am really into Disney. I love to watch the movies. There are some people who know this, but at Disneyland there are a bunch of hidden Mickey's that are placed in the rides, and I know where most every single one of them is, so that is how ridiculous I am. I am a huge huge Disney person.
Urbasm: What does your workout routine look like right now?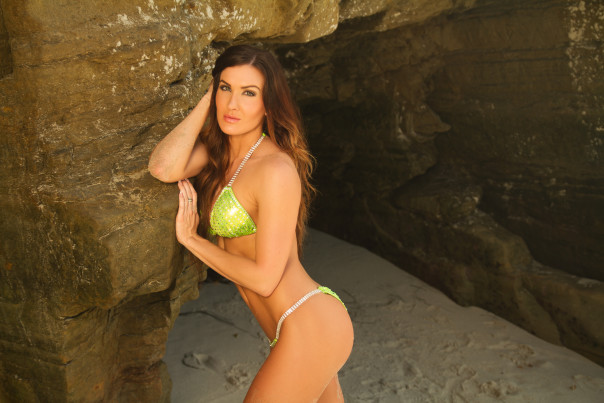 PJN: It depends on what competition I am working towards. If I decide to compete, I build my upper body fairly quickly. My trainer is not very concerned about that. So I will probably be doing legs three times per week, and then we really want to focus on bringing in an 8-pack for my next show. I have a normal six-pack, but for the next show we want to make me totally shredded. You can always soften someone for photo shoots by drinking more water, so we are not really concerned about the modeling thing. We are always just trying to focus on my next show.
Urbasm: Does everybody have an 8-pack, or is that something special?
PJN: Some girls do. The girl who won the Olympia this year has an 8-pack. Me and my coach have a very good understanding and work relationship, and we have certain goals for every show—but we also do very small specific goals. For my last show for the Olympia we wanted my obliques to come in strong. For the normal person there is a little indentation on the side. For me, it is literally from the top of my back, down to my oblique; I didn't even have a waist. That is exactly what we wanted. My body had reached a whole other level at that point.
Urbasm: How much weight can you lift?
PJN: I don't really go that heavy. That is a misconception. It is more about doing it right, and really putting the emphasis on the muscle. It is really hard for me to be in the gym sometimes, because I will see people doing certain things, and I just want to go up to them and say, 'Can we talk about what you are doing for a second' (laughs). The reality is, it is all about going slow and controlled, and to squeeze the muscle to get the right tension going on.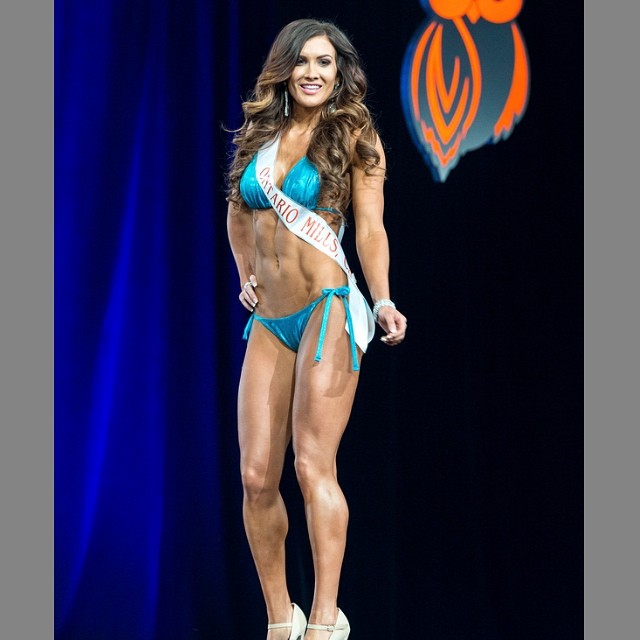 The most I ever lift for my upper body, besides back, which includes the shoulders and biceps—is 25 pounds, which is not all that much. But in my competitor photos, my shoulders are jacked, and so are my biceps. I don't even work my biceps half the time because they are so big. It is about learning your body and learning how to do things right, so that way you are not risking injury, and building your body the healthy way.
The biggest advice I can give to anybody who wants to compete is that you have to do it for you. Because if you are doing it for a little ten dollar trophy, you are never going to get a good and healthy experience out of it."
Urbasm: We've heard that you have a black belt in Taekwondo—is that true?
PJN: Yes, I don't even bring it up that much. It is just one of those things. I love the sport of MMA and I really respect what the fighters have to go through.
Urbasm: Do you know the 'five finger palm exploding heart technique'?
PJN: (laughs)
Urbasm: We'll take that as a yes. Have you ever had to use your skills on someone who was getting out of hand?
PJN: I have. It was kind of a silly fight on Fuel TV when I was on The Daily Habit show. I fought one of the correspondents, because they were making fun of something that had just happened in the news recently. It wasn't like a legit fight; but Chris Fairbanks was my opponent, and I actually, accidentally choked him out and he told me that a week later he had to go to the doctor for his larynx—I felt so bad.
Urbasm: And on that bombshell, what are the three things that every guy should know?
PJN: I'll take the dating route (laughs). Girls don't like cocky guys, and if they do, it is not anything long term. I can say that is one of my biggest turn-off's is a guy that thinks he is all that. Because you know what, everybody in this world has accomplished something, and if you have to brag about it—then most of the time you didn't really do it, or you are not who you say you are.
Number two, if a girl says that she is fine, she is not fine. Find out what is going on and fix it before it is too late. And the last thing is that the little things mean more than anything to women. I have had plenty of relationships, and you can buy me a car, and it wouldn't mean as much as surprising me with flowers, or leaving something on my car. When it is unexpected is when it means the most. For Valentine's Day or your birthday, of course it is nice to get something, but it is the little things that we remember most.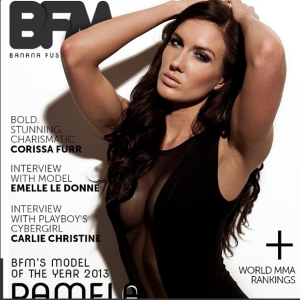 Get in touch with Pamela on Twitter, Instagram, Facebook, and her website Pamelajeannoble.net. And if all else fails, we've heard the 'bat signal' offers a 70 percent success rate at summoning her during an emergency.
Our thanks goes out to Ray Jimenez of Embolden Entertainment for making this interview possible.
Read more:
Fitness Trainer Michael Giovanni Rivera on Bulking Up, Peaking and Skipping Leg Day
Katelyn Runck on Health, Fitness, and Embracing Your Potential
Interview with Los Angeles Angels Pitcher, CJ Wilson
Kickass Kettlebell Training
Eric has written for over a decade. Then one day he created Urbasm.com, a site for every guy.