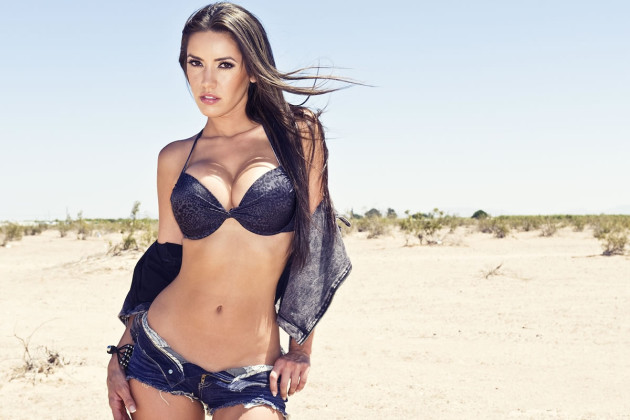 Who is Mercedes Terrell? Well, perhaps a better question is where does this Gemini find the time to be all that she is. She has made appearances at Hot Import Nights, the Fuel Channel, and can be found at every single Bellator MMA event. She has graced the covers of Tuner, Lowrider, Modified Mustang and Superstreet, just to name a few. Long story short—she is a woman who holds her own among the hottest of cars, toughest of men, and most brutal two-wheeled machines ever thrown onto a dirt path.
We figured that we might learn a thing or two from Terell's extensive experience with all things bad ass… and as expectation would have it—we were right!
Urbasm: Hi Mercedes, what do you have coming up this year?
Mercedes Terrell: I'll be on the racetrack for several of the Supercross stops this year with Monster Energy. I'll also be ringside at each and every one of the Bellator fights, per usual!! My other business that keeps me busy is designing and manufacturing custom garments, you can check out my work at www.DirtyBirdieDesigns.com. Also look out for my new brand of women's underwear and intimates called SKVI launching this year.
Urbasm: We will. What would you say has been the key to your success?
Mercedes Terrell: I think the key to my success has been taking responsibility for my actions, keeping myself motivated daily, and constantly striving to progress and grow as a professional, and as individual. With that said, finding the balance between pushing myself too hard, and knowing when to step back and take a breather has been my biggest challenge. I think I'm wired for professional success—including money making, hard-working, business sense, financial independence. This makes personal success, which is spirituality, love, rest and relaxation, family time, etc.—more difficult to attain and maintain, but I'm "working hard" at it—quite ironically.
Urbasm: What are your top four things on your bucket list this year?
Mercedes Terrell: Get better at surfing, get a kitten, organize my garage, and revert back to snow-skiing instead of just sucking at snowboarding.
Urbasm: (laughs) What is something about you that most people may not realize?
Mercedes Terrell: I read a lot. I'm incorporated and own two successful business'. I'm not religious but am extremely spiritual. I'm an avid cat lover… And I've never done cocaine!
Urbasm: Neither have we. In what ways would you say you find a man's intellect sexy?
Mercedes Terrell: Smart is extremely sexy to me; however, an obnoxious know-it-all can take this usually positive trait to the dark side. What I appreciate most is an open-minded and conscious being; Someone who is interested and active in personal and spiritual growth and with whom I can have in depth conversation on just about any topic. Having a sharp/witty sense of humor is definitely a plus. I love to laugh and am a bit of a smart-ass myself, so it's important to have someone whom I not only share a sense of humor with but can also keep up with me in that sense.
Urbasm: We've been told that men need guidance from women to become more balanced. What do you think a man can learn from women?
Mercedes Terrell: I'm not sure 'guidance' is the correct word in this context; I would, however, agree that women are the necessary balancing force for men in regards to a relationship. The female yin energy bringing about the simultaneous need for the male yang energy. Both energies are interdependent on each other so that the definition of one requires the definition of another to be complete. Furthermore, the relationship between women and men—similar to the Yin Yang concept—is not static; it is in a constant state of change.
Urbasm: Yes, that sounds familiar.
Mercedes Terrell: When one aspect increases the other decreases to maintain overall balance of the whole. Obviously, this is a very delicate and difficult balance for both parties to appropriate and cultivate, and when thrown off balance it may end the relationship. So in conclusion, I think a man can learn everything and anything he is lacking understanding on about love and life from his accurate counterpart—a.k.a. 'soulmate'.
Urbasm: Very well said. And speaking of deep conversations between men and women, what would you say is your favorite opening pickup line?
Mercedes Terrell: "On a scale of 1 to America, how free are you tonight?"
Urbasm: And finally, what are the three things that every guy should know, according to Mercedes?
Mercedes Terrell: One, what personal hygiene means; especially maintaining fresh breath and a kissable mouth. Two, how to listen and how to read a woman's energy, like when to walk away and when to be persistently there; It's important to be able to speak the same language in that sense. Three, how to be fully himself around her, continue his own personal growth alongside her as a complementing factor in her life, and vice-versa. The confidence and continued aspiration to do this will speak louder than any other characteristic, and is by far the sexiest attribute a man can have.
Urbasm: We love your viewpoints, Mercedes. Thank you for sharing them with us.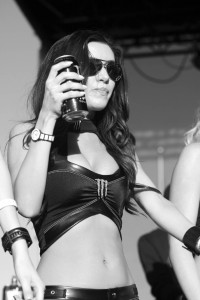 Follow Mercedes on Facebook, Twitter or Instagram, or visit her website at mercedesterrell.com.

Read More
Ashley Alexiss on Curves Dating and What Every Man Should Know
5-Minutes with Roberta Mancino- Cover Girl to the Extreme
Krystle Lina Talks Success, Dating and Men
Pamela Jean Noble on Hooters, 8-Pack Abs and Cocky Guys
Eric has written for over a decade. Then one day he created Urbasm.com, a site for every guy.