When a female singer has the raw talent to pull in 15 million Facebook views in less that two weeks… yeah, we take notice along with the rest of the world. And when that woman is also as beautiful and captivating on video as Andie Case is, well we like to celebrate the occasion with an interview.
This week we ask the question: Who is the woman behind all the YouTube and Facebook commotion?
Urbasm: Hi Andie, we've been hearing your name all over the Internet lately. Where can we expect to be hearing, or more preferably, 'seeing' you next?
Andie Case: You'll definitely be seeing more of me online and in person. I'll be posting new covers and originals on my YouTube channel and Facebook page. My bandmates and I are also in the middle of planning a west coast tour for the summer. So if you're on the west coast you better come and see us – Or I'll cry; Like really hard.
Urbasm: (laughs) We'll do our best to get out there. 15 million Facebook views in less than two weeks is impressive. Tell us a little about how those two weeks have changed your life?
Andie Case: 15 million views in two weeks – It is absolutely insane to me thinking about how many people were reached by our videos. But I'm so happy that it's all about the music and not some kind of embarrassing video or something (laughs). Really though, I've been able to gain new listeners and meet so many new people after everything blew up and I couldn't be more humbled and thankful.
Urbasm: What is the ultimate goal you'd like to reach with your career?
Andie Case: My ultimate goal has always been to be able to do what I love and make a living doing what I love, which isn't just the music or singing. I love connecting with people. I love hearing people's stories and writing songs that explain not only how I am feeling but to kind of speak for others as well. I want to change the world and let others know that they're never alone. Because whatever a person is going through there's always someone out there who's going through the same thing.
Urbasm: How would you describe your style of music?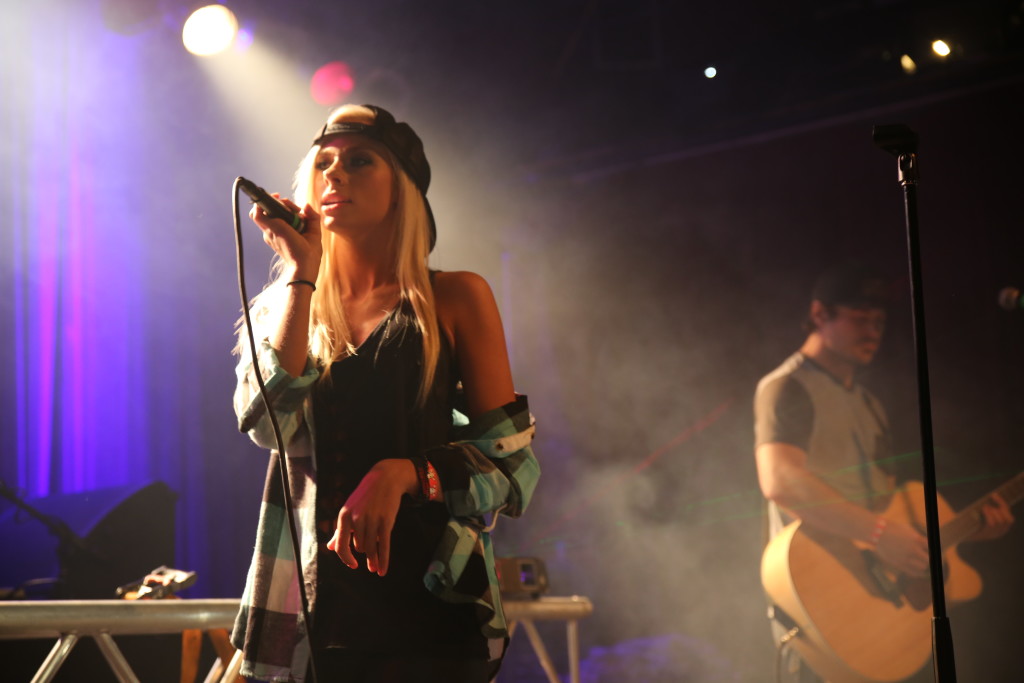 Andie Case: Everyone always asks and I'm always hesitant to answer because too many people try to put labels on things. My music has influences from all of the music that I listen to which is a lot of pop, rock and R&B. I would describe my music as real.
Urbasm: We like Real. Who is one artist that you'd love to collaborate with in the future and why?
Andie Case: I would love to collaborate with Ryan Tedder. He's an amazing writer and has so much heart and soul in his music. I would also love to collaborate with Tove Lo. Her music is just herself and she's not afraid to be different. I also respect people who aren't afraid to be themselves.
Urbasm: We do too. Which speaking of being yourself… what are a few things that people might be surprised to find out about you?
Andie Case: I'm a closet metal head. I hate dresses. I hate heels. I hate pickles.
Urbasm: (laughs) Do you find that most guys are intimated by your success or drawn to it?
Andie Case: Well from all of the marriage proposals I get online; I'm guessing their drawn to it. I mean, asking someone to marry you seems like you're not that intimidated – but I could be wrong (laughs). I definitely would want them to feel drawn. I think I'm a really approachable down to earth person.
Urbasm: What is the best way that a guy has ever approached you? Are there any pickup lines that have actually worked?
Andie Case: Not a big fan of pick up lines, unless their using them as a joke (laughs). Humor is definitely the best way to get my attention.
Urbasm: Check. And when it comes to a first date, what are a few of your best tips to help us guys succeed?
Andie Case: The best dating advice I can give for all you guys out there is to 100% be yourself! I hate it when a guys puts on a front or is just trying to look really cool. Like we're all nerds; it's okay to be a nerd (laughs).
Urbasm: We're glorified nerds. And finally, what are the three things that every guy should know before even 'thinking' of dating you?
Andie Case: Three things that a guy would have to know to date me?
Urbasm: Yes.
Andie Case: I am very hyper and will break out into a solo dance party at any given moment. I'm not totally sure I was born with a filter so I will probably talk too much and definitely embarrass myself at some point so you'd have to be okay with that. On a serious note though, you have to have goals and be passionate about those goals.
Urbasm: Sounds like a great guy. Thanks for taking the time to speak with us, Andie. And we're definitely looking forward to your west coast summer tour, so don't cry.
Seattle's 21-year-old singer/songwriter Andie Case has burst onto the scene garnering over 56 million YouTube views and tens of millions of views on Facebook with her covers and original songs. Influenced by the iconic artists she grew up with, such as Christina Aguilera and Kelly Clarkson, as well as today's rising female hit makers, the sultry yet innocent singer represents a coming of age sound delivered through raw and soulful melodies. Andie aims to connect with her fans through songs with catchy hooks and messages of empowerment, love, loss and everything that comes with finding one's self. Andie has spent the last year writing for her upcoming EP.
Follow her on Twitter, Facebook and Instagram.
Read More:
Sharna Burgess on Success, Men Who Dance, and What Makes Them So Sexy
Boyz II Men, Divulge Three Things Every Guy Should Know
Doreen Taylor on Magic, Getting Her in the Mood and What Makes a Good Man
Eric has written for over a decade. Then one day he created Urbasm.com, a site for every guy.