We've been considering upgrading our gym wardrobe for the holiday season. Because to tell the truth, many of us still own those neon short-shorts with the white stripes on the sides, along with the matching neon tank tops. But rather than working to make the fashion statement of 'looking sporty', we'd rather our fashion work for us. Yeah, we're talking about SmartWear.
Wearable tech has found itself on the runway, but it isn't so much about the look, but what it can offer to your fitness level at the gym, around the track, or on the street. This is the kind of fashion statement that builds healthy bodies, while also looking good in the process. And if you start now, your getting in on the ground floor of a very big movement. According to IMS Research, over 14 million wearable tech devices were sold just last year, and by 2016 it will have become a $6 billion dollar industry. Wearable tech is the next mobile phone, and while things like watches, wristbands, and glasses are currently leading the way, the real driving force behind the movement will ultimately be the clothes on your very back.
SmartWear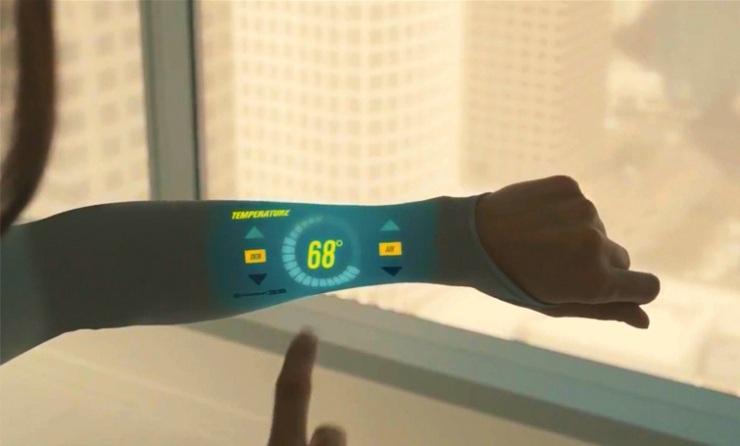 Polo Tech Shirt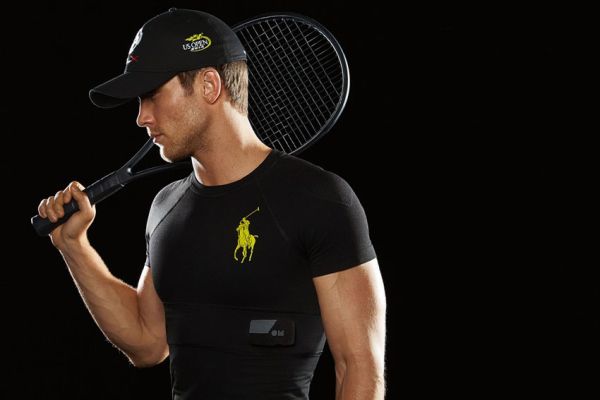 The Ralph Lauren Polo Tech is a high tech shirt that delivers complex biometric data right to your smartphone or tablet. We're talking about the distance you've traveled, calories burned, heart/stress rate, and your overall intensity level. A workout partner can tell you to work harder, but the Polo Tech Shirt shows you straight up just how hard you're working, and leaves the motivation to your own pride and determination. We like that—plus it looks good too.
Get more info here.

2XU Elite Compression Shorts
A lot of research has been focused on the way the muscles contract during intense activity. By analyzing this, a few amazing advancements in wearable technology have been made possible. It is now possible to warm the muscles up quicker, while also giving them extra support during activities—and this is all possible by the fabric used in your fitness gear. Having the right support in your glutes, thighs and hamstrings can help you avoid early fatigue, injury, and allow you to function at your peak capacity.
Get more info here.
Athos Gear
The fitness gurus at Athos have developed a full fitness fashion statement that can measure just how hard your entire body is working. This is accomplished by utilizing its built-in EMG (electromyography), heart rate monitor, and breathing sensors. Everything is collected and sorted via one "core" sensor, which is an impact resistant computerized brain that will function with any Athos gear. It senses your muscle effort (both under and over-training), fatigue, proper breathing, and is UPF 50 treated and machine washable.
Get more info here.

OMsignal Biometric Smartwear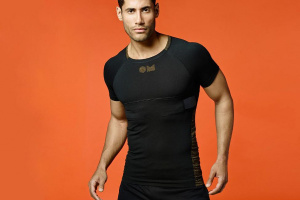 For an all-in-one kit, OMsignal offers some great options depending on what activities you do most—including daily walks, occasional running, bi-weekly aerobics, or high performance training. These shirts can be worn daily to keep track of your steps, stress and heart rate, or at the gym to measure your overall fitness level and workout effort. The app also offers alerts if you are over stressed, over training or breathing incorrectly. You can even link up to other people in your social networks to monitor each others health and progress.
Get more info here.

Ministry of Supply Archive Dress Shirt
Performance wear should have no limits, whether you are at the gym or the office. If you're the type of man whose entire life is spent living to the max, the Archive Shirt by Ministry of Supply offers classic dress shirt styling with all the performance and functionality of traditional fitness wear. It has been designed with performance fabric (blend of polyester and elastene), subtle ventilation holes, and an overall support system that has been mapped to allow your body to move a full 360 degrees. It provides moisture wicking, a wrinkle-free (soft-to-the-touch) finish, and can be machine washed.
Get more info here.
And we can't forget to mention a couple other leading brands ushering in this technology, including Adidas, Under Armor and Hexoskin.
Activity Tracking
For general activity, we also like the selection of activity tracking equipment that can be used for everything from daily fitness to high performance training. Your options include the Nike+ Fuelband
, Fitbit Flex
, Amiigo wristband, and Jawbone UP 24
, with a head nod going out to both the Moov Fitness Tracker
and Fitbug ORB
. And if you thought Google Glass looked cool, wait until you see what Recon has put together for you in the form of high-tech polarized sunglasses. The ReconJet (photo above) offers a 16:9 WQVGA head-up display of your performance metrics, including your speed, distance, ambient temperature, and altitude. It also features home-tech comforts of wi-fi, Bluetooth support, GPS, an HD camera and integrated speakers.
While we're not too sure if SmartWatches are ultimately going to catch on in the tech world, we do give them credit as being wearable additions to your fitness regimen. They offer an impressive amount of fitness/health information, while also maintaining a fairly low profile. Best of all, they don't need washed (just wiped clean every now and then). A few of our favorites include the Adidas MiCoach, Samsung Galaxy Gear
, Pebble Steel
, Motorola Moto 360
, Sony SmartWatch 2 and the Misfit Shine
.
Fitness tech may seem like a luxury—until you remember that you're only given one body to accomplish so much in one lifetime. Give your body all the advantages you can, and it will reward you with years of fitness, health, and well-being.
And if you've come this far, you're probably wondering: What does the future of smart wear have in store for you?
More Reading
How Plyometrics Can Build Better Bodies
MMA Workout – Here Comes the Boom
Eric has written for over a decade. Then one day he created Urbasm.com, a site for every guy.