Whoever said that you had to join a gym in order to achieve rock solid abs, has certainly never tried a good at-home circuit training program. The gym has a lot of great specialized ab equipment, but when you consider the wait time to get on any of these during prime time workout hours, ab circuit training is rarely an option. This 6-exercise ab workout can be done at home, or on the go, will take 15 to 20 minutes, and the results are practically guaranteed if you work hard and stick to it!
This routine is designed to be performed consecutively in a circuit. This means doing each of these ab exercises one after the other, and then taking a 1 to 2 minute rest in between before starting the circuit over. Beginners should begin with 2 sets of 5 reps per exercise. If you classify yourself as moderate to advanced, plan on 3 to 5 sets of 20 to 100 reps.
6 Exercise At-Home Circuit Training
Crunch: Reps 5-100
Don't pull on your neck, and focus on letting your abs do all the work!

Reverse Crunch: Reps 5-100
Keep your back straight, legs together, and keep the movements slow. This works the lower abs, and is much kinder to the back than its straight-leg cousin.

Butterfly Crunch: Reps 5-100
Moving the body around a little bit can help hit the muscles at a slightly different angle, and it helps to shake up the monotonous motion of the typical situp.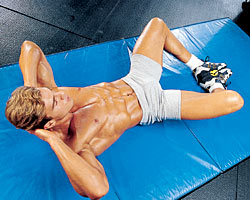 Crossover Crunch: Reps 5-100
Put one ankle up on your knee, and do a regular crunch across your body. This exercise hits those "hard to get to" muscles, which separates your six pack from your ribs, giving you that quintessential superhero look.

V-Ups: Reps 5-100
Holding your legs straight up in the air, do a sit up and try to touch your toes. This works the entire ab region, including the lower and upper sections. This exercise can be accomplished with the legs apart or together. Every variation to these exercises  hits the muscle at a slightly different angle, encouraging them to continue responding with results.

Side/Oblique Crunch: Reps 5-100
Oblique muscles are difficult to develop, as you don't want them to be flabby, and you don't want them to get too big, either. A great compromise is to do floor exercises using the weight of your body, which will encourage the obliques to respond by growing tighter and toner, rather than just bulkier.

Take a short 1 to 2 minute rest, and start over!
Read More
6 Secrets to 6 Pack Shortcuts
Four Tips to Building Better Abs
Workout Exercises You Don't Do, But Damn Well Should
Eric has written for over a decade. Then one day he created Urbasm.com, a site for every guy.