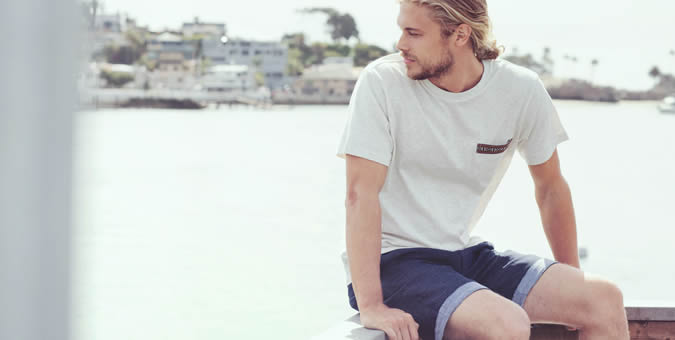 Fashion experts have once touted lacey shorts as the new hot summer trend for men – but fear not, as we'd like to set the record straight. Lacey is not 'in'. What is – is staying cool, relaxed, being active, looking beach and barbecue ready, while also keeping it simple. And yeah, this really doesn't give you near enough information, which is why we've enlisted the help of the websites we look up to when it comes to understanding the essentials of summer fashion and trends.
Men's Summer Outfit: Barbecue Date – Style Girlfriend
New Dumb Summer Male Fashion Trend: Lacey Shorts – BroBible
5 Tips to Beat the Heat and Still Look Sharp – Real Men Real Style
10 Commandments of Spring and Summer Style – Esquire
Wear This: Summertime – CoolMaterial
15 Men's Style Essentials – Primer Mag
Slide on Summer's Coolest Shorts – Valet
30 Men's Summer Essentials – Kalibrado
Summer Fashion Trends – Styles of Man
11 Summer Looks to Swear By – HighSnobiety
Three of The Best: Summer Sneakers – ApeToGentleman
Beach Essentials that will elevate your summer look – dmarge
The Best Looking Affordable Blazers & Sportcoats of Spring/Summer – Dappered
Six Fashion Forward Items Every Stylish Dude Needs this Summer – MenStyleFashion
Ultimate Guide to Men's Summer Fashion – Irreverent Gent
30 Budget Summer Pieces Worth Buying – Fashion Beans
Summer Style Tips For Men From 8 Women – Complex
18 Things Every Man Should Do This Summer – ArtofManliness
And to heat things up a bit more as summer approaches, we remind you to 'think Miami'.
I'm a digital nomad and story teller that writes for Urbasm and a few other websites on men's interests, style, relationships and whatever tickles my fancy. In my spare time I like to play the field in search of my prince, travel, and consider myself an artisan of sarcasm at times.