Have you ever listened to music through your phone or tablet? The sound was pretty lame we'd guess. The sound from your wireless/Bluetooth portable units is really not much better, despite what the BestBuy guy tells you. You know, there are times when tried and true is really the only way to go, and the self-powered bookshelf speaker has become the new gold standard for audiophiles in 2019.
Bookshelf speakers equal big magnets, 120-volts of amplified juice, and thick copper wires to transfer all that gold coming from your hard-earned music collection. This is the kind of sound that would equal those six-foot-tall, 50lb units that your dad is probably still bragging about, but they accomplish all that rich sound in about an eighth of the space.
Sure, you may be compromising a bit of the high tech technology being offered in the wireless market, but you're gaining all that big sound, which 'sounds' like a fair compromise to us. This is the best (of the best) of the ever-amazing bookshelf speakers:
Audioengine A2+
On top of the list (and practically any list for that matter) is the Audioengine A2 Plus. This delicate beast can really fill a room (60-watts) despite its compact size. The A2 is also versatile, allowing for analog inputs, USB audio, and comes with a subwoofer connection if getting your next-door neighbor to move out is your end goal. An award-winning option at a relatively affordable price.
Get them here.
Edifier R1280DB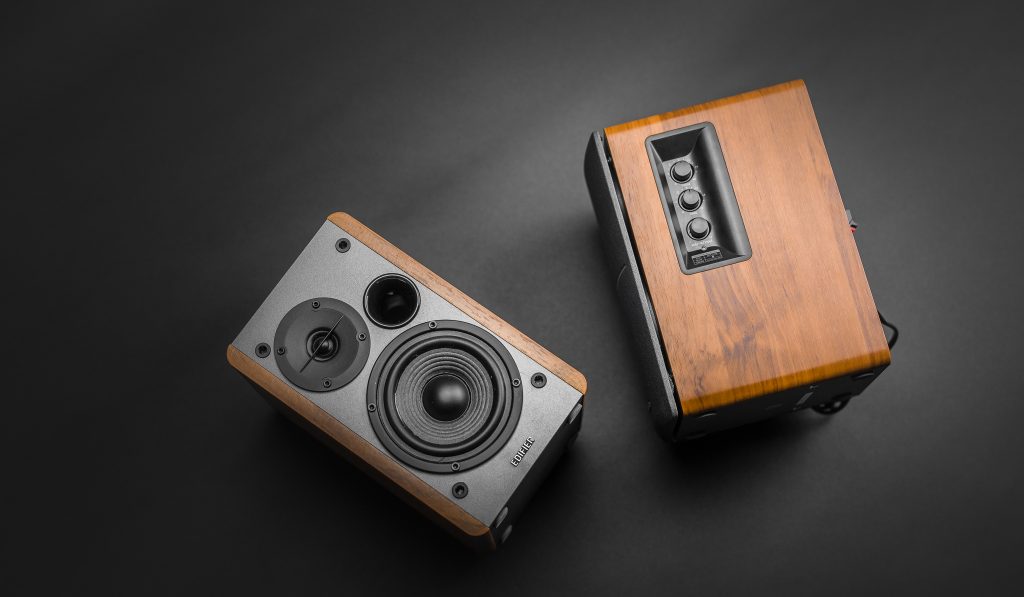 A touch of woodgrain for the vintage feel, but make no mistake about the Edifier R1280DB – these offer a full multimedia experience for any modern, vintage loving man. Yes, they do have the essential optical and coaxial inputs, but you can also use these via Bluetooth. They also come with their own remote control, 4-inch woofers, and 42-watts of amplified power. All that sound at half the price you would expect.
Get them here.
Mackie CR3
Exotic woods make some of the best sounding speakers, last forever, and feel absolutely lovely in your hands. But you're not going to be feeling these on the shelf, but rather enjoying them from afar, so why bother with the extra expense. This is why Makie uses Birchwood to keep the cost down and the quality high. They also keep the reference true, using a 3-inch woofer and .75″ ferrofluid-cooled tweeter, and a full 50-watts of amplified power.
We have a pair in the office, and you can get yours here.
Kanto YU4
The YU2 is good, but Mom always told us that higher numbers is better (YU4). And she just might be right if glossy candy red is your color and 140-watts is your minimum amplifier rating. But wait… these also come in bamboo grain, glossy black, glossy teal, plus a couple of matte shades, like grey, white, and black. These go old-school, allowing for easy plug-in of your (phono preamp) record player, or they can also be streamed via your Bluetooth device. Four-inch Kevlar drivers give you all the lows and 1-inch silk tweeters balance out the highs. This is a complex, high tech device, that fits itself into such a compact and simple package you would never know all the wonder that is held within.
But now you know it, and you can get your own pair here.
Bose Companion 2 (Series III)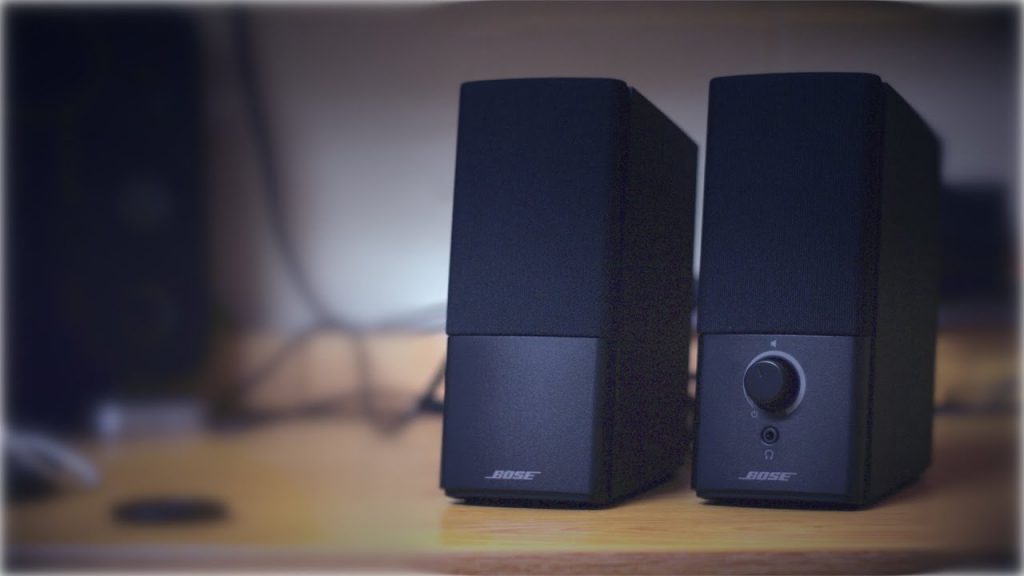 We like Bose speakers, and these work next to your laptop or desktop just as well as they do next to your itty bitty phone or great big record player. These offer a substantial amount of sound for the paltry amount of space they take up. Yeah, they are not going to blow you out of the room with amazing bass, but if you appreciate clear and crisp audio, these will certainly deliver. At a low price that is not always characteristic of a Bose multimedia speaker of this caliber, we'd highly recommend these if your space is under some serious constraints.
Get them here.
Eric has written for over a decade. Then one day he created Urbasm.com, a site for every guy.