Each Movember, Saxx takes a break from its own amazing story and opens its hearts and ears to all the brave men who have their own story to tell.
"We make life-changing underwear," says Tim Bartels, the CEO of Saxx. And within each of those changed lives often resides other life-changing events, such as suicide, testicular cancer, and the many other health issues that affect men each year. But Saxx does more than just offer a stage for men to speak out with their campaign 'Bravery Takes Balls', they also donate $2 of each limited-edition Movember underwear they sell towards several of the research centers working to improve the issues men are most often faced with.
This year's designs feature either the Strike pattern (shown above) or the Kinetic (below) – and you'll find them on the Saxx website this month.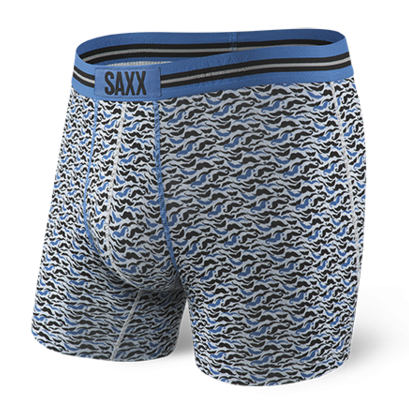 And considering that the holidays are just around the corner we wanted to share with you our favorite new holiday design for this year, the "Ugly Christmas Sweater".
And if you're reading this in time we invite you to take advantage of the 20% off (plus free shipping) for items purchased on the Saxx website for Black Friday, November 25th. And they will also be offering the same 20% off for Cyber Monday.
I'm a digital nomad and story teller that writes for Urbasm and a few other websites on men's interests, style, relationships and whatever tickles my fancy. In my spare time I like to play the field in search of my prince, travel, and consider myself an artisan of sarcasm at times.