A Guinea Pig Rolls in the Mud
A recent trip to Cincinnati proved I haven't learned everything there is to know about pork just yet.  Its local industries truly show why "This Little Piggy Went to Market", underscoring a rich German heritage in the region. Candle-maker, William Procter, and soap impresario, James Gamble, both recycled used pig parts to make their respective products. Fast forward a century or so, and Proctor & Gamble is behind some of the world's most recognized consumer good brands, including Old Spice, whose partnership with Tough Mudder as the official deodorant and body wash was the reason I had come to Cincinnati a.k.a. Porkopolis. I already used Old Spice to combat Miami's brutal humidity, but Tough Mudder would be a more serious test for their Hardest Working collection.
The day before the race we were brought to the company's research and development facility to learn more about what goes into anti-stench science. The labs go so far as to hire professional armpit smellers, which was weirdly comforting considering I wouldn't trust that job to a machine or AI. We also got to play around with different scents during a session with Old Spice's fragrance scientists. The slightest change to a scent can make or break an Old Spice product, so a massive amount of analysis, time and effort goes into understanding how these slight nuances affect customer perception.
The Morning Of…
The morning of Tough Mudder, Isaiah Mustafa of Old Spice ad fame was on hand to get our bus of journalists pumped up for the day's excursion in Kentucky.  Of all the towns and cities in the state, it was none other than Sparta, KY that would host the event: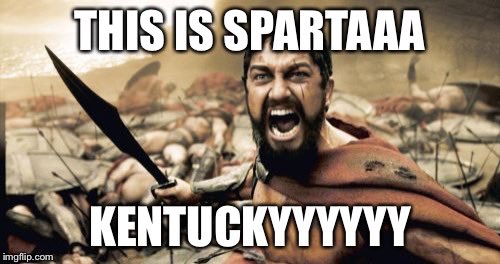 With Leonidas and Isaiah as my spiritual advisers, I felt more #blessedup than I ever had before, and boy would I be needing those praise hand emojis. While the 90-degree temperature was completely normal by Miami standards, I wasn't accustomed to running 10.7-mile-long obstacle courses in the 305. Even if Tough Mudder were closer to home, it would involve too many alligators and pythons to be considered safe. On this racecourse, though, it was just me and the rolling hills of Kentucky. Floridians do not understand what hills are, so we are almost universally impressed by changes in land elevation. I was really struck by their beauty too until the fifth or sixth one, then I realized that parts of my calves I haven't used since college would become instrumental in getting me to the end of the course.
The obstacles in Tough Mudder generally require teamwork, but you don't have to work with the same team the whole time. If anything, splitting off into smaller cells and pairing with other groups as needed seemed like the most efficient way of completing obstacles, be it human ladders, high walls or plunging through an ice bath known as the "Arctic Enema". If an obstacle doesn't strike your fancy, you can walk around it and continue on your way. There was a Ninja Warrior-style warped wall (a quarter pipe that you have to run up) that seemed like a really bad choice for muddy feet and shoes with no grip. The ability to pass if needed opens Tough Mudder up to all skill levels, making it a more inclusive activity for friends with varying fitness levels.
Electroshock Therapy
As we made it through the last half-mile, we saw the finish line fronted by a field of mud with wires hanging over it. "Electric Shock Therapy", as it's called, is somewhere between swimming through a field of jellyfish and being struck with a taser. This was the only obstacle to have an official announcer, who upon seeing that we were Team Old Spice, actually smelled my armpit and told me it was still fresh. I'll have to refer her to the R&D team, I'm sure they could use her nasal prowess. After she called us out to start, I managed to stay low and make it through a few cords until one hit my neck and I fell down. From there, I desperately crawled towards the finish line because getting back up meant getting hit with more zappers. Having regained my footing across the finish line, a volunteer offered his congratulations by putting a headband on me that pushed all the mud in my hair into my eyes. It was a very fitting end to the whole experience.
Jason Wilson is a creative innovator trying to learn everything he can about this hectic vortex called life. He currently perform freelance social media, PR and web promotion strategies. Follow Jason on Twitter: @JasontheJumbo