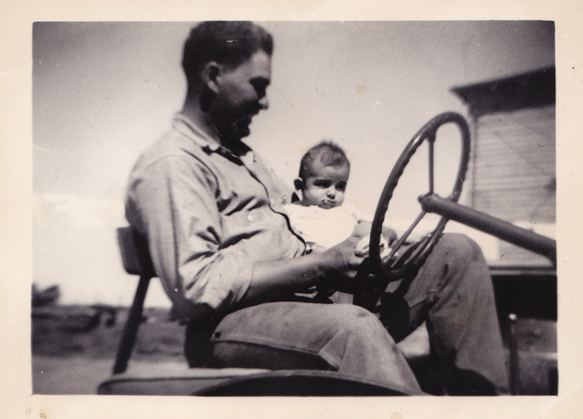 What could you possibly give the man who brought you life?
Well, you can show him that you did not squelch on all his advice and lessons on life by participating in our giveaway. No seriously – here is the opportunity for you to prove that you understand that 'he who hesitates' is definitely not you. That no man should look a gift horse in the mouth and that good things really do come in small gift sets.
We've teamed up with American Crew to pay homage to all the truly great dad's out there, and we can tell you one thing: Dad would certainly approve of these five 'Groom to Win' gift sets we're giving away.
Each set includes a half pint of 3-In-1 Shampoo/Conditioner, another half pint of Firm Hold Styling Gel, and a grilling apron to help keep your priorities straight.
The American Crew shampoo/conditioner is perfect for the guy who values his time enough to take the occasional shortcut, but also understands the value of using the right tools for the job. Because dad might have mentioned that a shortcut is really only 'short' if there is no 'long' fix to come afterward. But no worries – this formula only contains the good stuff, including citric acid (revitalizes), sage (invigorates) and Dimethicone (conditions).
This gift set also includes American Crew's Firm Hold styling gel, because – it is just easier to use less (for less hold) than to always be wishing you had more. And dad probably mentioned that too, but may not have known that this styling gel also comes formulated with Vitamin B5 to help promote extra thickness and shine to your hair.
We understand that it isn't always easy to be a great dad, but at least it can be easy for him to have great hair if he knows who to look to.
American Crew – Enter the giveaway below:
OFFICIAL RULES
NO PURCHASE IS NECESSARY TO ENTER OR WIN THIS CONTEST. VOID WHERE PROHIBITED, TAXED OR RESTRICTED. Urbasm's American Crew Father's Day Gift Set Giveaway begins at 11:00 AM Mountain Time on June 13, 2016 and ends at 11:00 PM on June 19, 2016.
ELIGIBILITY. This Contest is open to legal residents of the Continental United States who are eighteen (18) years of age or older at the time of entry and can enter into valid contracts in their state of legal residence. Only individuals may enter; no entry from any corporation or other entity shall be accepted. This Contest is VOID outside of the Eligibility Area and where otherwise taxed, prohibited or restricted. By submitting an entry, each contestant: (1) agrees to these Official Rules, and the decisions of Urbasm, which shall be binding and final in all respects; (2) acknowledges that Urbasm has not made nor is in any manner responsible or liable for any warranty, representation, or guarantee, expressed or implied, in fact or in law, relating to any prize; and (3) warrants that he/she is eligible to participate in this Contest.
HOW TO ENTER. To enter this Contest, we invite you to either follow us on Twitter, tweet a message or share a link to this giveaway on Facebook. Must use the Rafflecopter entry [above] to enter.
PRIZE(S) There is a total of five (5) American Grew 'Groom to Win' Gift Packs we are giving away, each includes one  8.4 fl oz of 3-in-1 Shampoo & Conditioner, one 8.4 fl oz of Firm Hold Styling Gel and a Crew Grilling Apron. The winner will be responsible for all applicable taxes, fees, and/or any other expenses associated with acceptance and/or taking delivery of the prizes. All expenses not specified above, including, but not limited to insurance, incidentals, etc., are the sole responsibility of the Grand Prize winner. All delivery arrangements will be as designated by Urbasm and are subject to availability. Prize is not redeemable for cash, and no substitution, assignment or transfer of any prize will be permitted. Odds of winning depends on the number of entries received.
WINNER SELECTION. On or about June 20, 2016, five winners will be selected. All prize awards will be subject to verification and will be awarded upon winner validation and verification by Urbasm. The potential winners will be notified. If the initially selected winner is ineligible, cannot be contacted after three (3) attempts by Urbasm, the prize will be forfeited and an alternate winner will be selected. Limit one (1) prize per household.
Urbasm occasionally receives vendor/brand sponsorship's for mentioning their products and services.
I'm a digital nomad and story teller that writes for Urbasm and a few other websites on men's interests, style, relationships and whatever tickles my fancy. In my spare time I like to play the field in search of my prince, travel, and consider myself an artisan of sarcasm at times.