When life hands most drummers lemons, one decided to recreate himself into a high-energy Mango Lassi. Meet Dj Ravidrums, the one man band, DJ extraordinaire and mind behind the amazing NASA-designed Dream Screen 2000. Dj Ravidrums has a new holiday video spectacular out today that he'd like to share with you… so we decided to take this opportunity to find out a few of the secrets that only a world renowned DJ would know. And this is what happened next:
Urbasm: Hey DJ Ravidrums, so what do you have coming up for us in the new year?
DJ Ravidrums: I have a few Singles I'll be releasing, a TV show in Development, and I will be hitting the streets with my New TESLA DJ-DRUM RIG.
Urbasm: Awesome! We love your new holiday Sodastream video, and in case our readers haven't seen it yet, you're in for a treat below:
Urbasm: And as we watched this, we couldn't help but wonder what are some of your favorite household items that can be used as an instrument? You know, like when we get bored at the office.
DJ Ravidrums: I love playing coffee cups! I create a cupping sound when I slap the top and use my fingers on the sides. I'm always drumming on desks, chairs, and steering wheels. The legs on my desk sound cool also (laughs).
Urbasm: (laughs) Well that gives us plenty to experiment with. Are there any other instruments you can play?
DJ Ravidrums: I play keys a little but program all the time.
Urbasm: Is there any instrument you'd like to learn in the future?
DJ Ravidrums: I really need to learn to play guitar so I can get my rock god on!
Urbasm: As a man who has been all around the world and played at many of the most amazing venues… where would you say are the top 10 clubs that every man should experience at least once in his life?
DJ Ravidrums:
Playboy Mansion – although, technically not a club
Spearmint Rhino – Vegas
Maison – Kuala Lampur
Pacha – Ibiza
Omnia – Vegas
Park City Live during Sundance
PHD – NYC
SOHO House-Beverly Hills – it's a private lounge, but the best place to chill
Urbasm: That gives us several to strive for in the future. You have collaborated with so many talented musicians, but what are a few of the most electrifying moments you've shared on stage with an artist?
DJ Ravidrums: A.R. Rahman for the OSCARS, Slumdog Millionaire with John Legend was Mind Blowing. I opened for the Foo fighter in San Fran and that was just such a Blast.
Urbasm: Who are a few artists that you haven't played with, but would like to?
DJ Ravidrums: I would love to work with Diplo probably more than anyone currently. DJ Snake would be bad ass. Anything ever with Dave Grohl and Taylor Hawkins, Tom Morello, Lorde, Bruno Mars… (pause) The list is so long it's really hard – there is just so much talent.
Urbasm: Well, that list of names should keep you busy for awhile. If technology was limitless, how would you update the Dream Screen 2000? It is awesome as is, but there is always room for improvement.
DJ Ravidrums: DREAM SCREEN 3000. I would make it a hologram and it would set itself up (laughs).
Urbasm: (laughs) Now you're talking! How do you see music changing in the future to keep up with the way technology is advancing?
DJ Ravidrums: I personally would love to see new instruments being developed and more live musicians performing in and on electronic music.
Urbasm: In all the things you have seen and done, what would you consider a few of the top experiences that should be on every man's bucket list?
DJ Ravidrums: One, Grotto at the Playboy Mansion – I met my wife there. Two, visit the 7 Wonders of the World and three, get drunk with Dave Grohl and jam.
Urbasm: (laughs) Okay, we get the hint – the Playboy Mansion is on our bucket list. And finally, what are the three things that every man should know, according to DJ Ravidrums.
DJ Ravidrums: Women love a man who can pick out a great bottle of wine or champagne. The soundtrack to the "Last Temptation of Christ " by Peter Gabriel is the best record to make love to and John Bonham is the greatest drummer that ever lived.
Urbasm: (pause) And I don't think there is anything left to say after that. You are clearly a man who understands the finer things in life. Thank you again, sir.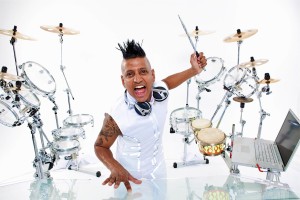 DJ Ravidrums is more than a musician; he's breaking barriers in the entertainment and music industry as a producer, musician, inventor and beyond. Having performed on iconic platforms such as the Academy Awards and Super Bowl 42 to opening for A-list celebrities like the Foo Fighters at this year's Dreamfest and Mariah Carey during her Las Vegas residency, Ravi has no plans on slowing down.
His high-octane, in-your-face performance style and extensive knowledge in music, has enabled him to become the musical director on multiple primetime TV shows such as Paula Abdul's "Live to Dance" and Howie Mandel's "Howie Do It." In 2010, DJ Ravidrums was voted "The World's Best Innovative DJ/Drummer" at the People's Choice Awards after his Oscar performance for "Slumdog Millionaire." Beyond his personal music career, Ravi is constantly creating new musical technology and instruments including the world's most advanced custom DJ rig which was designed as a transparent touch control pad with the help of NASA scientists. Check out his website Ravidrums.com and join in his love of everything high-energy and awesome on his Facebook, Twitter and Instagram.
Read More
Colleen Shannon – Why She's The World's Sexiest DJ
Brian McKnight Interview – I Feel Like I'm Better Than Ever
Doreen Taylor on Magic, Getting Her in the Mood and What Makes a Good Man
Eric has written for over a decade. Then one day he created Urbasm.com, a site for every guy.