Soul and R&B singer Noel Gourdin (Gor-Deen) emerged on the music scene with his number one hit song "The River" which also appeared on his debut album, "After My Time". His music has appeared in such films as The Cookout and Welcome Home, Roscoe Jenkins and he is currently busy promoting his third project entitled "City Heart, Southern Soul".
"I just want to be a positive black role model as well as a role model for anyone, regardless of their ethnic background," says Gourdin. "When I leave the industry, my musical legacy is what I want to be remembered for.. Timeless, Real and Soulful." And wouldn't we all like to leave a legacy with such passion and soulful roots?
Which got us thinking… what could we learn from a man like Noel Gourdin? So we decided to find out:
Urbasm: Hey Noel, what all do you have going on this year?
Noel Gourdin: What I have going on this year is staying on the road as much as possible and promoting my latest album release "City Heart, Southern Soul". I'm also working on my new project that I'm so excited and anxious to complete. I'm working with some wonderfully talented Soul&B artists this time around which is different than my first two projects.
Urbasm: That's great. So what is the process you go through each time you are faced with the task of creating a new album?
Noel Gourdin: The process for me is really figuring out what type of concepts or subject matters that I'd like to focus on – like albums were put together in the past when albums were considered a cohesive body of work. I want to have a body of work that mends together, sort of like a play with different movements. Then the music and the producers, in which I have good chemistry with – their style and sound has to compliment my own. And when it all collides, it's something that can tug on heartstrings, and hopefully is relatable.
Urbasm: That is a lot at stake, but it has been working for you so far. Who are a few performers you'd like to collaborate with in the future?
Noel Gourdin: A few performers that I'd like to collab with, let's see… Faith Evans, Jazmine Sullivan, Ledisi, Joe Thomas, D'Angelo, Anthony Hamilton. And just to add, I'm gonna try to do my best to will all these collabs to happen.
Urbasm: (laughs) Do you have any other career aspirations you'd like to accomplish… such as perhaps a business venture, your own clothing line, film career, etc?
Noel Gourdin: I would say all of the above! My brother and I have discussed going into business together, so that's on the horizon. I do have my own unique fashion sense, so yes I've also considered starting my own clothing line as well. I would like to someday be immortalized on the silver screen as I have on musical prints so if and when I get an opportunity to do so, you'll be one of the first to hear about it (laughs).
Urbasm: What drives your passion for music?
Noel Gourdin: What drives my passion for music is the history of it! I've grown up listening to all different genres of music and they were in their purest forms, and the music came from the artists heart and soul. Not thinking about a hot ring tone or getting it placed anywhere, but it was telling a story with genuine passion and with the integrity that an artist should have in their product! Soul music was and will always be where my heart is, and I try to pay homage to where this music has come from but trying to make my own waves along the way. My retro-relevant style of Soul&B is all about the feel, the concepts and stories with substance and meaning – with a spiritual undertone across the board. I didn't say religious, but spiritual. As well as that respect for my listeners in a way that everybody from age two to 92-year-olds can listen without being offended. What I do means a great deal to me, so my process is meticulous and thought-out.
Urbasm: What is something about you that might surprise us?
Noel Gourdin: Something that might surprise you is that I'm a gamer; I dig video games and have since I was little. When I get the time I love to lose myself in a good action/adventure game that's been put together, with a great story and characters that have been well written.
Urbasm: Of your life experiences so far – what would you say are the ones that should be on every man's bucket list?
Noel Gourdin: Honestly, and this may sound cliché, but it's being able to get up in the morning and do what I love doing for a living. I wouldn't say the easiest living, it gets tough because if we don't work we don't eat, but to say that I have a career and I get paid to do what I love, and in fact love what I do. Oh, and being able to get a personal call from Mr. Stevie Wonder and be asked to take part in his Annual "House Full Of Toys Holiday Fundraiser Event" in LA. That was incredible for me!
Urbasm: Yeah, that would be awesome! What are a few points on being a gentleman that a lot of men get wrong in your opinion?
Noel Gourdin: Hmm… I'd say one would be taking your woman for granted. Not following through on things that you've said or said that you'd do. Thinking no matter what, she'll be there to put up with it whether you follow through or not. That's not a good thing. Another would be Respect, and this is related to taking your Woman for granted. Respect is something that should be a given in any and all relationships. If she's not getting it at home, it won't be long before she seeks it elsewhere or packs her bags to find it.
Urbasm: That is all true. And speaking of keeping our women happy – any man that can woo women on stage as well as you can, we figured could give us guys some good advice on dating. What are a few of your best tips for romancing a woman on a first date?
Noel Gourdin: Wow! I'd say the first would most definitely be to be on time. To be punctual on the first date is big, I mean huge, and can put you a couple points up to start with. Have a plan in mind, know what you want to do and if she's not feeling something – location, subject of conversation – have a backup plan. Be able to have a conversation about anything, small talk is big and if you're able to make her laugh without being corny, that's gonna stack points in your favor. Be prepared to pay for the entire night, this is just me, but yes, bring extra cash with you too, just in case. And my last tip, stay off your cell phone, for obvious reasons.
Urbasm: And finally, our all-important final question: What are the things every man should know to become better men?
Noel Gourdin: For me, I've always been taught to keep your word, my Pop always said, "One of the only things a man has is his word, so keep it". I have lived by that ever since he said it to me, at seven-years-old. Another is loyalty, and this is being loyal to those that have confided in you and has never given you a reason not to be loyal. Disloyalty should make one sick into your soul, as it does me. And another is diligence to grasp what you want. Never quit on anything that means something to you to acquire. Whether it's a career, or a relationship, or a grade in school, etc. Never quit because you don't want to be the person with the shoulda-woulda-coulda stories when you get up in age.
Urbasm: Great advice Noel. Thanks for sharing some of your heart and soul with us today.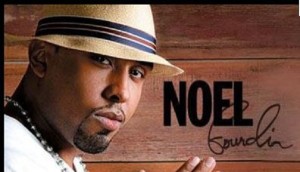 Noel's childhood was not a traditional one; he was born in Brockton, MA but spent his summers with family in Pachuta, Mississippi. The result was a man with the city in his heart and Southern culture to his soul. Noel's first exposure to the vocal arts came in church. He was then introduced to the larger audience of soul music by his father (who introduced him to the classics, such as Otis Redding) and his brother (who turned him on to the sounds of new jack swing). It wasn't until age 24 that Noel would score a deal with Sony Music.
"I grew up on music that had meaning – that music was made in the 40's, 50's, and 60's. That's something that my father had me grow up listening to." says Gourdin. "It's really important for me to be respectful and have music that can speak to the masses, from a two-year-old to your Great Grandmama!"
Noel is currently is currently promoting his third project. "City Heart, Southern Soul is a musical expression of my life—a culmination of creating and molding Retro-Relevant music, with underappreciated producers and writers," says Gourdin. His latest project has already produced hits like "FOXXXY" which is currently top 10 on UK's urban radio soul charts, "Don't You Wanna" featured on VH1"s Love and Hip Hop – Atlanta, and "Heaven Knows".
Keep in touch with Noel on his website www.noelgourdin.com, Twitter and Instagram.
Read More:
Doreen Taylor on Magic, Getting Her in the Mood and What Makes a Good Man
Survivorman Les Stroud on Being a Man
Interview with the Sexy and Feisty Joanna Krupa
Single and sexy. Hello ladies..