Check out these Hammer Straight Venice Wash selvedge denim jeans by Norman Russell. We received a sample to try out last month and I absolutely love their soft comfortable fit and delicately worn finish. These have become my exclusive favorite jeans since I received them. I had a pair of 'favorite' jeans I had to break-in for 7 years to get a perfect fit, but these pretty much exceeded that feel from day one.
This is how they showed up on my doorstep (photo above). Well, I had to open the box first, of course. Yeah, I could see a lot of pride in their product right there.
They are 100 percent handmade in the USA. And if you'd like these for yourself, you may have already missed out. Only 270 guys will ever own a pair of these artist crafted jeans and then they will be gone forever. Most big denim brands create a wash and print out thousands of copies. They may look good, but are not so special.
Check out the small but meaningful details. They even receive their own build number like an exotic supercar. It is actually rare to find a pair of jeans that are treated like a painted canvass of history, inspiration and passion. Hand-made artisan clothes are something that we are drawn to because they are different, unique and mysterious. However, it is all only an illusion unless it is actually created under the dedicated hand of a true craftsman.
Meet Kortney Hastin, the Founder of Norman Russell. He is passionate about cotton, old vintage shuttle looms (old fashioned machines that weave denim) and the delicate process of creating imperfect perfection. And most of you should know what I'm talking about—"imperfect perfection"—if you have ever spend five minutes to create the perfect mussed hair, or an hour online shopping to find a "thrown together" look.
It takes time to create the look and feel of an authentic pair of Venice Beach jeans. It is something that can't be replicated in a machine using chemicals and robotic arms. We asked Kortney to take us through the life of one of these Hammer Straight Venice Wash jeans… from raw to ready to wear. We wanted to know what were all the steps that go into making this limited edition denim jean?
"The Hammer Straight Venice Wash is special because it's limited and pretty much hand-washed from start to finish—in it's raw state, it is untouched and unwashed; Pretty much bare bones level," explained Kortney. "When it becomes the Venice Wash, it's hand sanded, hand distressed, and hand whiskered—The only time it sees a machine is when it goes into the dryer."
Another wash that caught our eye while perusing through the Norman Russell website is their Cookie Alley Wash, which is described as being founded by a 'Japanese Denim Artisan'. This brought up an interesting thought. The 'wash' process of most jeans is 'mechanical' by nature. In other words, an act of chemicals and machines, but no real artistry involved. We asked Kortney to explain some of the work that goes into making a worn pair of jeans look 'worn' the right way?
"Lucky for me, I've never really had to work with a blank canvas—I say that because all of my washes are inspired by something or someone," describes Kortney. "You mention the Alley Wash; Yes, I found a pair of jeans that a Japanese Denim Artisan actually made in an alley—so I focused the wash process around the jean that I had found."
Urbasm: Do you ever worry about running out of ideas?
Kortney Hastin: All of my fits and washes are created for a reason. I never say, "I need this type of wash for this season because that's what the season needs." No! My washes all have meaning behind them. They all have a story and a natural reason of being created. I find my inspiration through my every day life. Be it from friends, family, or just my current environment. Sometimes I find inspiration looking through an old family photo album. Sometimes inspiration comes from an old movie or a magazine. There is inspiration around us constantly! I try to pick up on that inspiration and put it into Norman Russell.
Urbasm: What is the process you go through each time you design a new limited edition? Is there a lot of trial and error?
Kortney Hastin: There is a little trial and error when it comes to creating new limited edition pieces. Sometimes there needs to be wash adjustments. Or the pattern needs to be tweaked ever so slightly. When it comes to my jeans, I want them to be perfect. I know perfection isn't always attainable, but I try to make them so. There will always be a little trial and error along the way.
Urbasm: Looking at our watches we can tell that it is election time for buying a new pair of summer jeans. Why should a man choose selvedge denim over his other options?
Kortney Hastin: To me, selvage represents history. The fabric itself is made on old vintage shuttle looms. Which are old weaving machines that date back to the early 1900's. There are fabric companies that create selvage fabric using modern machines, but I stick with the old Draper Looms from Cone Mills White Oak plant in North Carolina. There is something unique about the fabric that these older machines create. There are slight imperfections in the fabric from time to time that make the fabric stand out. Selvage jeans are as unique as the person that wears them.
Urbasm: I've read that a lot of denim brands offer "vanity sizing." Do you have any suggestions for how a man can measure himself to get the best fit when buying a pair of your jeans?
Kortney Hastin: When it comes to "Vanity" sizing, every denim company is different. I like to believe all brands do it and have been doing for sometime now. I can't speak for other brands, but I typically go down about a size and a half. So if your true waist measure's to be 34″, then you would wear a size 32 or 33, depending on how you like to wear your jeans.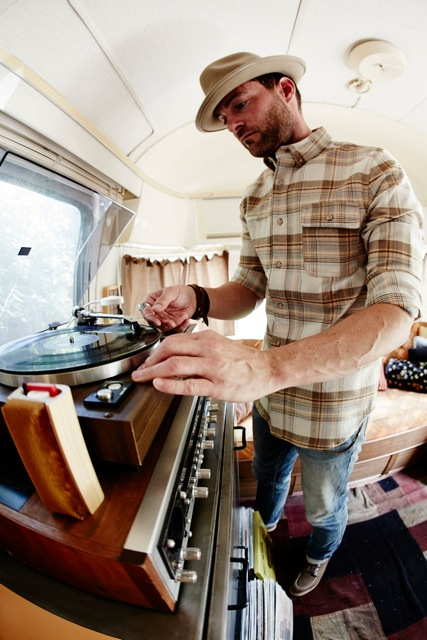 Urbasm: Can you give us a few hints on some things you having coming up with the brand?
Kortney Hastin: New silhouettes. New fabrics. As well as possibly dipping into the women's market.
Urbasm: What are the basic denim staples that every man should have within reach of his closet in your opinion?
Kortney Hastin: Two Denim Staples within reach of every mans closet should be… That one go to pair of jeans that are perfectly imperfect. He should be able to throw that pair on for any occasion. That jean that he can couch surf with and/or wear to the office for Casual Friday's. He will also need a jean jacket. A solid jean jacket can be dressed up or dressed down. A man's closet isn't complete without a sweet jean jacket.
Urbasm: And finally, what are your best three fashion tips that every man should know to look his best every day?
Kortney Hastin: One, know who you are. Two, don't be afraid. Three, don't try so hard to look perfect.
Thank you Kortney, I love your jeans. I really do think you have something special here. To get more info on Norman Russell you can visit their website here.
Norman Russell – Bulbs and Seeds from NORMAN RUSSELL on Vimeo.
Eric has written for over a decade. Then one day he created Urbasm.com, a site for every guy.