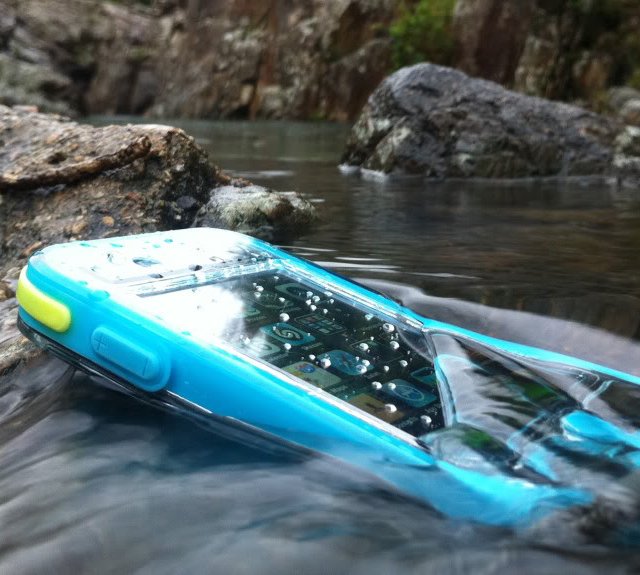 What is your iPhone most afraid of? Nature. It is fearful of rain storms, hail, snow, caves, deep sea excursions and unruly rapids. In other words, it doesn't like water all that much. It is also not particularly fond of heights and excessive speeds (especially when it is not safely nestled inside a cockpit). I guess you could basically say that your phone is afraid of anything high adventure.
How boring, but just because your phone isn't up for the task, doesn't mean that you have to let that dictate when and where you can bring it. Introducing the ultimate adventure gear for your iPhone—the Catalyst Waterproof.
The Urbasm team was introduced to the Catalyst iPhone system a couple months ago, and I can honestly say this is one of the most adventure ready kits I have seen. The case itself is incredibly strong and water-proof, but it doesn't bother adding thick silicone around the outside or extra large edges, as it has been designed to maintain the size and integrity of your original iPhone (plus a few centimeters, of course).
What's the point of adding bulk, when you can utilize good design and tight tolerances to protect your phone just as good? And from my experience, whatever your phone hits while it is in the Catalyst case, the Catalyst takes the brunt of the impact, thereby protecting the screen, which is usually the most likely to be damaged. The end result is a case that is shock-proof up to a 2M drop, does not try to 'alter' or 'take over' your phone, but rather works with it to make its original design just a little more impenetrable to the elements of life.
And speaking of elements…
This is where the catalyst shines the most… its waterproof interior. I have read enough reviews on the Catalyst website to be completely confident in dropping any iPhone directly underwater for up to 5M deep. And yes, its plastic housing is crystal clear and engineered to allow you to take great pictures (like the one below, which was actually taken with a Catalyst case) without any distortion.
And if you're wondering if you can still speak and hear while it is in its water tight mode… the answer is absolutely! Wherever sound needs to travel on your iPhone, Catalyst has fitted it with membranes that allows sound to transfer while still maintaining the case's waterproof characteristics.
This means that you can use this case as you would any other, whether you are on adventure in Africa, or crossing over a water puddle in your neighborhood.
The connections to your phone are protected by silicone plugs that can be removed for easy access (charger, headphones, etc.). And as you'd expect, its clear protective coating is very responsive to touch activity (including biometric scanning).
But is it really that waterproof? Yes, ours was about as air-tight as a frog in a wetsuit (if you can forgive the reference). In the past I have used phone boxes and bags to carry my phone with me while on extreme adventures. But what sucks is you really can't use the phone while it is in these cases—you're basically just transporting it from one boring place to another. As they say, 'The best part of any adventure should be getting there,' which is why this case is so awesome. It allows you to use your phone from the very beginning of an excursion to the end.
But what if your phone should fall out of your hands? I mean, it happens—your case gets a little slippery, you hit a rock or a wave and 'whoosh'… in a split-second your phone is gone forever. Well Catalyst has thought of that too with their Bike Mount system. This allows you to lock your iPhone to any bike (while it is nestled inside its waterproof Catalyst case, of course).
But let's be honest, it didn't take long for me to realize that you could connect your iPhone to a host of other things you might want to… including a boat, jet ski, motorcycle, snowmobile, or the bar of a weekend backpack, etc.
The Catalyst Bike Mount comes with a loop and adapter that is capable of fitting a variety of bar sizes, anywhere from one-inch on up to an inch and a quarter. With enough creativity, you could practically secure your iPhone anywhere you want, and be sure that it will still be there once all the rocking, mud-splashing and carnage is over.
This Catalyst adventure gear turned out to be a big hit around our office, and if you think your life is adventurous enough to require its services, we highly recommend you reach out for more information here.
Eric has written for over a decade. Then one day he created Urbasm.com, a site for every guy.