With the upcoming film Entourage on the way to a movie theater near you, we had seen enough teaser photos of the sushi girl to know we were down to see a lot more of Rachel Mullins. All we had to do was wait a few more weeks until the film released. But then we had an even better idea.
We put on our best cologne, combed our hair extra nice, spritzed a little mouth spray on our tongue and sent an invitation to Rachel to join us for a boat of virtual sushi. And this is what happened next…
Urbasm: Hi Rachel, what do you have coming up this year that you can tell us about?
Rachel Mullins: I have the Entourage movie which will be such a win for the fans – the script is really everything you want to see plus a load of cameos.
Urbasm: Yeah, we're definitely looking forward to that. What was your most memorable moment working on the set?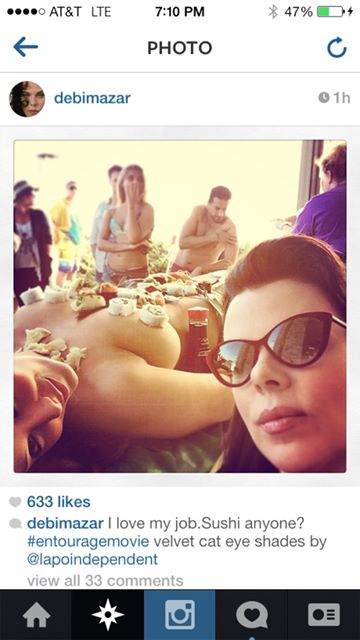 RM: Debi Mazar (@debimazar) sat with me for two hours while I was under sushi and we chatted. She's the coolest; she posted a picture of us from set and then loads of news sites picked it up. I can't wait to see her when I get to NYC for fashion week.
Urbasm: And who does your 'entourage' consist of these days—who inspires you?
RM: I'm really lucky I have such a crazy bunch of wildly talented people in my life. My brand manager @Tracey_Keyser is always down to help with whatever crazy project I come up with. My stylist @AliLevineDesign is my holy savior from fashion disaster and wardrobe malfunction. She was my rock during this award show season. I spend lots of time plotting intergalactic domination with @JanetVonS, @Simonna and @NaddlePaddle.
Urbasm: We all get by with a little help from our friends. What do you think has been the key to your success?
RM: I trust myself implicitly. I know for one-hundred percent certain that whatever I get myself into I can get myself right back out of.
Urbasm: If you could dive into a love scene with anyone in a film, living or dead, who would it be and why?
RM: That's a tough one; I have no idea. Filming love scenes is not sexy or fun or anything that it's made to look like. Mostly its just really funny and the guy feels bad about the awkwardness for weeks after. Mostly lots of worrying about standards and the legal team at the studio not having a fit. Plus keeping the MPAA happy at all times.
Urbasm: What are a few of your favorite obsessions that you wouldn't want to live without?
RM: Chandeliers, adventures and really expensive shoes.
Urbasm: We've read you're also pretty skilled as a handywoman. What is something you've built that would put most of us men to shame?
RM: I gutted a bathroom of a house I was living in; Then grouted the tile shower surround without pants on – I just hate pants.
Urbasm: Yeah, we don't like pants much either, although we're glad most other carpenters wear them. What is the most successful pickup line you've ever heard?
RM: There was one guy who was trying to make amends for his friends behavior at the bar. It was a bachelor party on their tenth bar stop, so they got cut off and kicked out pretty quickly. He came back to retrieve a hat that was left behind and said, "How can I get hold of you tomorrow?" Let's dissect this: With this clear choice of words, he wasn't trying to get me to join in their bachelor party debauchery that night, and he didn't try to use any silly lines.
Urbasm: We can appreciate what he did there. What do you think most guys get wrong when approaching a woman for the first time?
RM: First and foremost, do not approach girls and make it painfully obvious that you just want to bend them over. It's the quickest way to get told to go pound sand.
Urbasm: Okay, so let's say we've successfully picked up a girl, do you have any juicy sex tips for us?
RM: I guess this isn't particularly juicy but my two biggest tips I can share are: One, I've found that younger guys have sex with girls as if they're interchangeable. It's like they won't really be able to tell the difference between sex with a grown woman and a hole in the wall. I get that these days everyone is screwing everyone without a first of second thought, but it should be at least a little bit personalized.
Urbasm: We agree.
RM: Two, have some standards. Women who are worth a damn will take note of who you've been with. Personally, if I know a guy has been with sub-par ladies I'm less than uninterested. I find poor taste in partners to be a serious character flaw.
Urbasm: And what are the three most important things that every guy should know about dating you?
RM: One, I have things to do with my life that don't include wiping noses or asses. Don't even say the word kids to me. Two, I'm really into integrity; We are the only thing we are really in charge of in this world so make it count. Three, Have a personality; Have your own thing – don't just be a follower.
Urbasm: Okay, we are really close on this one – really close. Thanks for chatting with us Rachel, it has been a pleasure.
RM: Lots of love.
Rachel has appeared in various TV shows such as Happy Endings and Don't Trust The B**** In Apartment 23. She has also appeared in several feature films like Rampart, Last Call and Excision. She studied fashion merchandising at McKinnely, and is also a designer – Heart Me is her collection of ladies bags that are sold in stores in California and online.
Rachel has worked as an international model in Tokyo, Paris, Milan, London and Rome. She now lives in Los Angeles where she wears many hats as an actress, model and business woman. In her free time she enjoys outdoor exercise in addition to updating her social media, including Twitter, Facebook and her website.

Read More:
Nikki Leigh on Guys, Success, and Being The Wing Woman
Syd Wilder On Sex, Wing Women And Five Girls You Should Date At Least Once
Mercedes Terrell On What Guys Should Know
Eric has written for over a decade. Then one day he created Urbasm.com, a site for every guy.