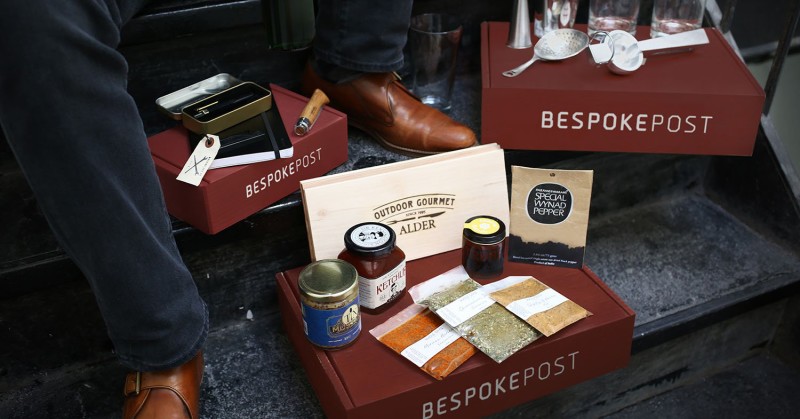 We're man enough to admit that there are a lot of things we don't know. But we're also not about to settle for that. You know something? We used to think that those monthly box clubs were just an easier way to get more man stuff at a good price. But we were wrong. We're coming to realize that these boxes are more about experience and gained knowledge. Hear us out.
Last month, Bespoke Post invited us to trial one of their boxes and we were thrilled at the opportunity. Who doesn't like free gear, right? But it really wasn't about getting something to throw in our closet on top of all the other stuff that is already piled in there. In fact, as we perused the box choices for the month, we found ourselves considering new hobbies and style choices. Thinking of ways to make ourselves better men.
For instance, last month Bespoke Post offered a "Lather" box featuring a full arsenal of shaving treats, including a badger brush, shaving stand, mug, pre-shave oil and shaving soap. We've already experienced the finesse and value of shaving the old fashioned way, but we could certainly appreciate the value this box would offer those who haven't. And then there was a "Charred" box that came with a set of walnut handle grilling essentials, some Pineapple Habanero Hot Sauce and Maple Wood Chips. The "Stow" box offered a classic utility roll for all your important gear, and even helped get you started with a Miller Cast 3-in-1 screwdriver, set of carpenter pencils, a waterproof notebook, cologne and a tube of Buckler's chapped lip remedy.
We could go on… But what caught our eye on this particular month was their "Polished" Box. We're big fans of classic shoes, but we are not exactly experts on the art of their care. Sure, we've been known to slather some oil on with a little elbow grease from time to time to keep them soft, but we've never been able to get that shine that a professional shoe polish can. But all that was about to change: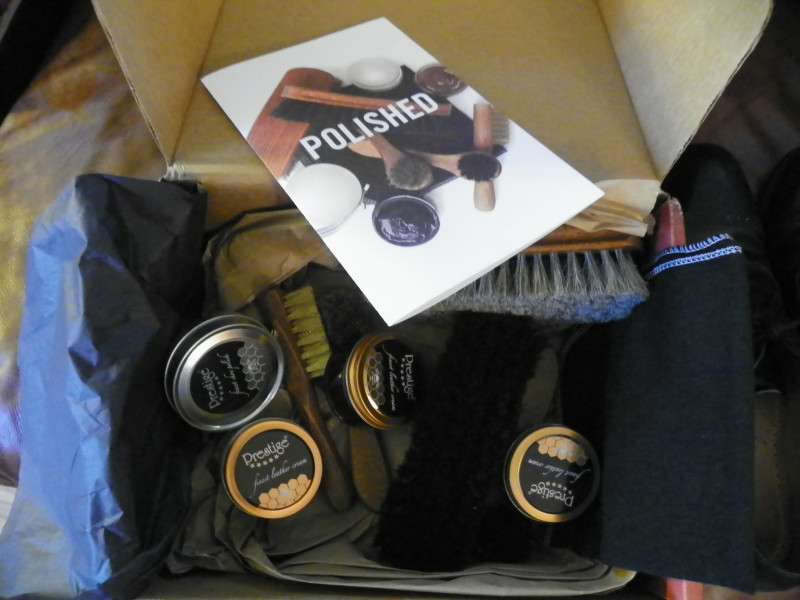 Our box came with two applicator brushes, two buffing brushes, a suede brush, one jar of leather conditioner, two jars of polishing cream (one for brown and one for black shoes), a jar of wax, a professional chamois and instructions for how to use all this stuff.
What we were working with is an old pair of shoes I picked up at a thrift store. They aren't in too bad of condition, but they are about to become a lot better.
The first thing we were instructed to do is remove the laces and give the shoes an application of the leather conditioner. Don't forget to add some of the conditioner to the soles (assuming they are leather).
Done.
Next, we applied the black polish with the applicator brush, waited a few minutes and gave them a shine using the polishing brush.
Looking pretty good.
Next, we added two coats of wax to the leather, making sure to polish in between each one with the polishing brush. Once we were happy with the shine, we did a finishing polish using the included chamois.
Yup, we can see a difference.
A pretty big difference, actually. We were proud of ourselves at this point.
So here's the deal. We love what these Bespoke Post boxes stand for, because not only do they offer great value, but they are offering the chance to gain new knowledge and experience. In other words, to grow as a man. They reach out to the experts for you; they make it easy to try something that you may have always wanted, but just have never had the time. You don't need to research or comparison shop, as they have already done the work for you. All you do it scan over the months offerings and choose whatever motivates you. It could be a flashy set of ties, leather belt or a gym bag filled with some essential gear. The point is, there are a lot of great things in the world to experience, but sometimes it's nice to get a little help with their introductions.
And for $45 a month for everything we have just talked about. Yeah, we'd call that a pretty good deal. Bespoke Post… thank you again for enlightening us with the art of how to polish our shoes the right way. You have gained a couple of new customers.
To sum up: Bespoke Post offers unique, hand-selected stuff for guys. Free shipping and easy returns. If you're ready to discover your own box of awesome like we did… click here.
Urbasm occasionally receives vendor/brand sponsorship's for mentioning their products and services.
Eric has written for over a decade. Then one day he created Urbasm.com, a site for every guy.