Join us, as we rate (1- average, 10- "Help me, I've fallen and can't get up") Hollywood's best bods in the business.
So, who do we have for our readers today, Bob?
Why it's Jessica Alba, come on down.
You're the first contender on Urbasm's 10 Hottest Bods of Hollywood…
#1 Jessica Alba-

Ah Jessica, if female hotness was literal in any sense of the word, we would all be barbequed bacon bits. She is smokin' hot and we have a feeling she is going to stack up nicely on our scoring groups.
Legs- 9 (Long, lean and mean)
Hair- 6 (It's shiny and there, but is far outshined by most of her other features)
Lips/Smile- 10 (There is no description here more appropriate than perfection)
Personality- 10 (She is intelligent, honest and compassionate— your mom's would love her)
Eyes- 9 (Bedroom eyes, even when she is in the library wearing nerd glasses)
Most people do not realize that Jessica is not a byproduct of Hollywood glitz, but a product of a multi-racial family upbringing. She is very spiritual, but claims no particular religion. She is very much a homebody who likes to read, listen to Coldplay, and has a small problem with authority (don't we all).
#2 Jessica Biel-

There must be something in the name Jessica. we're not sure if we would rather spend an evening with Miss Alba or Miss Biel. We guess it would depend on which one was more drunk at the time.
Legs- 9 (A solid pair of gams with a plump gluteus maximus to hold them up)
Hair-8 (Thick and lustrous—kind of like her derrière)
Lips/Smile- 10 (She has a beautiful smile and knows how to use it to her advantage)
Personality- 8 (Confident, mature and adventurous)
Eyes- 8 (Classic peepers, with an exotic touch of Bo Derek and Betty Davis)
Jessica was practically born in a log cabin off to the side of the Kawishiwi River in Minnesota. She got her start in acting as an eight year old Annie in a local Boulder, Colorado production, and has been hooked on it ever since. Jessica is deathly afraid of spiders, is unimpressed by a clean shaven man, and a fan of Texas Chainsaw Massacre, of which she starred in the 2003 version.
#3 Scarlett Johansson-

This blonde bombshell has been called the sexiest woman alive more times than she would even care to remember, so we guess this just makes one more she will have to forget.
Legs- 9 (silky smooth and creamy white)
Hair-8 (auburn, blonde, long or short—looks best sweeping across her left eye)
Lips/Smile- 9 (Full lips, slight pout and a sexy throaty voice that takes you by surprise)
Personality- 8 (Mature with a touch of teenage wild abandon)
Eyes- 7 (And she has a great eyes. Yeah, we'll have to notice those sometime)
Remember that cute, sweet little girl you may have had a schoolboy crush on in the remake of The Parent Trap?
#4 Shakira-

Some things can only be learned with time and experience and I'd bet we could count on Shakira for a number of them.
Legs- 10 (She's Latin and she dances—need we say more)
Hair-10 (She has an incredibly thick, sexy and wild mane to tame, and we think most guys would be quite game to help this dame)
Lips/Smile- 10 (If she can do half as much with her lips as she can with her hips…)
Personality- 6 (Perky, vivacious, aggressive and considers herself a bit of a control freak)
Eyes- 7 (Very dark, piercing and hint to the playful tiger that awaits inside)
As the youngest of eight siblings, life was not always peachy for Shakira who lived a very difficult and poor childhood. She rose to the top through her Latin mix of rock and roll.
#5 Elisha Cuthbert-

Elisha was a perfect kept secret in Canada until she landed a role on the successful television series 24 and packed up her bags and moved to Hollywood. It almost seems like yesterday she was plugging away in such films as Nico the Unicorn, Who Gets the House and Lucky Girl. Let's take a look at what Hollywood saw in this blonde hair, blue-eyed ex-teenage model.
Legs- 7 (She prefers the razor over waxing, but a little stubble never hurt anyone)
Hair- 9 (She is one of the true beauties who could probably have no hair and still look good—but let's not give her any ideas, okay Britney?)
Lips/Smile- 10 (Her smile and tendency to bite her bottom lip has us smitten on this kitten)
Personality- 10 (She's truly a girl next door who has not been spoiled by Hollywood)
Eyes- 8 (When she smiles her cheekbones swell, narrowing her almond eyes and make it impossible for any of us drowning Schleps to wiggle out)
Not only does Elisha wear seamless underwear (she is one of the rare Hollywood starlets who do) and professes to love the soft glow of candlelight. She can change oil in a big block V-8 and most likely program a DVD recorder using a remote control, thanks to her experiences on the show Popular Mechanics for Kids.
#6 Adriana Lima-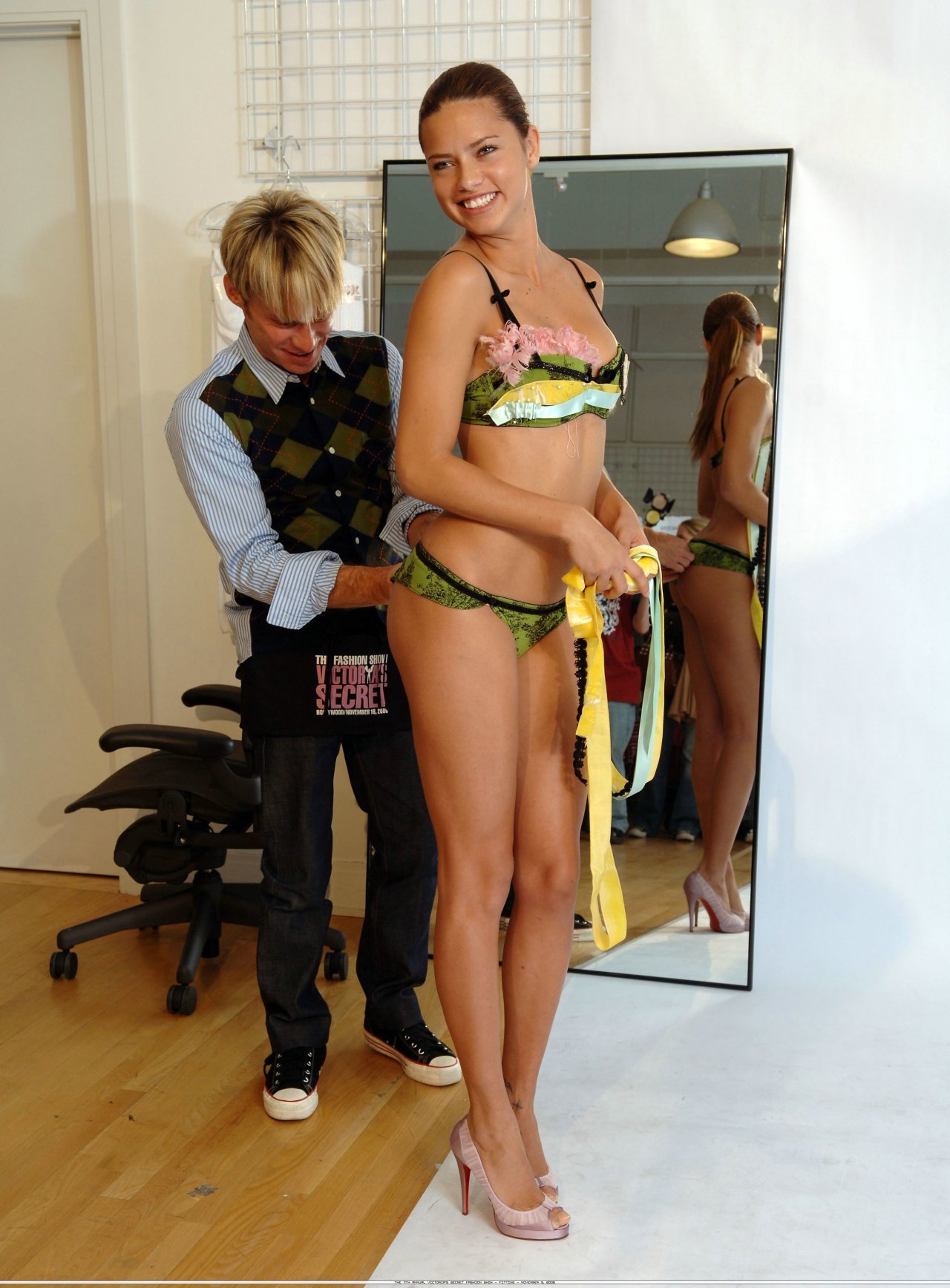 Adriana is without a doubt one of Victoria's worst kept secrets and we couldn't be happier about that. Her style and charm is highly defined by her generous mixing of French, Native-American, and Portuguese.
Legs- 10 (The long luscious legs of Heidi Klum with eight years less mileage on them)
Hair- 8 (She is a natural brunette and proud of it)
Lips/Smile- 6 (There is indication of a little collagen abuse here, but nothing her breasts can't overshadow)
Personality- 9 (Shy, giggly and very soft spoken)
Eyes- 7 (If eyes be the windows of the soul, do breasts possess the same reflection?)
Adriana has commented on numerous occasions that she would like to perfect her English speaking skills, so why not help this poor damsel in distress with hands-on instruction of proper tongue placement during the pronunciation of her "O" and "U" consonants.
#7 Rosario Dawson-

Rosario Dawson is that really hot woman who has had a horrible slew of stinkeroo films such as The Adventures of Pluto Nash, Josie and the Pussycats and Clerks II, but somehow continues to come out of the green smoke and retain her integrity. How does she keep doing this? Well, just take a look…
Legs- 8 (They sure do look good in a pair of denim jeans)
Hair- 6 (Dark and sexy—thumbs up to the waves, thumbs down to the high bangs)
Lips/Smile- 10 (These full luscious lips are a perfect ten and have become a trademark of hers)
Personality- 9 (Growing up in the slums of NY has helped her appreciate success and retain a down-to-earth celebrity view—the crap films have probably helped a little too)
Eyes- 7 (Big brown puppy dog eyes, complemented perfectly by her dark hair)
The fact that Rosario considers violence, blood, and gore a great date movie, she just might be the girl who could make a few of us hell-bent bachelors reconsider the whole marriage thing.
#8 Maria Menounos-

Maria is a wonderful Latin version of the sultry Teri Hatcher, but with even better breasts and a much welcome shyness towards "female self-satisfaction."
Legs- 8 (She defines the phrase "built like a brick house")
Hair- 7 (A natural brunette and I hope she stays that way)
Lips/Smile- 8 (You will rarely find a picture of her without a smile and her open mouth smile is what dreams are made of)
Personality- 8 (She likes hockey, video games and is a Bond girl)
Eyes- 8 (Like the color of decadent cocoa, surrounded by pearlescent marshmallows)
Maria is a bonified good girl by most mom's standards.
#9 Katherine McPhee-

With this American idol you might actually have to labor a little harder on Google to see her naked, but from all previous glimpses, it is well worth the effort!
Legs- 9 (Katherine is packing a nice trunk without the junk and I'm not talking about to go visit her grandma either)
Hair- 8 (We cannot see any Minoxidil in this brunettes future)
Lips/Smile- 7 (Girl next door meets bleach tray and a tube of lip plump)
Personality- 7 (Basically a sweet girl)
Eyes- 8 (These windows are set-off by some nicely draped eyelashes)
Today, I stand behind Tyra Banks who has felt up Katherine McPhee on her television show and claimed her 100% "jiggly and soft."
#10 Sienna Miller-

"I used to have boobs, honestly I did."
We believe you Sienna, perhaps they have worn away by all the mouse pointers rubbing over them. Jude Laws greedy fingers probably haven't helped much either.
Legs- 6 (Chicken legs with stretch marks is how Sienna would describe them)
Hair- 6 (The bob hairdo is not always flattering)
Lips/Smile- 7 (Cute smile and some very white teeth—but her lips are a little on the thin side compared to most of the other girls topping this list)
Personality- 7 (This girl is a wild one and drops her clothes easily—sadly she has low standards, so I guess that means we all have a chance at the pot)
Eyes- 7 (A very nice shape to them and look stunning with make-up)
Her blonde act scored a few bonus points for her. One such classic blonde moment was mistaking Kevin Spacey for Kevin Bacon. When he turned to correct her, saying "Spacey," she just shrugged and giggled, "Yeah, isn't it."
Eric has written for over a decade. Then one day he created Urbasm.com, a site for every guy.