Summer's all gone and while you may be missing the warm sun on your back, let's face it: you're quite enthusiastic about this fall season's trends. So don't let the harsher weather bring you down, but rather turn your attention to the major trends for the Fall/Winter 2015 season and incorporate those elements into your personal style.
Designers have been playing with luxurious furs and Bordeaux-based palettes in an attempt to circumvent the conventional male uniform. Granted, you may not seek to incorporate such an opulent element into your wardrobe. After all, some trends are more wearable than others. Nevertheless, we've handpicked some fall trends that should be easy to pull off.
Wide-legged Trousers
Many designers turned to the 1970's for inspiration, sending rock-inspired looks down the runway. Designers such as Raf Simons, E. Tautz and Marc Jacobs have all incorporated wide-legged trousers into their runway looks. The advantage is that a wide leg comes in a great range of fittings. You can dress a pair of wide-legged trousers up just as easily as you would dress them down. Search for a slim, tapered fitting and pair the trouser with a backpack made out of canvas and a stylish watch.
An Eye for Color
So far, grey seemed to be the dominant color for the fall/winter 2015 season. However, designers such as Berluti, Hardy Amies and Bottega Veneta have incorporated electric shades of green into their collections. The best part: since there was no preference for a particular shade, you're free to choose whichever green best compliments your skin tone.
70's Inspired Looks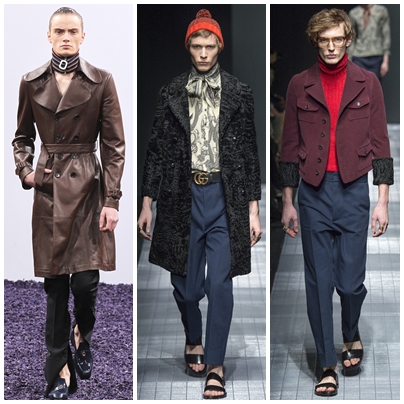 This season, designers turned to rebels and rock for guidance and created looks that showcased graphic details, statement fur and leather coats as well as flyaway collars. Designers have found a fresh interpretation of the golden age of rock, where layering and a classic aesthetic would produce awe-inspiring looks. Styling should also mimic this trend, as designers sent rugged-looking models down the runway.
It's all About the Coat
Designers took a special interest in outerwear, which seemed to be a popular element of most Fall/Winter 2015 collections. Brioni, Prada, Boglioli, Canali, Lanvin, Calvin Klein and Cerrutti (as well as many others) have all presented spectacular coats during their shows. One thing is clear, though, this fall season's coat features a soft shoulder, is cut from wool and gives an overall slouchy vibe.
Patterns and Patches
The catwalks were full of patterns this season, and while some may be more difficult to incorporate, others were a breath of fresh air. In the true spirit of the Fall/Winter 2015 season, nuances of grey were incorporated in most garments. Square patterns and square patches appeared on jeans and coats alike and were featured in the collections of designers such as Giorgio Armani, Paul Smith and Agi & Sam.
One thing's clear: There are no rules this fall season. You can experiment with colors, cuts, silhouettes, accessories and inspiration.
Arthur Lamber is a fashion-forward freelance writer who thinks that a true man should never drift too far away from how real men used to dress, back in the day. There's just nothing that competes with a well-tailored suit. He often finds himself being the only one wearing a suit or a jacket and tie in a restaurant full of jeans-wearing men, which only shows how we've lost respect for personal style.
Lover, fighter, and bona fide sex expert.