First, we have some bad news and some good news… and then some really good news. The bad news is that smoking food to its absolute delicate perfection that will win awards is an art that few can master. The good news is that even decently smoked foods taste delicious—and even better than that—just about anything can be smoked into a better version of its original self.
Did we say (just about) anything? Why, yes we did, and we're talking ice, donuts, cocktails, and apple pie; probably not melon, but we'll touch on that later.
And when you want to learn how to smoke the best and funkiest, you've got to go to the experts, and we're happy to have an all-star team on board today. This includes Mark Williams from Swine Life BBQ, Joe DiApice from BBQ Friend, Scott Thomas from Grillin' Fools, and our new friends at Bear Mountain BBQ Woods, who are practically our neighbors just down the way in Louisville, Colorado.
We asked these experts to deliver only the very best and weirdest—and we'll tell you what—we got just what we asked for…
What is the strangest thing that you ever smoked that turned out crazy good?
Joe DiApice: Bacon-wrapped Oreos are probably the most outside-the-box thing we have smoked and are crazy good. It is a polarizing item, so you'll either love it or hate it.
Mark Williams: It's not that crazy anymore since more and more people are cooking them, but, several years back we smoked a whole gator stuffed with cream cheese and rice dressing. It was quite tasty.
Scott Thomas: Pig snoots. I never thought I'd eat something called a "snoot." Insanely good.
What has been your biggest experiment gone wrong while trying to forge your way into unchartered smoking history?
Mark Williams: One of the experiments we worked on for several years was cooking a hot and fast whole hog. The first few were hit or miss but we have it dialed in strong now and can smoke a 150-pound hog in 6 hours flat! It is very very good!!
Scott Thomas: I tried to grill melon once. It was an unmitigated disaster.
Is there anything that should NEVER BE SMOKED?
Mark Williams: That's a tough one there, but I am going to have to say NO. Of course, some things do not need the actual smoke flavor but there is so much more to smoking than the actual smoke. A perfectly run clean fire can add so much caramelization and flavor to anything without adding smoke flavor.
Scott Thomas: Melon.
Joe DiApice: Everything is worth a shot. Pellet grills are basically outdoor convection ovens. If you can put it in an oven then you can put it in a pellet grill. You'll just add some wood fire flavor to the mix.
What are the foods that should be on every beginner's 'go-to' smoking list, for reasons of being both good and the least likely to get wrong?
Scott Thomas: First and foremost is pork shoulder. With so much fat in that roast, it is very hard to screw up. Any time I get a new grill I cook pork shoulder and ribs on it. Ribs also have a very high-fat content. On the beef side, it would be a tri-tip. Being a roast, and fairly inexpensive, it's easy to cook with a large window to make sure it's done right.
Joe DiApice: The easiest thing to smoke is a whole chicken. That is a great place to start understanding temperature control. Pulled pork is also another really easy recipe and is a long cook. The results will always be good as long as you be patient and get to your final temperature. Other must cooks are Ribs Beef Ribs, Brisket, Pork Tenderloin, Reverse Seared steak, and Beef Jerky.
Mark Williams:
PULLED PORK!!! Definitely have to have the Boston Butt down pat and your pulled pork game better be strong. It's an easy process and can feed the masses with ease. With the fat content, the only way you can screw it up is by getting in a hurry. Just allow yourself plenty of time and the product will turn out great!
Wing!!! Wings are an easy protein to grill, smoke, or even fry. They take on flavors great and are always a crowd pleaser! Plus you can really experiment with flavor and learn as you go!
Ribs! Of course, ribs would make this list. I think that is what most people start out with when they are learning. They are relatively simple but still allow you to showcase your talent! Plus everyone loves a good rib!
BBQ Bologna!! Now everyone may not like bologna but it has to be a go-to for a beginner. It's cheap to smoke, takes on flavor well, and is hard to screw up. This too makes for great appetizers and you always add it to a fancy meat and cheese board!
Whole Chicken!! This was one I struggled with when starting out. It can be tricky but I learned that all you need is simple flavors and patience. You can use whole chicken with other dishes or leave it whole.
Smoked Sausage!! As simple as this may sound, there is an art to cooking perfect smoked sausage. Don't be that guy/gal at the cookout that cooks the smoke sausage until it bursts!! There are many techniques and they make all the difference in the world.
The Simple Burger!! A burger can be so simple but yet so many people are missing out on how delicious a slow smoke no flip burger can be. Just like any other protein, there are many ways to showcase the flavors. Find the one you like and make it your own!
Steak!! Learn the reverse sear. Just like the burger, hot and fast is not always the way to go. Get you a thick-cut ribeye and let it gradually get to your desired doneness. Then sear it to get the perfect crust!
Seafood!! This is one I still struggle with but have gotten so much better with practice. Seafood of any sort needs a delicate touch but when it is done properly, boy is it delicious!
THE ALL MIGHTY BRISKET! This one will make you pull your hair out! When you finally think you got it figured out, you realize you haven't! This may be my favorite protein to cook and I know I have learned the most while cooking it.
What are the essential tools of the trade for the beginning smoker?
Joe DiApice: A thermometer is a must-have. Temperature is king and rules everything. Get yourself a good thermometer and learn your key temperature points and you will make great bbq.
Scott Thomas: The biggest is a probe thermometer. Stop guessing when something is done and know when it is done.
Mark Williams: For anyone starting out, you have to have a good digital thermometer. You definitely want one that will read the temp within a second or two. I use the Thermoworks Thermapen.
What makes one type of wood or wood pellet better than another?
Mark Williams: For wood, there are things to consider. One being the protein, and the other being how much flavor you would like. My go-to is pecan and cherry. They both seem to work well with just about any cut of meat.
Scott Thomas: Not all wood pellets are the same. Look for the ones with real wood.
Have you ever built your own homemade smoker?
Scott Thomas: I have not built one… yet.
Mark Williams: I have built several and own a ton of commercially built smokers. If you have the patience and knowledge to build your own it definitely is pretty sweet to say you built it. I like cooking on any type and love the challenge of a new pit!
What is your signature recipe (or at least one that you don't mind sharing)?
Mark Williams: Parmesan Crusted Wings is one I am pretty proud of. It is super simple and creates an amazing crust on the wing that is delicious!
Joe DiApice: I absolutely love making pulled pork. That is a comfort zone for me and I can make some really tasty pulled pork.
From beginner to Pitmaster, describe the stages of smoking (food types, techniques, etc.) that a man should work to ascend towards as his skills progress.
Joe DiAppice: Pellet grills will be the easiest to learn on. You can set a temperature and walk away. Having electronics control the grill temperature and deliver a quality smoke every time makes a world of difference. Once you learn the basics of bbq with temperatures and cooks then you can work on fire management on either a charcoal grill, ceramic egg, or full wood on an offset.
Mark Williams: With pellet grills becoming so popular today, I think becoming a pitmaster is easier and more enjoyable for anyone. Just because you are not shoveling coal like some people does not make you any less of a pitmaster. As long as you know your pit that you cook on and can turn out some great product, in my eyes you are a pitmaster just like some of the greats!
What are your three best insider tips to help any man boost the taste factor of his creations?
Joe DiApice: Keep it simple. Doing too much can make things go wrong fast. Simple ingredients and let the meat and smoke speak for itself. If you are not competing there is no need to inject. Also, be patient. BBQ cannot be rushed and every cut of meat is different. Something that took 8hrs last time might take 12hrs this time.
Mark Williams:
Be Patient! Allow more time than you think and focus on the cook, not the clock!
Learn what flavors and spices create the umami effect and you can change the game!
Study and understand Pasteurization Temps and what cooking temps affect different proteins.
So now that we have a good grasp on the tools, knowledge, and techniques, let's give you some recipes to help foster your skills:
Classic Pulled Pork
Prep Time: 15 min
Cook Time: 10-15 hours (depending on size)
Ingredients:
7-10 Lbs Bone-In or boneless pork shoulder roast
3 Tbsp Essential BBQ Rub
2 Tbsp Yellow mustard
1 cup Apple juice
1 cup Apple cider vinegar
Instructions:
The night before the BBQ, clean and pat dry the pork shoulder, then lightly coat in yellow mustard. Apply the rub and coat the roast evenly. Wrap tightly in plastic wrap and set in the fridge overnight.
The next morning – start your grill and set temp to 225°. When up to temp, place the seasoned pork shoulder on the center of the grill and close the lid.
Smoke the roast to an internal temperature of 204°. During the cook, occasionally spray the roast with a combination of apple cider vinegar and apple juice. (Estimate a cook time of 1.5 hours per pound of meat)
Remove the roast from the grill and let it rest for 15-30 minutes.
Using 2 large forks or meat shredders, shred the meat and serve!
Apple Butter Ribs
By Scott Thomas
Prep Time: 15 minutes
Cook Time: 2 ½ hours
Ingredients:
1 slab of St. Louis style spareribs
Salt, to taste
Your favorite sweet BBQ rub
1/2 stick of salted butter
4 ounces apple butter (or whatever fruit/gourd butter you prefer)
Aluminum foil
Instructions:
Begin by skinning the St. Louis-style ribs, and removing the membrane off the bone side of the ribs (paper towels are your friends here). Then season the ribs with salt and seasoning, bone side up. Flip over and repeat on the meat side.
Heat up your pellet grill or smoker to 275F and add Bear Mountain Maple pellets. Place the ribs on the grill or smoker.
At about the 2-hour mark, create a foil vessel to hold the ribs. It should be a little larger than the ribs with a 1/2 –1-inch lip around the edge. Drop in a half stick of butter and the apple butter.
Position the foil boat onto the side of the grill and place the ribs meat side down, right on top of that butter and apple butter. Turn your grill or smoker down to 180F.
Smoke the ribs for another 20-30 minutes.
Take the ribs off the grill or smoker, and let rest for at least five minutes.
Make sure to save the gooey mess at the bottom of the foil boat. It's a flavor bomb waiting to blow and will work as a dip or sauce with the ribs.
Southern Poutine Fries
By Joe DiApice
Prep Time: 20 minutes
Cook Time: 2 ½-3 hours
Pimento Cheese Ingredients:
8oz Cream Cheese
8oz Sharp Cheddar
8oz Extra Sharp Cheddar
4oz Diced Jalapeños (drained)
4oz Diced Pimento (drained)
½ cup Mayonnaise
Meat Church Holy Voodoo Seasoning or your favorite rub
Meat Church Honey Bacon BBQ or your favorite sweeter rub

Additional Ingredients:
1 Package thick-cut bacon -Texas Pepper Jelly's Berry Medley or your favorite pepper jelly
French Fries
Bear Mountain Alder BBQ pellets
Instructions:
Place the 8oz of cream cheese in a cast iron pan and coat with your favorite rub.
Place your bacon on a wire rack and coat it with a sweeter rub.
Heat up the pellet grill or smoker to 225F and pour in Bear Mountain Alder pellets. Alder is a great choice for this as it provides a light sweet flavor profile.
Place the cream cheese and bacon on the grill or smoker.
After two hours, start making the pimento cheese. Mix the smoked cream cheese, Sharp Cheddar, Extra Sharp Cheddar, Diced Jalapeños, diced pimentos, and ½ cup Mayonnaise together. Place this back in the cast iron and back on the grill or smoker for another 30 minutes to an hour.
Pull the pimento cheese and bacon off the grill or smoker and begin assembly. Chop up your bacon (after it cools for a little and crisps up). Place the fries down first, scoop on the smoked pimento cheese, add your favorite Pepper Jelly, and top with the chopped bacon.
Bacon Wrapped Donut Holes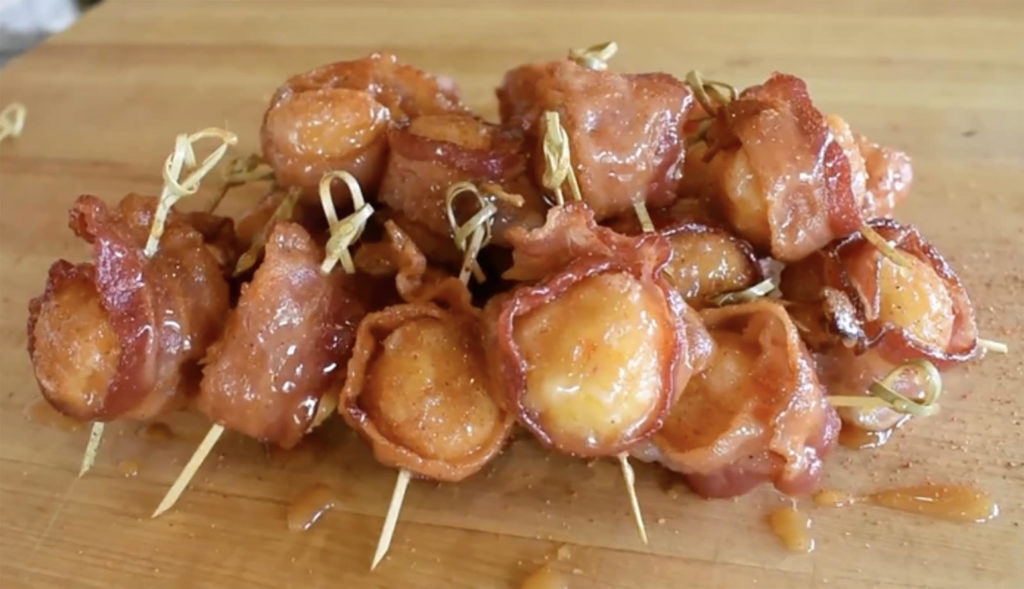 By Mark Williams
Prep Time: 20-30 minutes
Cook Time: 40 minutes

Ingredients:
24 Doughnut Holes
24 slices of Pre-Cooked Bacon (Mark likes to use microwave bacon because it can be slightly pre-cooked, and it keeps soft enough to wrap the doughnut holes.
Caramel Sauce
Sweet BBQ Rub
Tooth pics or skewers
Bear Mountain Sweet BBQ or Bourbon BBQ pellets
Instructions:
Once the bacon is pre-cooked, wrap it around the doughnut holes and place a skewer to hold them together.
Throw a little sweet rub on them and place them on your grill or smoker, using Bear Mountain's Sweet or Bourbon pellets.
After about 30 minutes, remove from your grill or smoker and drizzle the caramel sauce over all sides and sprinkle a little rub on for color and a pop of flavor.
Place back on your grill or smoker for about 10 minutes to allow the caramel to melt in and get happy!
Beer Can Chicken
Prep Time: 20 min
Cook Time: 1-1/2 – 2 hours
Ingredients:
1 whole fryer chicken (2-4 lbs)
1 Can beer (choose wisely)
2 Cloves garlic
1 Sprig rosemary
5 Whole peppercorns
2-3 Tablespoons of your favorite BBQ Rub
1-2 Tbs. Olive Oil
Instructions:
Remove all of the gizzard, neck, and other things that come stuffed inside the chicken. Rinse the chicken and pat dry
2. Lightly coat the chicken with olive oil then cover with rub.
Open your beer and take a big sip. Slice the garlic cloves in half and put them into the beer can along with the rosemary and peppercorns.
On a large cutting board or plate, set the chicken down on top of the beer can with the legs down
Start your grill and set the temp to 225 degrees. When up to temp, place the beer can chicken on the grill grates and use the chicken legs to stabilize.
Smoke at 225 degrees until the internal temp of the chicken breast reaches 140 degrees.
Increase the temperature of your grill to 350 degrees and continue to cook until the internal temperature of the chicken breast reaches 165 degrees.
Carefully remove from the grill and let stand for 15 minutes. Carefully remove the beer can from the chicken, then slice and serve.
Smoked Apple Pie
By Matt Williams
Prep Time: 45 minutes to 1 hour
Cook Time: 1 hour
Ingredients:
6 apples (we used Gala or Fuji for the sweetness)
2 tbsp of vanilla extract
2-3 tbsp of sugar
1 tbsp of brown sugar
2-3 tbsp of cinnamon
3 tbsp of apple juice
2 tbsp of butter
A box of Pillsbury pie crust
Bear Mountain BBQ Apple pellets
Instructions:
Peel and cut the apple into apple slices. Place in bowl.
Once peeled and rinsed, add sugar, cinnamon, and brown sugar. Mix the apples and ingredients together. Let it rest for a few minutes.
Set up your pie crust. Place in your pie dish.
Add apples to the dish.
Cube the butter and place it in various places among the apples.
Add vanilla and apple juice.
Assemble the top crust.
Set your grill or smoker temp to 350 °F, using Bear Mountain's Apple pellets.
Place pie on a cookie sheet and let it cook for 1 hour.
Remove the pie from the grill or smoker. Let it rest for 30 minutes and serve!
Erica's "No Fail" Chicken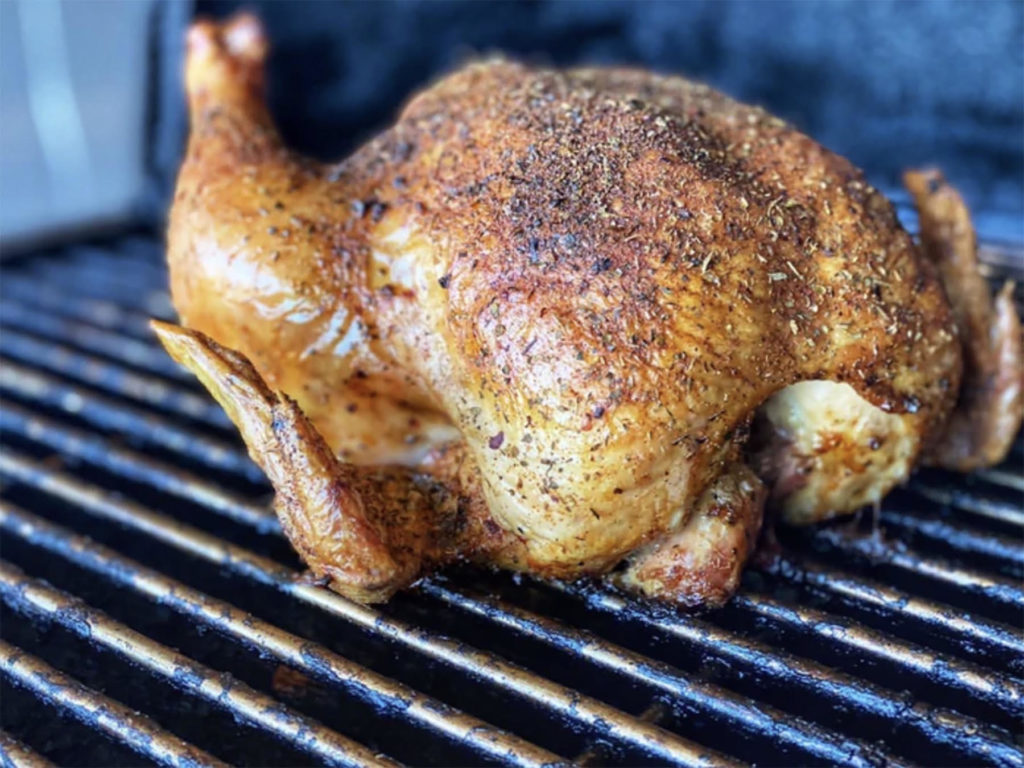 By Erica LaBarre
Ingredients:
1 Whole Chicken
Tony Chachere Creole Butter Injection
1 Lemon
Mediterranean Seasoning
Instructions:
Load up your grill with your favorite Bear Mountain Pellets and set your grill to 350 degrees.
Remove chicken from the fridge and pat the skin with paper towels to get it as dry as possible.
Inject the breasts and thighs with Tony Chachere Creole Butter Injection.
Slice a lemon in half and squeeze just a little bit on top and place the lemon halves in the cavity of the chicken.
If you have any injection remaining, rub the skin with the remainder.
Season the chicken with your Mediterranean seasoning.
Place the chicken on the smoker/grill at 350 degrees and cook until you have reached at least 165 degrees in all spots. Note: some spots will reach a higher internal temperature, but it is important that all parts of the chicken have reached 165 degrees.
Kalua Pork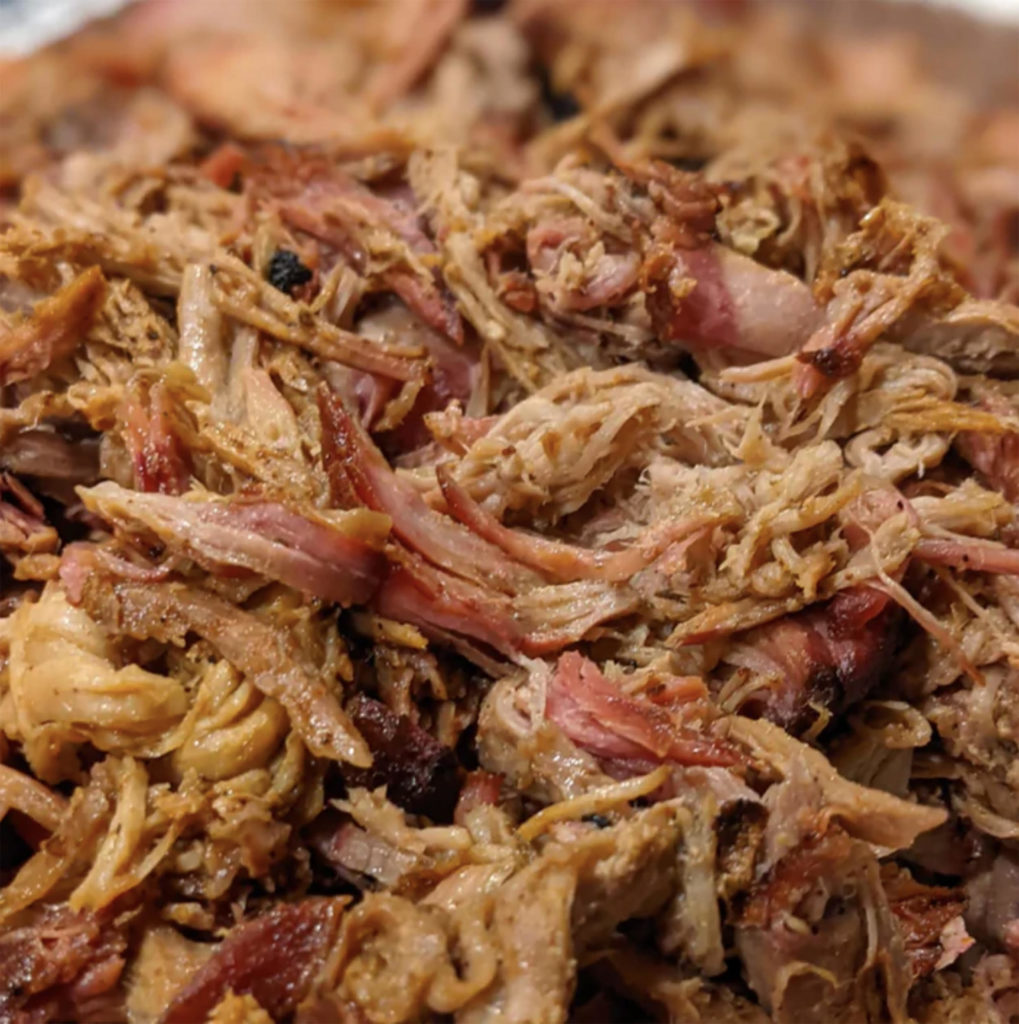 Prep Time: 10 minutes
Cook Time: 1 hour 15 minutes per pound (approximately)
Ingredients:
-Bone-In Pork Shoulder
–Dave's All Purpose Rub + Ancho Chili + Espresso Ground Coffee
-Shredded Green Cabbage
-Amber Beer
Instructions:
An hour before cooking, rub the pork shoulder, first with the Swine Life Mississippi Grit, then with the Meat Dave's All Purpose Rub, combined with the Ancho chili and espresso.
Set your grill or smoker to 225 degrees and pour in Bear Mountain Gourmet BBQ or Bold BBQ pellets
Place the pork shoulder on the grill or smoker and smoke until it reaches an internal temp of 160-165 degrees (the stall). Spritz with the beer every 45 mins.
At the stall, remove the shoulder from the grill, and cut it into chunks
Add the chunks, the bone, and the remaining beer to an InstantPot®
Pressure cook for 1 hour and 30 minutes
When done, remove the bone, shred the pork, and add the shredded cabbage
Smokey Margarita
Ingredients:
Jalapeño Simple Syrup
1 cup water
1 cup sugar
1 jalapeño, halved
Smoky Jalapeño Margaritas
Ice
Juice of 2 limes
2 1/2 oz Jalapeño Simple Syrup
2 oz. Blanco Tequila of choice
1/4 tsp chipotle chili powder
1 oz Cointreau
Grand Marnier Floater
Slices of jalapeño and lime wedges for garnish
Smoked Salt Rim
1 lime, quartered
2 tbsp of either coarse sea salt or a flake salt (feel free to add more than the recommended amount as the smoked salt can always be stored for later use)
1/2 teaspoon chipotle chili powder
Instructions:
Set your grill or smoker to 165 °F and put it on a smoke setting if available. Add Mesquite or Gourmet Bear Mountain pellets to the hopper.
Spread the salt evenly in a baking pan and place it on the grill or in the smoker.
Stir the salt every hour or so. Leave it on for at least four hours. For a richer, deeper, flavor, you can leave it on for 12 + hours.
Remove the salt and let it cool as you mix your cocktail. For any leftover salt, make sure to store it in an airtight container.
Then, start on your cocktail. To make the simple syrup, combine water, sugar, and jalapeño in a small saucepan over medium-high heat. Remove from heat once sugar has dissolved. Let steep covered for 30 minutes. Discard jalapeño.
To make the smoked chili salt rim, whisk together the smoked salt and chili powder. Add to a shallow bowl.
Prepare two cocktail glasses by rubbing the rim with a wedge of lime. Rim the glasses with the smoked salt. Set aside.
In a shaker filled with ice, combine lime juice, jalapeño simple syrup, tequila, chili powder, and orange liqueur for the margaritas.
Fill the two rimmed glasses with ice. Strain the cocktail evenly between the two glasses.
Garnish with lime wedges and serve immediately.
Basil Lime Cocktail with Smoked Ice
Ingredients:
2oz Mezcal
3-4 Limes
5oz Agave
Fresh Basil
8oz Water
SMOKE 'EMS
Instructions:
Light up your grill and place SMOKE 'EMS directly over heat for 10-15 minutes to allow the packet to ignite and begin releasing real wood smoke.
Place 1 cup of water inside the grill and keep closed for at least 30 minutes. Remove a cup of smoked water and pour it into the ice tray.
Once your smoked ice is ready, begin assembling the cocktail by juicing 3 limes and cutting up another for muddling/garnish.
Place 8-10 fresh basil leaves in a cocktail shaker with lime wedges and 2 ounces of Mezcal or Tequila and muddle. Add a half ounce of agave nectar, smoked ice cubes, and lime juice.
Shake vigorously and pour contents into the serving glass. Add basil leaves and lime wheels for garnish.
Smoked Ice Old Fashioned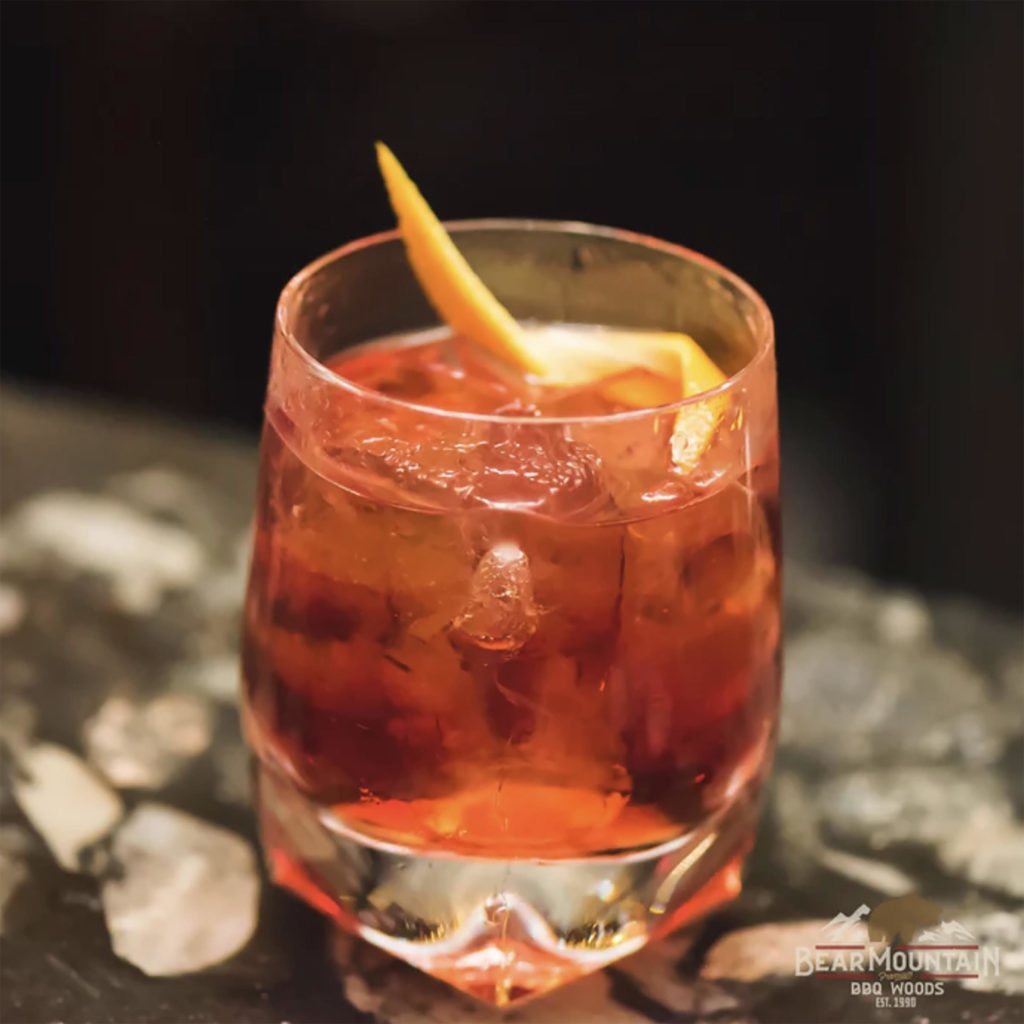 Prep time: 30 min
Freeze time: 4-5 hours
Ingredients:
2 oz Bourbon
1 tsp Water
3 dashes of Angostura bitters
1/2 tsp Sugar
Orange peel for garnish
Instructions:
Start your grill and set temp to Smoke
Add enough water to an aluminum baking pan to fill up 1-2 ice cube trays
Smoke the water for 20 minutes
Remove from grill and pour water into the ice cube trays and freeze
Smoked Ice Old Fashioned Directions:
Combine the sugar water and bitters in a rocks glass and stir until the sugar is dissolved.
Add a couple of smoke ice cubes to the glass then add the Bourbon. Lightly stir to combine.
Run the orange peel around the glass, give it a quick squeeze and drop it in the glass.
More of Food and Drink:
Best of The Oddest Drinks Known To Man
Expert Tips on Grilling the Best Summer Steak
Tricky Ways to Add Extra Protein to Your Diet

Eric has written for over a decade. Then one day he created Urbasm.com, a site for every guy.