If there is one film of Eric Robert's that you don't like, well, he's got another several hundred that you might. And he rarely plays the same character twice unless it's for a series. He has been all over the world and played every character in the actor's handbook there is. Well, except for one – but we'll get into that a bit later.
You may remember Eric Roberts in films and television like Runaway Train (1985), Batman – The Dark Night (2008), The Expendables (2010), Heroes, Crash, and CSI. But he has also appeared in a handful of music videos alongside Maria Carey, Ja Rule, Akon, The Killers, Bonnie & Clyde, etc. He has shared some lines with the boys in Entourage, kicked some a** in such fan favorites as Burn Notice, Justified, Hawaii Five-O, and then steamed up the afternoons on The Young and the Restless.
We often ask our guests what they are going to be up to for the coming year, but when one rattles off a website to get the latest "list" of films and appearances their working on (and will soon be), you know they've got a lot going on. When it comes to his career, Eric Roberts does not say 'no' very often, and it has made him a better man for it.
But wait, is that our "red" phone ringing in the octagon office? It certainly is…
Urbasm: (Ring) Hey Eric, it is great to hear from you.
Eric Roberts: You too pal. Urbasm is a cool name, man.
Urbasm: Thanks, we appreciate that. What have you been up to?
Eric Roberts: The thing I'm doing that I love doing, I am on number five right now, is the Stalked by My Doctor series. When I was originally offered that I turned it down based on the title, and they called me back and said, 'Come on, what can we do to get you to do this?' I said, 'You change the title.' And now we are on number five, they are such big hits.
And I travel the world, you know, and whenever I am in Asia in airports, the women go on about the doctor, dude (laughs). They love the doctor all over the world.
Urbasm: (laughs) And despite that title, it's actually somewhat of a comedy.
Eric Roberts: It is. I mean how can you travel the world abducting women and not have it come a little campy. Otherwise, it would just be crazy sick, so you have to make it fun.
Urbasm: What are a few of your favorite rolls that have not received as much attention as they should have? In other words, what should we be adding to our current Eric Roberts filmography 'go to' list?
Eric Roberts: Well, you know, there are a couple of those. But the thing I hate about answering that question is I have to be careful not to sound too 'woe is me'. I mean, we have the best jobs in the planet dude.
Urbasm: We are not woefully asking. We just want some new material while in quarantine.
Eric Roberts: To name three: It's My Party (1996) because Randal Kleiser wrote and directed a phenomenally fantastic movie. It was the best movie on the issue ever made. The issue of love lost, AIDS, and a homosexual relationship. Final Analysis (1992) with Kim Basinger and Richard Gere, and Love is a Gun (1994) with me, my wife, Eliza, and Kelly Preston. Those three films I wish had got more attention because they are phenomenal.
Urbasm: We do know Love is a Gun, and that was indeed a great film.
Eric Roberts: My wife is my favorite actress to work with and you will understand why when you see Love is a Gun. It is not the fact that she is my wife, it is because she is this ass-kicking phenomenal actress.
Urbasm: You are a lucky man.
Eric Roberts: Thanks dude.
Urbasm: So, is there one character that you would like to play but have yet to have the opportunity?
Eric Roberts: Here's where I am now with that. I've played pretty much everything, good and bad. I've played all your gambit of bad guys, grey guys, (pause)…
And a couple of good guys.
What I want now is a dichotomy. I want to play a guy who is whatever he is. Let's say he is from Brooklyn, New York, he is a policeman. He becomes a detective… and has to go undercover as a female impersonator.
Urbasm: (Laughs)
Eric Roberts: Only it's serious. It's like, you've got to do this dude because this is happening. It would be funny if it were tv, but this is not funny. That is what I have left, and yes, I have to do this! A dichotomy playing a guy who has to be the opposite of what the character is at the start of the movie.
Urbasm: That would indeed be a challenge. Any writers or directors out there; now would be the time to take notes.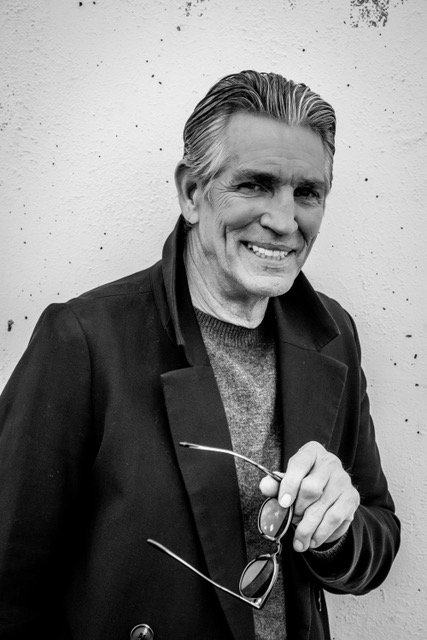 "I am one of the luckiest people that has ever breathed."
Eric Roberts: That is all I have left in my 'gotta do'. As I've gotten older, I have realized that I am one of the luckiest people that has ever breathed. I can work pretty much every day somewhere in the world. If they welcome me in a movie or write a movie for me somewhere in the world every day, and it is just phenomenal. I arrive in cities that I have never been to, turn on the tv, and I find old movies of me. It is a life that is kind of silly and fun and ridiculous and a little cartoony. And I would not trade it for anything.
Urbasm: We're jealous.
Eric Roberts. About 2003 it started happening a little bit and by 2008, like everybody had a [film] camera, like all over the world. And they started calling directly for me. So, I asked my wife, 'Do you want me to exploit this?'
Urbasm: We suspect we already know the answer.
Eric Roberts: So for the next 10 years, I traveled the world. I did these hundreds of movies for people all over. It was just ridiculous adolescent fun. And every day I would wear different clothes for different people and play different movies for different directors, and writers and other actors. And I met fabulous American, African, Indian, Middle Eastern people – because everybody makes movies. But where they are making the most movies for me is in Russia.
Urbasm: Russia?
Eric Roberts: Maybe forty movies now have been in Russia. And it is so fun, dude. I have a life that I just could not have dreamed of.
Urbasm: Is there a language barrier when you're traveling like that?
Eric Roberts: What is great about being recognizable is that you are welcome everywhere, and they make it easy for you; they go out of their way. And every major city you can find English, you can find a tributary that will help you, and they love helping. It is just a blast.
Urbasm: Well, you've earned it.
Eric Roberts: Let me tell a story, from… I guess it's twenty-twoish years ago. [My stepson, Keaton Simons] was a musician from the get-go. But he left and went to college, and so we were apart and I did not hear his music for several years, like at all. So, one day my wife tells me, 'You've got to hear this music that Keaton is making.' It was just a compilation, it was called X's and Y's, which is a cool title. And I listened to it and could not believe what I was hearing. It was like a combination of Jackson Brown and Cat Stephens.
Eric Roberts: So, I got on the Keaton wagon, and then he started making albums. He is up to number eight now, number six is my favorite, but they are all just incredible works of art. I am a Keaton Simons groupie, and if I was single, every date I would have, he would be playing in the background. And also, he is one of the most ass kicking guitar players there is. He just opened several months ago for Eric Clapton.
Urbasm: That is a big honor.
Okay, so we hear that you've got an interesting 'tool' for men that we've only recently been made aware of.
Eric Roberts: Well, a friend of mine, he has been a friend for a decade now, he is an inventor and he comes to me and goes, 'Dude, I've invented a cure for E.D.' And I am like, 'Great, have fun with that.' He said that he wanted me to try this and talk about it because I'm famous. I said, 'Dude, I can't do that.'
(Announcers voice) "I've got the cure for ED because I had it!"
No, I can't do that for you, buddy, I'm sorry I just can't do that. And I have a happy sex life with my wife that I don't want to mess with. But here is the thing. He honestly has the cure for E.D., which is an issue for all men, somehow eventually, because it is caused by plaque. Everybody has some plaque in their blood system. It clogs up the heart, etc.
Urbasm: True.
Eric Roberts: They've had a cure for it since the mid-seventies, but it costs thousands of dollars. You go in and they do this sound wave zapping tool over your chap, and it breaks up the plaque and you have better blood flow. It works, but it costs thousands of dollars in these sex clinics, and you have to have someone touch your junk, which is kind of weird, you know?
So, he says, 'Dude, I've got the same thing [The Phoenix], and it has sound waves that break up the plaque, give guys back their blood flow.' And I was like, 'You know what, that makes sense to me, but I won't know if it works on me because I don't have the issue yet.' So, because he is my friend, and because he is a crazy genius…
Urbasm: You're here talking with us today.
Eric Roberts: Yeah, I just like the whole idea, and after understanding what it is. Plaque in your system clogs sh*t up, and it is something we can talk about and it is not a big deal. You do this… and done. He convinced me with that route, and that is why I am giving you the same route.
Urbasm: So, it's for all guys?
Eric Roberts: Why not. Preventative plaque breakup.
Urbasm: Can't argue with that.
And we'd like to leave our readers with one more bit of Eric Roberts wisdom. What are the three things that you think every man should know, according to you?
(Wife, Eliza, giggles in the background)
Eric Roberts: Dude.
Urbasm: (laughs) No pressure.
Eric Roberts:
(Eliza in the background: "Pretty good.")
Urbasm: We love that! And concur. Thank you, Eric.
Eric Roberts: You guys are the coolest.
Urbasm: Dito.
Eric Roberts has been one of our favorite actors and it was a pleasure to speak briefly with both him and his wife, Eliza. Please keep up with Eric via Twitter, Facebook, and his ever exhausting filmography at imbd.com.
Eric has written for over a decade. Then one day he created Urbasm.com, a site for every guy.