Okay, so your summer is here: You've got your favorite book, chair, white claw seltzer, pair of sunnies, and a short-sleeve button-down. It looks like you've got all your bases covered from the waist up, but what about your SeeVees?
These light and airy slip-on sneakers have been designed to promote a laidback lifestyle and keep the summertime vibe sizzling from head to toe. And there are a lot of ways that a pair can build upon your character, and not one of them is wrong (how often can you say that about fashion).
Baja Slip-On
Linen, memory foam, cooling air channels, and gum rubber soles. That's the short version of saying there are no synthetics in these so your feet can be free to go sock-less if you want to – come on, you know you want to.

Get your own pair here.
Monterey Sneaker
Washed canvas is our goto for a durable sneaker top that is also breathable. These also come with airflow channel memory foam insoles and gum rubber outsoles. These come with laces to be tied – but then again, that's optional.
Get your own pair here.
California Special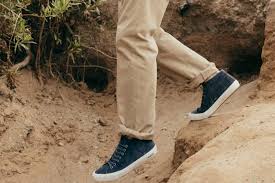 What makes these SeaVees so special is they share their name with the limited-edition Ford Mustang first introduced in the 1960s. They also come with 100% pig suede uppers combed to velvety softness and all the usual goodies, including memory foam and cooling air channels.
Get your own pair here.
I'm a digital nomad and story teller that writes for Urbasm and a few other websites on men's interests, style, relationships and whatever tickles my fancy. In my spare time I like to play the field in search of my prince, travel, and consider myself an artisan of sarcasm at times.