You might think that the standard classic men's dress shirt could be upgraded with 3… maybe 5 substantial improvements – but the brand DU/ER has hit Kickstarter with somewhere around 20 technical advancements.
It is called the 9-to-9 Button Down and we're about to rattle off a handful of those features that impress us the most.
The 9 to 9 has been molten by Power Stretch technology, which is a fabric feature you'd normally see in a performance t-shirt. This means that you can become Superman without the need to rip off your shirt (but we'd still ditch the glasses).
And keeping with the performance movement theme, the 9 to 9 has reinforced seams and patented Gusset and darts placed strategically under your arms to allow for more movement.  And we're not just talking chicken flapping. Gone are the days of walking like a penguin to work, as your arms should have full movement inside this shirt, and if a stray basketball comes your way from a playground on your way home, you won't have to do that sissy underhand toss – you'll be able to do an overhead leaping dunk (and that would be impressive).
But we're not quite finished.
The 9-to-9 is also formulated with 27 percent COOLMAX fabric, which comes with a host of benefits including anti-wicking (keep you both cooler or warmer, depending on what you need), anti-wrinkle, and anti-stink. It also comes with a headphone cable port in the pocket, a performance length that looks great both inside and outside of your pants, and features a comfort collar that won't strangle you.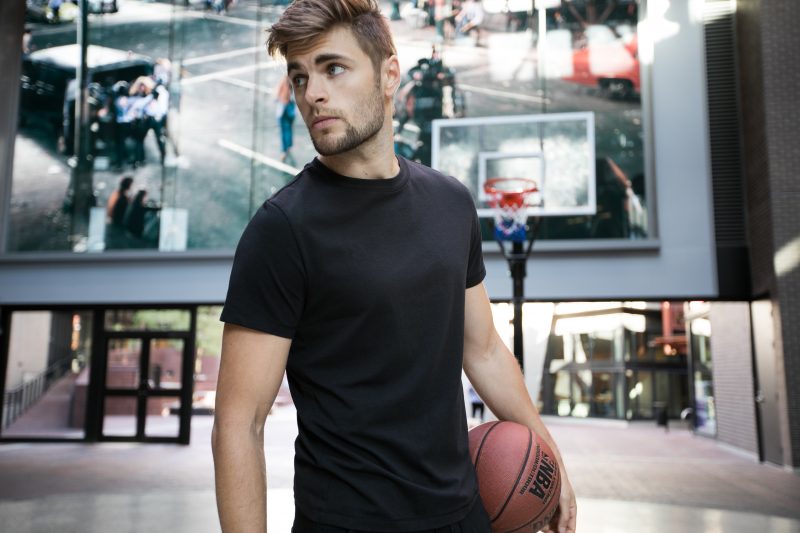 And if your work happens to be a little more lenient with your clothes requirements, DU/ER also makes a killer performance t-shirt with many of the same features.
This project is already fully funded on Kickstarter, and we wouldn't expect anything less.
Thank you, DU/ER!
I'm a digital nomad and story teller that writes for Urbasm and a few other websites on men's interests, style, relationships and whatever tickles my fancy. In my spare time I like to play the field in search of my prince, travel, and consider myself an artisan of sarcasm at times.