The old dress shirt was foofy, delicate, flowery, and uptight – basically, everything that a man doesn't want to be.
A man prefers to get down to business in something rugged, practical, useful, and comfortable. Something that isn't mass-produced, fastened together with a robot or designed with the idea of profit more than fostering a legacy. We're talking about the Batch editor utility shirt – and it is the first of hopefully many brilliant designs to come out of this company. Let's take you through a few of its most notable details.
Our utility shirts are constructed like fine dress shirts to be equally perfect on the inside as the outside. We use flat felled seams throughout the garment to create this refinement. Flat felled seams are also the most durable of seams due to their overlapping nature." – Tom Severini, Co-Founder of Batch
And just look at the masculine craftsmanship of this shirt. Like an armored tank, each seam and button (mother of pearl) represents strength, purpose, and adaptability. The cut is athletic, but the feel is roomy and flexible. Big pleated pockets appear sleek in business mode but then transform into actual stuff holders at the twist of a button.
The fabric is clean and pressed like a proper dress shirt, yet is also soft and blended like your favorite pair of denim. This is the kind of casual shirt that will only get better with age, and that is not a statement we throw around lightly. We wore this shirt to the office, up in the mountains, to the airport, and on the island of Hawaii – and our takeaway from the experience was… this is not a shirt that a man needs to get used to.
It is the craftsmanship behind this shirt that makes the difference. Batch focuses on exactly that – one batch at a time. By removing the necessity of speed and volume, they invest their time on the intention and focus of what they are trying to accomplish.
"Any company can make small batches if they really want, it simply costs more and reduces how much margin any company plans on making from the customer," explains Tom. "The fashion industry has been in a race to the bottom in terms of price and quality in manufacturing; We choose to go in the opposite direction – we want quality and substance in our lives and our customer has voted for the same."
And collared shirts are not the only thing that Batch has perfected this year. They have turned their attention to the collarless shirt. Often wimpy and characterless, Batch found reinventing such a shirt to be rather challenging.
"We found it very difficult to find these shirts with the right attitude and fit," describes Tom. "[But] that is what we do best – We love how they turned out, sort of like a modern man's t-shirt." And this is how all that effort came to a conclusion: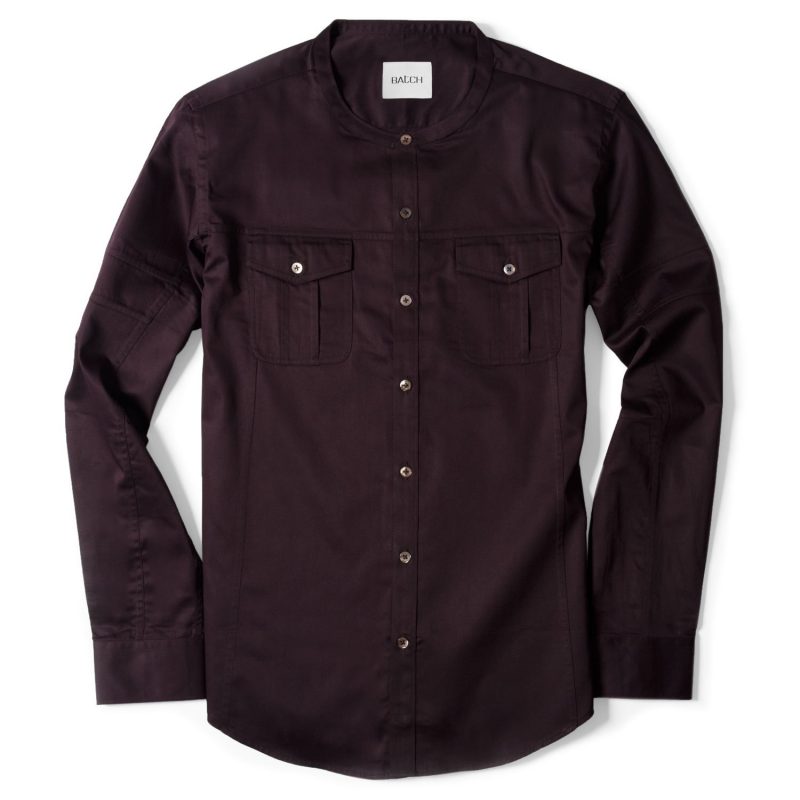 It is a thing of beauty, Tom. And as Batch continues to transform itself beyond its first big hit, the utility shirt, we wanted to know what they considered to be the three most important things in every man's closet? "Of course, 3 Batch shirts," says Tom jokingly. "Well, that is tough – Every man should cultivate his personal style, classic but with enough attitude to be himself."
"So there is no magic three," continued Tom. "Simply the understanding that our clothing states more about you than anything else, guys should consider what their clothing says about them – Throw away fast fashion subtly states that you have a throwaway life – not ideal."
No, it's not, Tom. And the alternative starts here… at the Batch mens website. – Godspeed
Eric has written for over a decade. Then one day he created Urbasm.com, a site for every guy.