Mark Twain's was a billiard room. Ernest Hemingway had a writing studio, and Bruce Wayne preferred the bat cave. But the man cave has an even richer, deeper history. In fact, the man cave dates back to the late 17th century, when dedicated gentlemen's clubs appeared in London and aristocratic men would get together and indulge themselves in lavish retreats.
The mid-1800s saw the creation of the smoking-room decorated in masculine styles, and the chaps who frequented these rooms would kick back in style with smoking jackets and caps. Did the modern man cave become a young man's retreat, complete with football banners, cheap leather flip-back chairs, and a rotating keg of beer? Indeed, the ideal man cave is different for everyone. Regardless of its purpose, it's time to man up and upgrade to an adult retreat. Here are four ideas to elevate your space.
Furniture
Whether you are a master decorator or have zero experience, there are a few simple rules to follow when upgrading your man cave. The first is to buy quality furniture that will last. Don't buy a cheap lounge chair from a big-box store just to fill up space.
If you're a chic, vintage-modern kind of guy, a Herman Miller Eames lounge chair would be perfect for your man cave.
If you're more of an old school, sophisticate with an eye for the finer things in life, bring in a leather sofa. But if these items are a bit outside your price range, look for solid-structured furniture (no particle board) covered in quality material.
Décor
Use your passion as a foundation for designing your own man cave. If you are a traveler, a vintage map collection can cover the walls. If you are a hunter/fisherman, display your trophies on the walls with accent lighting for drama.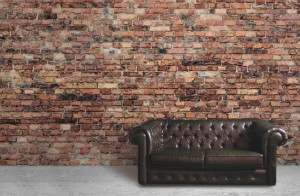 Give your upgraded man cave some character by texturing the walls with wood or brick and decorate with your favorite collections. You can still proudly display your sports memorabilia or Star Wars figurines by setting them up in a nice, well-lit cabinet.
Your Tech
If the man cave serves as your crew's game day destination, upgrade your home theater to a curved 4K HD TV with a speaker system and ultra-plush lounge area that offers enough space for your friends to kick back and enjoy the game in comfort.
If you prefer your own personal gaming station, upgrade to a multi-monitor computer setup, complete with a gaming keyboard headset and cushy chair.
Get your golf on every day by adding an OptiShot 2 Gold Simulator, where you can use your own clubs to hit real or foam balls while you play on a virtual course.
Once you've upgraded your sanctuary, be sure it is protected at all times from both outside intruders and your curious 5-year-old with a low-profile wireless IP security camera that you can view remotely from a mobile app.
Your Bar
Add a liquor bar complete with the finest gin, vodka, and whiskey. Include a hideaway fridge stocked with mixers so you can channel your inner Dude with a White Russian or your James Bond with a classic martini. Proper barware is essential, so dedicate a space to a variety of glassware.
Of course, you should still have a keg, but we shouldn't be able to see it. Hide it away by getting a kegerator.
When designing your new space, don't make poor choices. Having style doesn't make a man any less masculine. In fact, good taste and good design can make you even more of a man.
This is a post by Anne-Marie Pritchett: writer, editor, visionary, world traveler, outdoor enthusiast, urban bohemian, music freak, sports addict.