Online dating is a daunting prospect, and there are dozens of sites proclaiming their match-making success. Dating is an extremely personal experience, and there's no one site that will offer the perfect solution for every user. Finding the right platform for your dating efforts is an essential first step toward finding the right person.
How About We — For a Fun Night Out
If you want to spend minimal time online and get right to the fun of actually meeting people, How About We is the place to start. You begin by suggesting your favorite date ideas, so you're instantly paired with people based on interests and a similar idea of what constitutes a fun night out. The site emphasizes the offline component of dating. Your profile is minimal, keeping the focus on activities rather than questions. If you're not interested in a lot of online chatting, this is the site to start with.
Match — For Careful Matching Criteria
As one of the best-known dating sites on the Internet, Match is sure to come to mind when you think of meeting people online. This site is best for people who are committed to finding a long-term match, and willing to put in the time it takes to make a deeper connection. Setting up a profile is time-consuming and fairly complex, but the site's search tools help you make the most of all this info.
Due to the amount of detail involved in setting up a Match profile, it's best to sign up on a computer rather than a smartphone. With a 2-in-1 laptop from Lenovo, you can get the functionality of a laptop for setup, with the convenience of a tablet for checking back later.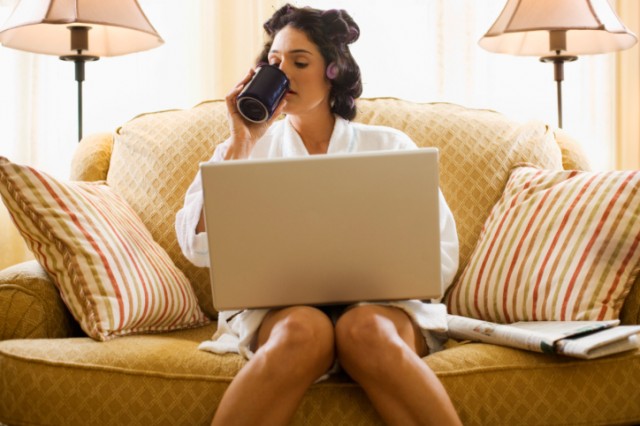 Tinder — For Meeting People Fast
Tinder is another option with minimal profile setup. You have to link to Facebook, so there's not much anonymity, but this also streamlines the sign-up process. Your Tinder profile will automatically link to your likes and interests so you don't have to spend a lot of time entering this information. Tinder presents you with potential matches, giving you the opportunity to like or dismiss each one. If you have a mutual match, you can begin chatting right away.
Plenty of Fish — For Versatile Features
Plenty of Fish is the second most popular dating site by traffic so you should have no trouble finding potential partners in your area. Not the most sophisticated site, this is best for people looking for casual dates. There are no complex algorithms to pair you up, giving you the opportunity to browse profiles at your leisure. Striking up a meaningful conversation can be difficult amidst the general clutter of people trying to get one another's attention, so a respectful approach and strong interpersonal skills will give you a real edge on this platform.

eHarmony — For Automated Matchmaking
If you want to make a match but dread scrolling blindly through dozens of profiles, eHarmony is your best bet. You have to set up a detailed dating profile, so make sure you're ready for the time commitment of the initial sign-up process. When this is finished, however, all you have to do is sit back and wait for the site to do its job. eHarmony boasts a complex match-making algorithm that's designed to identify your best potential partners.
OkCupid — For a Wildly Diverse Dating Pool
OkCupid draws users from all walks of life, making it a prime pick if you're looking for something less vanilla. The drawback of its immense dating pool is that you may find yourself drowning in messages and offers that can range from intriguing to unsettling. The site presents you with a series of randomized questions to help you paint a picture of yourself. This naturally adds to OkCupid's quirky factor. However, if you're interested in exploring or experimenting, you'll find someone for every niche interest on this site.
Gociety – For People Who Love Adventure
If you're not the kind of guy to join a dating website – then don't. One of the best ways to find (err rather, earn) a date is to engage yourself in a non-pressure activity where you can be yourself and meet other people in the process. Gociety is not a dedicated dating website by any means – and that could be one of its greatest strengths. It is just a social network designed to bring like-minded adventurers together in your area (or any area you're headed to) so that you can hang out doing whatever it is you most love to do. And if you should happen to find love – more 'adventure' to you.
Start your search with the dating sites that most closely match your dating style and romantic interests and you'll greatly simplify the process. The right site can help you find the perfect partner for any type of date.
This is a post by Todd Green, who is a freelance writer from Nowheresville USA. He has his degree in Journalism and enjoys being outdoors fishing and singing karaoke when he's not writing.
Single and sexy. Hello ladies..